Original URL: http://www.theregister.co.uk/2010/07/05/review_storage_buffalo_microstation_ssd/
Buffalo MicroStation SSD
Time to chuck out your laptop's hard drive?
Posted in Personal Tech, 5th July 2010 07:02 GMT
Review Buffalo has come up with a novel way of easing the hard drive upgrade process. Instead of bundling a 2.5in enclosure with its MicroStation SSD - or not even bothering with one at all - this 3Gb/s Sata laptop drive has its own on-board USB 2.0 port.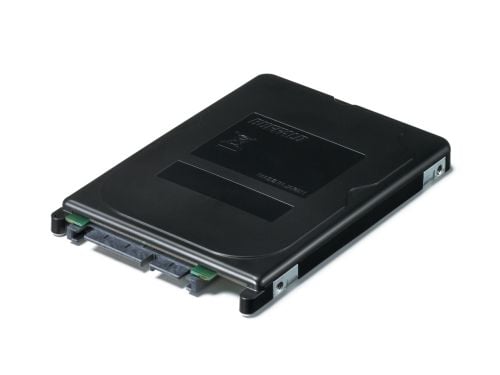 Buffalo's MicroStation SSD: speedier than your average laptop HDD
It's easily missed. Unpack the MicroStation and, at first glance, it looks like any other 2.5in internal SSD. It feels like one too: it's a light as a feather, making you wonder whether there's anything at all inside the black casing.
There is, of course: 32-256GB of multi-layer cell (MLC) Flash storage, a 64MB Ram cache and a JMicron JMF612 controller. And a Mini USB port. It's there, on the edge opposite the Sata connector. The notion is you just connect it to your PC externally, run the bundled drive cloning software and then you're ready to swap out your old HDD.
It certainly saves time, not having to install the SSD into an enclosure first, and I was initially keen on this neat and tidy idea. But then what do you do with the hard drive you've just taken out of your laptop?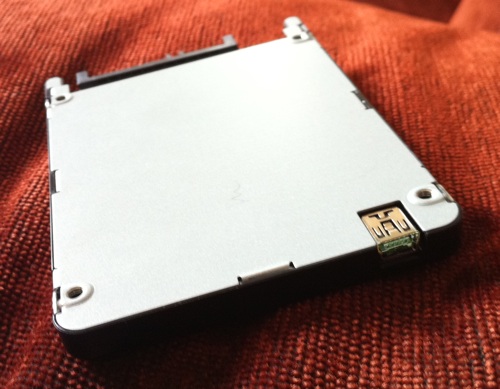 The built-in USB port to make upgrades easy
The advantage of a bundled enclosure is that you can put the swapped out drive into it afterwards and use it as a regular external HDD. Without one, you're left forking out 20 quid if you want somewhere useful to stick the old drive.
Buffalo bundles Acronis True Image HD to clone your existing hard drive onto your new SSD. It works well, managing to successfully adjust the two partitions on my 250GB Windows 7 Home Premium hard drive - a 5400rpm Toshiba MK2555GSX - downwards to fit into the 128GB SSD Buffalo sent me.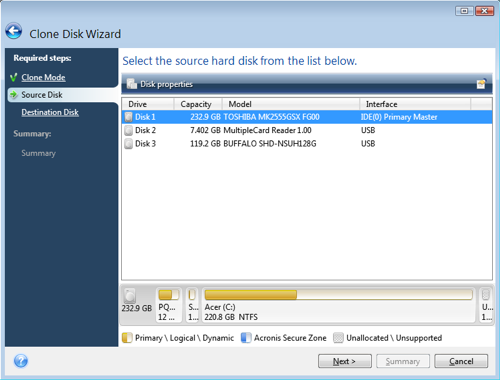 Acronis HD disc cloning software comes bundled
Unfortunately, I couldn't get the software to write to the initially unformatted SSD, but Buffalo's crib sheet warns that this may happen and suggests installing Acronis onto your hard drive rather than run it straight off the DVD, which is what it first tells you to do.
The installation approach was successful, but rather than include a full serial number, you have to first register with Acronis, get a serial number emailed back and then run the cloning tool.
That's too much faff.
Drive cloned and swapped out - not a hard process, even on the ultra-compact 11in Acer Aspire 1810TZ used for the test - I immediately noticed how much quickly booting Windows is: ready to work in 40 seconds, including the time taken to key in the password, compared to just over a minute for the HDD. Installing the BBC's free Doctor Who Adventure Game: Blood of the Cybermen for the nipper took 15 per cent less time on the SSD than the HDD.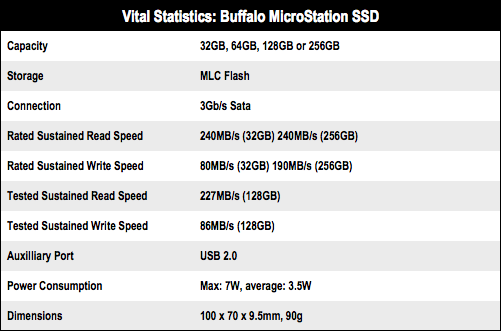 Back-to-back CrystalDiskMark 3.0 tests show the relevant numbers.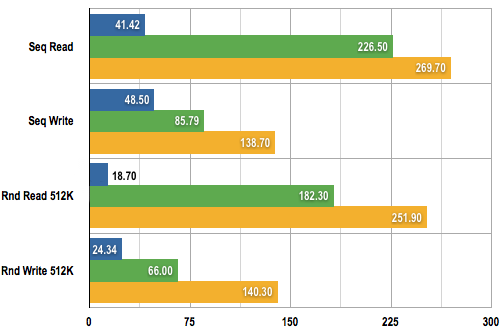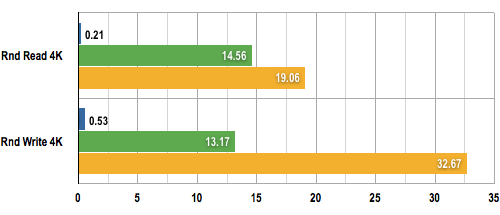 Data Transfer Speeds in Megabytes per Second (MB/s)
Longer bars are better
The Buffalo drive is well ahead of the laptop's original hard drive. I also put the Buffalo up against the 128GB version of Crucial's RealSSD C300. As you can see, it's rather quicker than the MicroStation, especially when it comes to the important random writes.
The Crucial drive is £34 more expensive than the Buffalo, but has the advantage of 6Gb/s Sata compatibility. That's no use here, of course - the laptop doesn't support it - but it gives a measure of futureproofing.
In everyday use, the Crucial doesn't feel any faster. It's Windows boot time was, within error bars, the same as the Buffalo. But what's another 30-odd quid when you're spending 280 to get that little bit extra to boost file copies and the like.
Verdict
Buffalo's MicroStation SSD isn't a bad little drive and, as long as you don't need an enclosure for your old hard drive, the integrated USB port is a very neat trick. While it might not perform so well in comparison with a beefy 7200rpm desktop drive, the SSD is a big improvement on your average 5400rpm laptop drive, and if capacity isn't your key consideration this is an upgrade I'd whole-heartedly endorse. Shame t's not quite cheap enough to put clear water between it and faster drives of comparable capacity. ®