Original URL: http://www.theregister.co.uk/2010/07/05/review_smartphone_sony_ericsson_xperia_x10_mini/
Sony Ericsson Xperia X10 Mini
World's smallest Android 'andset
Posted in Personal Tech, 5th July 2010 12:02 GMT
Review Presumably reasoning that the Xperia X10 - reviewed here - is a little on the large side, Sony Ericsson has cooked up two diminutive variations on the theme: the Xperia X10 Mini and the Qwerty keyboard equipped X10 Mini Pro.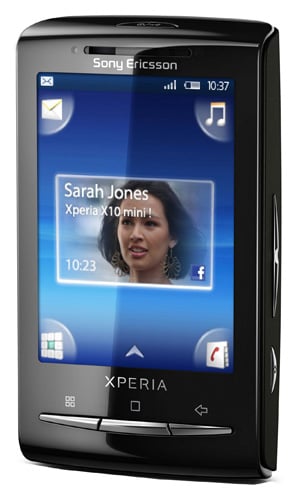 Sony Ericsson's Xperia X10: diminutive
Maybe calling them the X6 and X7 was just too darned obvious - X8 will be the name of another variation on the Xperia theme due later in the year - but I think it would have avoided some of the customer confusion I see looming on the horizon.
The X10 Mini is all about size and weight, or rather the lack of it. At 83 x 50 x 16mm the handset is positively minuscule and weighs a bantam 88g. Externally, the family resemblance to the X10 is clear with the face similarly housing only menu, home and back buttons. Volume and camera controls are both located on the right side of the handset, exactly where they should be.
A design choice some may take issue with is the absence of a user-replaceable battery. It's not as if Sony Ericsson has done an Apple and made the phone a solid lump - the back panel still detaches so you can change it for one of a different colour and access the SIM and MicroSD card slots, but the battery itself is fixed in place.
Where the axe has fallen most heavily in the quest for Lilliputianism is the screen. At 2.6in, it's darned small for a touchscreen device. And the 240 x 320 resolution of the capacitive panel is also on the low side.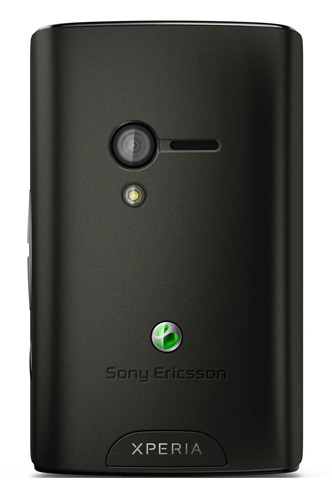 Lilliputian
The screen is capable of showing 16m colours but since Android 1.6 doesn't support more than 65,000 of them that's nothing to shout about now, though it will be when SE delivers the promised update from Android 1.6 to 2.1 later in the year. Specifications to one side, the Mini's screen is clear, crisp and colourful and performs well in direct sunlight.
The small screen area doesn't impede the use of the generally well thought out virtual keypad, which features two clever sliding and scrolling panels for regularly used characters. Having the entire screen within easy thumb reach also pays dividends when it comes to single-handed operation.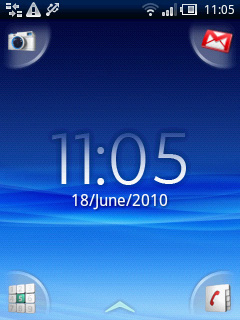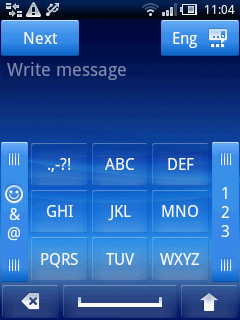 The homescreen and virtual keypad are designed for one-handed operation
As a phone, the X10's lack of size in no way equates to a lack of usability, though anyone wanting to type serious amounts of text will bemoan the lack of a virtual Qwerty keyboard, no matter how small.
The issues raised by trying to use a satnav app on a screen this small should be self evident.
The Mini's Qualcomm processor runs at 600MHz and has 256MB of Ram to play with which keeps the UI, applications and the likes of Google's Street View graphics moving with satisfying speed and fluidity. The system never hangs or stalls even with multiple apps running. 

Internal storage is also pegged at 256MB which looked worryingly low when I saw it on the spec sheet but out of the box my review handset still showed 151MB available for app storage.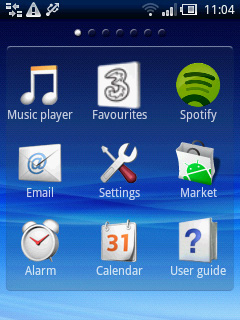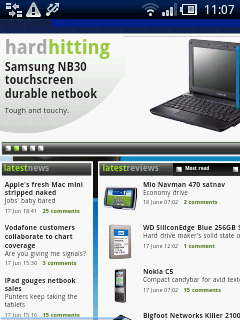 A 2.6in display is darned small for a touchscreen, even if the resolution is a workable 240 x 320
As mentioned above, the version of Android in play here is 1.6 but Sony Ericsson has made some interesting additions. Up front, the four corners of the home screen house user definable shortcuts which out of the box take you directly to your music, e-mail, contacts and phone dialer - a simple but effective idea.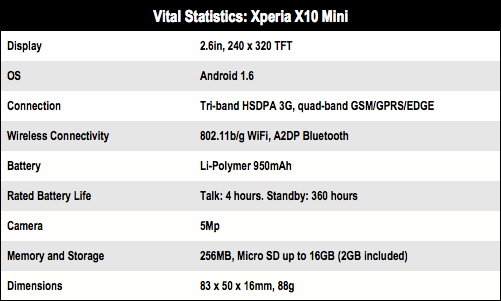 Also present is Timescape, one of Sony Ericsson's two big ideas for the Android platform, which draws together your contacts and social networks both on-board and on-line. Dave Oliver has already given Timescape the once over in his review of the Xperia X10 so I won't bore you with repetition though I must say I found the white text against pale Facebook and Twitter image backgrounds rather hard to read on such a small screen.
SE's other big idea, Mediascape, is absent in its full form but you do get the same Infinity button to access artist-related YouTube content directly from the music player. I found this a surprisingly useful feature, as I did the Mini's ability to play H.264 videos at resolutions up to 480p.
The Mini's 5Mp autofocus camera has a basic control interface - all you get are options for Auto, Macro, Twilight and Sports - but it comes with an LED lamp for close up low light work and produces some perfectly reasonable images for a mid-range smartphone, as the sample snaps illustrate. The turnaround time between shots is also impressive: around the 2-3 second mark.
Sample Shots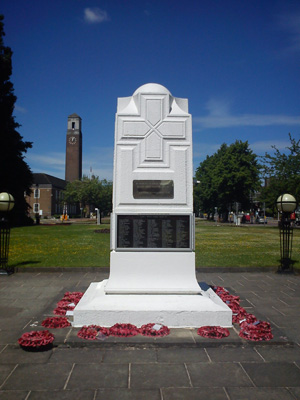 Click for a full resolution image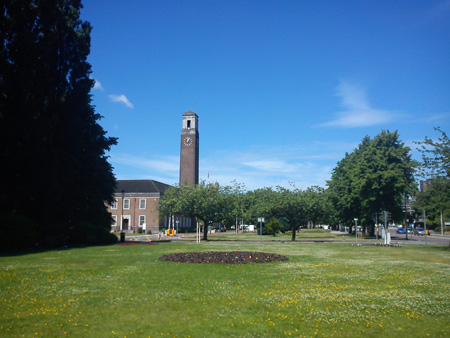 Click for a full resolution image
Also present and correct are all the usual modern smartphone trimmings including stereo Bluetooth, Wi-Fi, assisted GPS, and RDS FM radio and MicroSD storage expansion. Get your Mini from Three and you also get free Skype-to-Skype calls, pink and black back covers and a 2GB MicroSD card.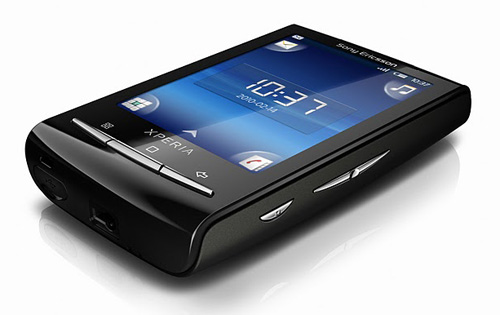 A remarkably usable little device
I was worried that the small form-factor would be detrimental to call quality - hold the handset to your ear and the microphone is pretty far away from your cake hole - but in use this proved not to be an issue, the Mini performing every bit as well as my usual phone.
The battery is apparently rated at 900mAh but be that as it may, I found a full charge was good for two days of average use if you don't leave the Wi-Fi or GPS radios switched on for any extended length of time. Even with heavy use, a full day between charges is easily achievable.
Incidentally, I did notice a number of games missing from the Android Market when accessed from the Mini, along with the BeebPlayer iPlayer app. Possibly a case of them simply not working on a screen this small.
At the time of writing, Vodafone, Three, Orange and O2 are all offering the Xperia Mini free on contract, with Three - who kindly supplied the review unit - offering arguably the best deal by providing the handset for nowt on a £15-a-month tariff for two years.
Verdict
On paper, the X10 Mini looks like a bridge too far in the attempt to reduce the size of a touchscreen smartphone, but in the hand it proves to be a remarkably usable little device. The size and jewel-like looks will appeal to many, and my only reservations are the lack of a virtual Qwerty keyboard and the built-in battery. ®
More Smartphone Reviews

Apple
iPhone 4
Dell
Streak
Samsung
Wave
Sony Ericsson
Xperia X10