Original URL: http://www.theregister.co.uk/2010/07/05/game_reviews_transformers_war_for_cyberton/
Transformers: War for Cybertron
Big, dumb and full of gun!
Posted in Personal Tech, 5th July 2010 08:02 GMT
Review At its heart, Transformers: War for Cyberton is a five-minute experience stretched out over 10 hours. That's hardly surprising when you consider the source material – an animated TV series and range of comic books cynically cobbled together to sell a faceless range of Japanese toys.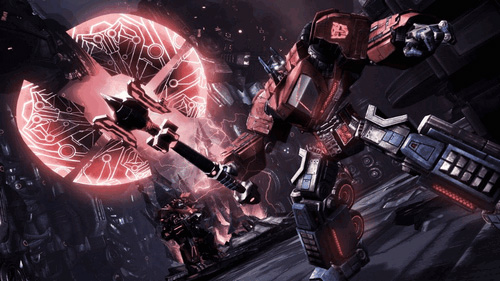 The motherboard of all axes
But, just as the Transformers' universe has matured over 25-years to establish itself well beyond a contrived premise, War for Cybertron is the first adaptation to deliver itself from a dismal record of contrived videogames.
Free of the movie tie-in licence that hampered Revenge of the Fallen, and passed into the more capable hands of the developers at High Moon Studios, War for Cybertron is not only the best Transformers game ever made, but also a pretty decent game in its own right.
True Transformers' fans will be in heaven. A composite of G1 and the Dreamwave continuity comics, the narrative expounds the back story of the war between the Decepticons and Autobots, ultimately leading to their forced exile from Cybertron.
The main campaign mode follows this story across ten hour-long chapters - five for Decepticons and five for Autobots. Although possible to play either faction's campaign first, it's better played in sequence to maintain chronology: following first the Decepticons' mission to poison Cybertron's core with Dark Energon, and ending with the Autobots' mission to repair the damage.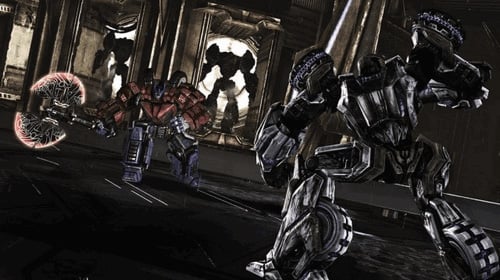 "You don't have the horsepower to beat me!"
exceptional graphics and animations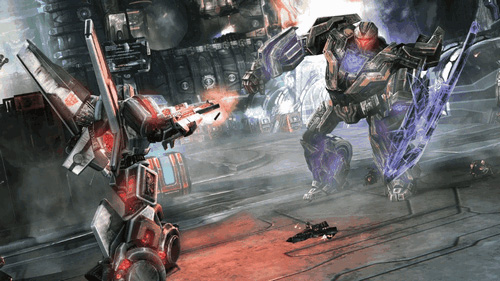 Goodie, baddie gun drops
Gameplay is pretty standard run and gun third-person stuff, which although doesn't offer anything new, has enjoyable combat, excellent controls and, at times, exceptional graphics and animations. Transformers control as you'd expect them to, with precise movement and aiming when in robot form, and speed and agility when transformed. Transformations themselves are fluid, organic, and far swifter than my fudgy fingers could ever manage with the die-cast and plastic of the original toys.
Although you'll never tire of seeing and hearing transformations, better use could have been made of vehicle abilities. Chapters featuring aircraft Transformers are constructed around flight, with sections devoted to aerial acrobatics through tunnels and around space stations. But those featuring vehicles do little to compel transformation. With no clock ticking, sections featuring expressways can be traversed in robot form with no penalty other than slower progress.
Tunnels and space stations also provide the game's graphical highlights. The graphics of the Autobots' capital city of Iacon, while doing a good job of realising a massive, mechanised city on the brink of destruction, show little variation. It remains a beautiful game overall, but one that disappoints by the lack of variety in this main setting.
Variation is limited in gameplay too. Though individual chapters mix things up, the bulk of the game is never elevated beyond run and gun mechanics. It serves up a decent, if unoriginal, cast of enemy types, all of which are copied lock stock from Halo, even down to a tank which is vulnerable at its rear. But whereas it copies Halo's enemies with reasonable success, it is far less successful in copying Halo's AI and pacing.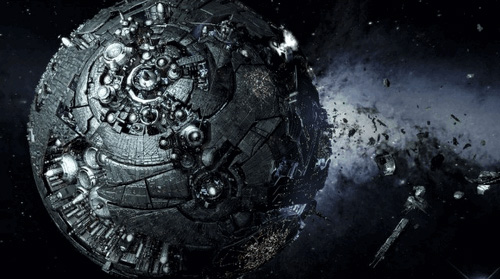 Balls of steel
Multiplayer fragfest..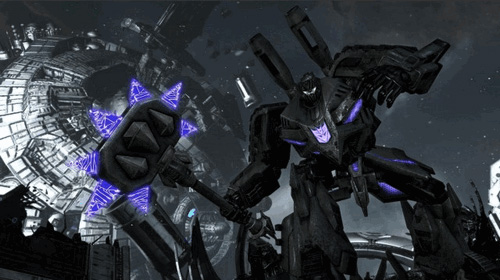 Stop. Hammer time!
Combat is War for Cybertron's only mode of progression. Relentless and frenetic, the game feels more multiplayer fragfest than single player campaign. It's impossible to keep track of objectives with so much going on all the time, despite the excellent dialogue throughout. But this isn't such a concern, as objectives never offer anything more cerebral than press button, shoot glowing object.
Given the campaign has such a multiplayer feel, it's ironic the online offering doesn't live up to expectations. Multiplayer comes in six flavours, with standard Team Deathmatch by far the best. CTF and Bomb Run variations do little to distinguish themselves from each other, but my favourite, Conquest, at least brings a nice degree of strategy in having to capture and hold multiple nodes for victory.
Alternatively, there's a three-player co-op campaign that excels, owing to the game's manageable, bite-sized chapters. And finally, Escalation offers a Horde-style mode, which, at present, only has two maps, and plays more like COD World at War's Nacht der Untoten, where you have to collect kill points to purchase ammo, health, or unlock new areas.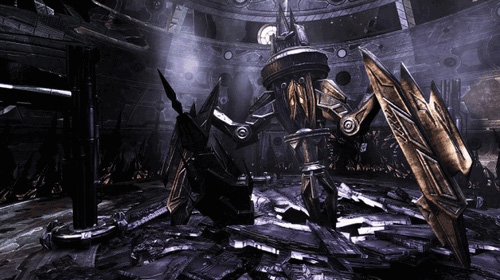 It's only a drill, minor thing really
Verdict
Transformer fans can add at least 10% onto the review score for War for Cybertron. It's head and shoulders above any other Transformers game, with treatment of the narrative and characters its greatest success. For all other gamers, it represents a decent third-person shooter with a solid campaign mode and reasonable online offering.
And for all non gamers who have mistakenly stumbled across this review, perhaps Orson Wells summed up the experience best when talking of his very last on-screen appearance in Transformers: The Movie, when he said:
"The Japanese have funded a full-length animated cartoon about the doings of these toys, which is all bad outer-space stuff. I play a planet. I menace somebody called Something-or-other. Then I'm destroyed. My plan to destroy Whoever-it-is is thwarted and I tear myself apart on the screen."
More Games Reviews

Tiger Woods
PGA Tour 11
Singularity
Prince of
International
Cricket 2010
Darkstar One:
Broken Alliance