Original URL: http://www.theregister.co.uk/2010/07/04/amplitube_irig_review/
IK Multimedia iRig and AmpliTube iPhone app
A vanload of amps, stompboxes, and mics in your pocket
Posted in Personal Tech, 4th July 2010 10:02 GMT
Review Back in the days when I was lugging around a beefy Peavey Centurion Mark III bass-amp head, if you had told me that someday I'd be gigging with my phone I would have slowly backed away, thinking that you were either dangerously high or simply deranged.
But now, with my iPhone and IK Multimedia's AmpliTube iRig, that phone-supported gig can be a reality. And not only can I play my Fender P-Bass and fretless Jazz through IK's setup, I can squeeze far more tonal variety out of either bass than I ever could with my Peavey. Or my friends' Marshalls, Fenders, Gallien-Kruegers, or whatever.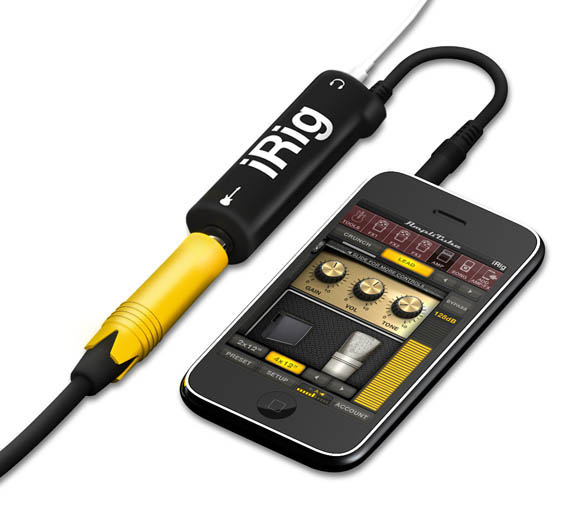 Simple, inexpensive, and powerful
Cut to the chase: this setup is freakin' amazing. Not perfect, but close enough.
Before I dig into the details of this Peavey-in-my-pocket, do know that although I'm a bass player (not quite a "bassist", but a notch above "a guy who plays bass"), a pro-guitarist friend of mine was equally impressed — perhaps more so, as we bassists have more-limited options. And imaginations. Or so it has been said.
First the hardware, then the software: the $39 iRig is a gig-sturdy connector with a 1/4-inch mono phone jack on one end into which you plug your guitar/bass/keyboard/whatever cable's male phone plug. The other end has a female 1/8-inch mini phone jack to connect your headphones or amp, and a five-inch cable with a mini phone plug on it that connects to your iPhone 4, 3GS, or 3G; your iPad; or your second- or third-generation iPod touch.
It's the AmpliTube iPhone app that makes the iRig sing. With it, you can add a variety of stompbox effects; model different amps, cabinets, and studio microphones; create selectable preset effect combinations; and play along with full or looped snippet of tunes that you load onto your Apple device — I'll say iPhone from now on, because my testing was done on an iPhone 3GS.
If you're familiar with AmpliTube 3 for the Mac and PC, with its 51 stompboxes and effects, 31 amps, 46 speaker-cabinet choices, and more, think of AmpliTube for iPhone as a starter set — and possibily a stepping stone into the full AmpliTube experience.
AmpliTube for iPhone comes in three flavors of ascending cost and interest: AmpliTube FREE comes with three stompboxes, one amp and cabinet, and microphones; AmpliTube LE has five stompboxes, one amp and cabinet, and two microphones for $2.99 (€2.39). With in-app purchases you can add more effects for $2.99 each and amp/cabinet combos for $4.99 (€3.99) each.
But why dick around? The $19.99 concisely named AmpliTube gives you 11 stompboxes, five amps and cabinets, and two microphones. Trust me: don't nickle-and-dime yourself — this is the most fun you'll have for twenty bucks since [insert preferred sin or substance here] cost twenty bucks.
Plug it in, get it on
Setup is straightforward. Plug your axe-of-choice into the iRig, plug the iRig into your iPhone, and launch your chosen version of AmpliTube. Tap the Setup button and check out your options. If you choose to max out all your effects and you're running on an older Apple device, you may have to switch to Low rather than Ultra-Low latency. I ran into no noticeable problems with my iPhone 3GS, however.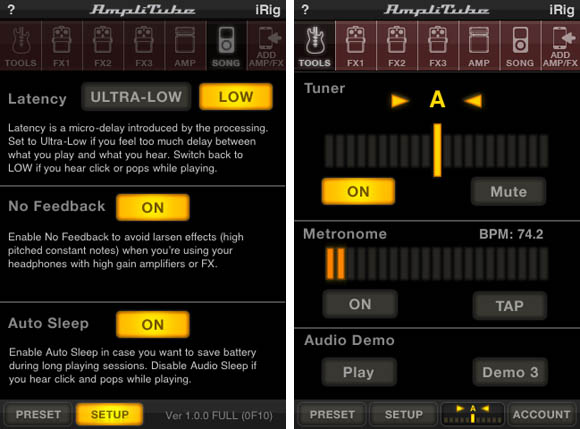 Latency is surprisingly non-existent for such a relatively low-power platform as an iPhone
Tap Tools, and you'll find a tuner, a metronome, and a set of demos. Personally, I find my ear superior to electronic tuners such as this one, though in a loud gig situation they can be invaluable. The metronome is a nice touch due to its BPM precision, but since the eight audio demos (cycle through them by tapping the right-hand button) include no settings information, they're neither instructive nor particularly entertaining. Besides, there are none played by either bass players or bassists.
Before you dig into AmpliTubes effects and amp/cabinet/microphone choices, familiarize yourself with the app's two-layer help system. By tapping the question-mark icon, you're led into the in-app help system. Flick left to access each page, which takes you through the top-level features of the app.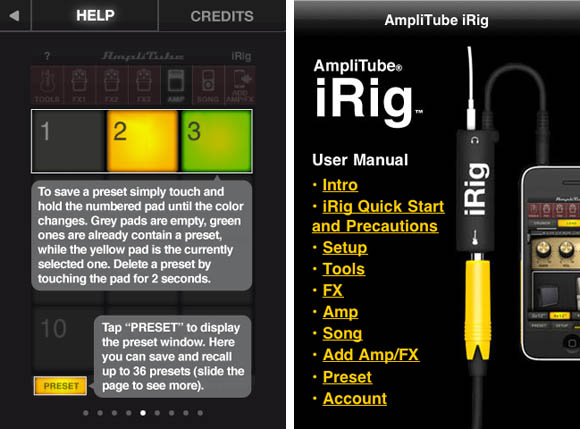 The in-app help system can help you decode Presets, and for more info there's a link to an online User Manual
For a deeper dive into Help, the last of the help pages contains — well, is, actually — a link to AmpliTube's online User Manual, which is of particular help in decoding each of the stompbox effects, their controls, and their best practices. It also provides details about each amp model, its characteristics, and what real-world amp it was based on — the bass amp, for example, was modeled after an Ampeg SVT.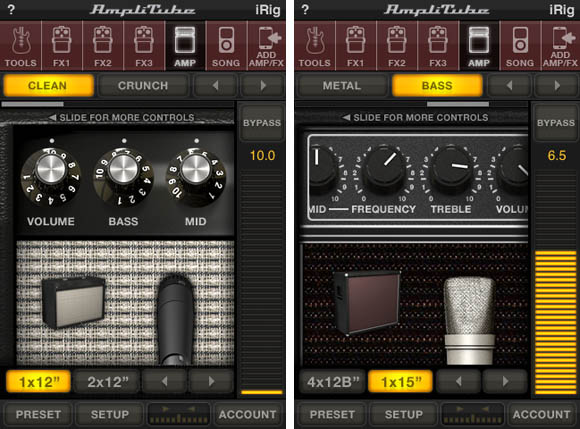 If you've spent any time around amps, you'll recognize the knobs in AmpliTube's gorgeous graphics
Each amp's battery of dials — scroll sideways for more — can be controlled either by tapping the dial then sliding your finger up and down, or tapping then sliding your fingertip up and down in the far-right control surface.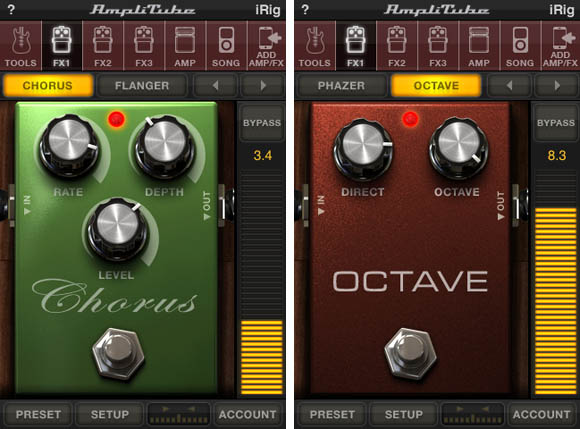 In-app purchases of more effects are coming, but bass-basics such as chorus and octave are here today
After you've chosen you app and cabinet, and have chosen between a dynamic and condenser microphone, it's time to dig into AmpliTube's effects collection. The full set contains, as mentioned above, 11 effects: delay, fuzz, distortion, overdrive, wah-wah pedal, envelope filter, chorus, flanger, phaser, octave, and a noise filter, each with their own controls that you adjust as you did the amp controls. To fire up a stompbox, tap its virtual foot-switch. To skip an effect, tap Bypass.
So how does it sound?
You can add up to three simultaneous effects, one after another, so that they build one upon other. You can also save combinations of all your settings into three pages of a dozen presets each — AmpliTube comes with nine preloaded presets to give you ideas, presumably. Presets are a nice feature, but don't expect high-speed, stompbox-stomping, in-tune switcheroos.
Unfortunately, it's next to impossible to give details about the each and every of the myriad combinations — you'll just have to experiment. Also, as Elvis Costello once famously said — and it's not his original line, by the way — "Writing about music is like dancing about architecture — it's a really stupid thing to want to do."
So I won't. Let's just say that after a judicious use of the noise filter, a lot of experimentation, and some high-end Sennheiser cans on my noggin, the chorus controls coupled with my fretless Jazz brought out Jaco Pastorius fantasies, and the octave stompbox — a must-have for bass folk who want to fatten their tone — was fabulous for high-neck lyrical lines on my P-Bass.
On the other end of awesomeness, however, is the wah-wah pedal — as might be expected, it's less than thoroughly realistic in use.
Finally, if you want to play along with a specific tune — or even a looped portion of a tune, for practice's sake — AmpliTube can help. Unfortunately, it makes it a pain in the butt to get a collection of tunes into the app.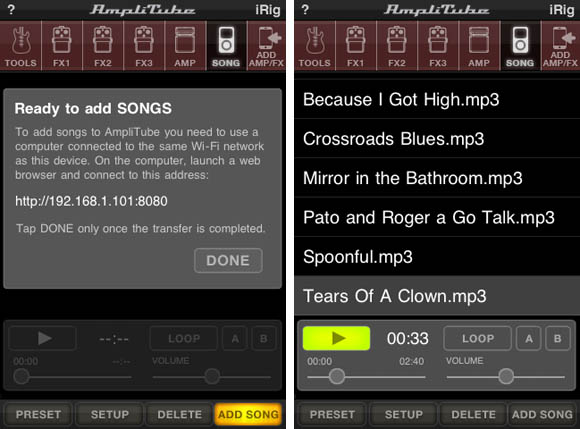 AmpliTube's tune acquisition is a pain in the butt, but the looping ability makes it worth the trouble
You'd think a simple link to your iPhone's iPod app would be doable, but it's not. Okay, then how about a wireless connection to your Mac or PC's iTunes collection? Well, AmpliTube takes you halfway there: you can, indeed, hook up to your computer wirelessly, but you can't connect to iTunes — you have to grab the files by digging into the file system. Oh, and when you do find an album that you want, you have to download the files one by one — no batch-downloading allowed.
After you have moved songs into the AmpliTube app, they need to be converted before AmpliTube can play them — a one-time only chore, but a chore nonetheless. And don't, of course, even think of trying to play a DRM-protected file in Amplitube. No can do. Personally, that'll keep me from learning to nail Bootsy's bass line in "Give Up the Funk (Tear the Roof Off the Sucker)", since I bought it from the iTunes store back in DRM days.
But, really, these are minor quibbles — and the ability to loop that insanely sweet fretless bit at about 2:45 into Paul Simon's "Diamonds on the Soles of Her Shoes" over and over until it's burned into my muscle memory is well worth the hassle.
As are so many other things about the AmpliTube iRig combo. If it's this much fun for a simple bass player, think of what it could do in the competent hands of an accomplished guitarist wielding a serious axe. After all, what do you call someone who hangs out with musicians? A bass player. ®