Original URL: https://www.theregister.co.uk/2010/07/02/review_smartphone_apple_iphone_4/
Apple iPhone 4
Machined to perfection?
Posted in Personal Tech, 2nd July 2010 11:35 GMT
Review Let's be honest here, what really makes the the iPhone 4 stand out is its new 'Retina Display'.
Yes, Apple has crammed in some other new features too - gyroscopes, extra microphones, video calling, better Wi-Fi, multi-tasking and yet more megapixels for the camera - but these alone don't raise the iPhone 4 above the shoulders of its peers.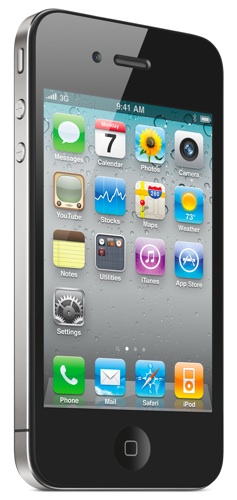 Apple's iPhone 4: sexy, with a stand-out screen
The screen, though, surely does.
You'll know the specs: 3.5in in the diagonal, just like the one on all previous iPhones, but now with a 960 x 640 resolution for a quadrupled pixel count and dots so fine the human eye can barely spot one from t'other, according to Apple.
Well, not quite. Stick your nose right up to the screen and you can just distinguish the pixel grid. But who holds a handset as close as that to their eyes? Technically, Apple might be exaggerating, but in practice, it's right.
What you do see, holding the iPhone normally, is an incredibly crisp, print-clear picture that makes the old, 480 x 320 display on the year-old iPhone 3GS seem fuzzy by comparison. Icons, web pages, text, photos, movies - even standard definition ones, which have to be upscaled even when they don't completely fill the screen - look sensationally sharp.
Without a doubt, this is the best screen on a mobile phone.
But it's not a game changer. I have to say, for a phone, the 3GS' display was perfectly adequate. While a higher resolution might be great when you're sitting down to watch a movie on TV, when you're just casting a glance at the Weather app, a lower resolution isn't an impediment.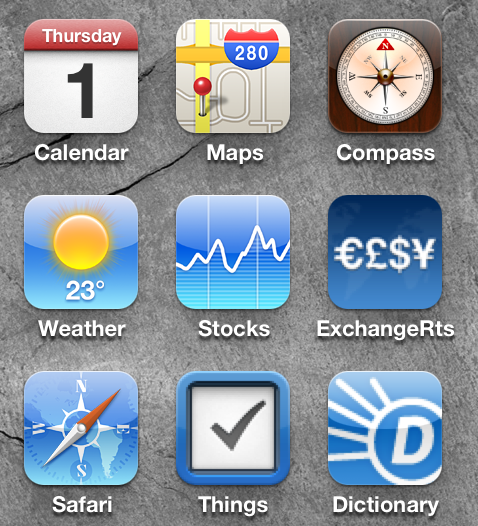 Iconic screen: the as-yet-upgraded apps stand out
It's not like processing power, say, where an old machine will just take too long to complete a task and you long for something faster because you know you'll be able to do more with it. Because Apple tells developers to design their apps for the old screen size but use higher resolution image graphics, the Retina Display doesn't convey any more information than its predecessor could. So it's nice to have rather than a necessity.
Which defines the whole iPhone 4 upgrade experience, really. There's a lot here that you wouldn't say 'no' too, but you may not want to cancel a contract for.
The other in-your-face change Apple has made to the new iPhone is its design. The iPhone 4 is narrower than the 3G and closer in dimensions to the original iPhone. That makes it more comfortable to hold.
But by abandoning the 3G's distinctive shallow-curve casing, Apple has put aside one way the old handset stood apart from its rivals, replacing it with a look that, thanks to those flat sides, actually looks like some of the early iPhone wannabes.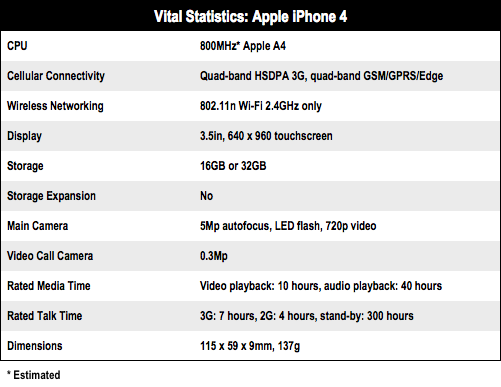 But it's no down-market drive. After the plastic used to make the 3G and 3GS cheaper to produce and lighter to hold, the shift to a rear panel made, like the front, of toughened glass, and separated from it by a steel band running round the side, gives the iPhone 4 an up-market feel.

Moving back up-market
Now that not only the world and its dog but also its plumber has an iPhone 3G, has Apple begun to fear that it's lowered the tone too far?
Apple doesn't, after all, want to be Samsung or LG. It doesn't really want to be Nokia. It wants its products to be aspirational, to appeal to the well-heeled and the people who'd like to be - to punters who'll pay that little bit extra.
So, apart from a sexy new look and the Angelina Jolie of mobile phone screens, what does your £499 - for the 16GB model, factory unlocked at last - get you?
How about FaceTime - or, as the cynics will call it, FailTime? Apple hype aside, it works and it is a good implementation of video calling. It's tied into the Phone app, rather than a separate one. If you make a call to another iPhone 4 that's simultaneously connected to a Wi-Fi network, you can tap the FaceTime button and jabber away Skype/iChat fashion.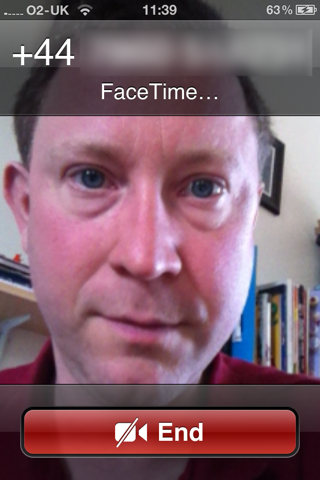 FaceTime works smoothly, and the way voice calling should work... if you can find someone to do it with
There's an on-screen guide to help you position your pucker, and a switch to cut to the rear-mounted camera and back again. FaceTime also seems to drop the cellular call, so even though a network link is required to initiate them, video calls won't use up airtime minutes.
They won't make you appear unwilling to make eye contact, either, because the camera is close enough to the screen to ensure that participants appear to be looking at each other rather than the top of the display.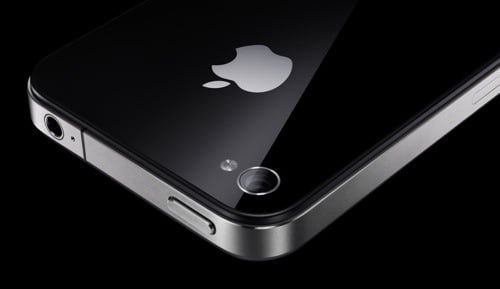 A light, at last, but only LED
It's clearly a work in progress - if the other guy rotates his iPhone, his picture rotates on your screen too, and it's limited to Wi-Fi connections - but it's impressive nonetheless because it's implemented as generically as voice communications are. You don't need to set up an account, you don't need a 'buddy' list, you don't have to know anything about networks and firewalls.
It's classic Apple 'ease of use hiding complex technology' and if it's of no use yet to man or beast, that's simply because world+dog hasn't caught up and bought enough iPhone 4s yet.
The addition of a front-facing camera hasn't precluded an upgrade to the one on the back of the iPhone, now with a whole five megapixels and equipped with a digital zoom and an LED flash.
An LED light may not be as photo-pro as CEO Steve Jobs' allusion to the iPhone 4's Leica-like look might suggest, but it improves the handset's low-light photography. The zoom makes a grainy image even more grainy, and there are no EV, white-balance adjustments and so forth.
Sample Shots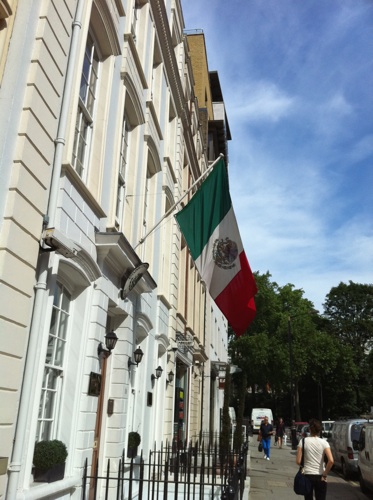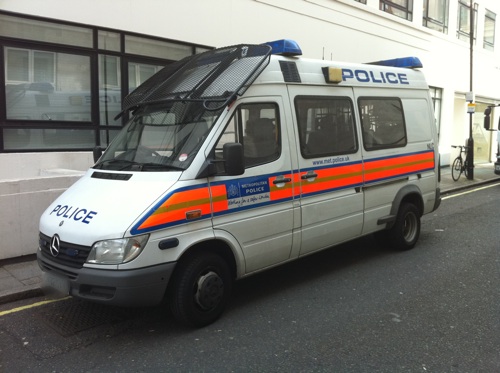 Click for full-size images
But then who ever uses these on cameraphones that have them? And who examines the pictures they take at full size? If you do you'll see images that gain grain as soon as the light dips below California levels and are as vaguely smudged as only a camera with no physical shutter can make them.
No Leica, then, but an entirely adequate snapper of pictures for viewing scaled down for an email preview, a website or the handset itself. You can focus in surprisingly tightly and those extra megapixels can pick up a lot of detail - the texture of the paper beneath the watch, for instance.
Sample Shots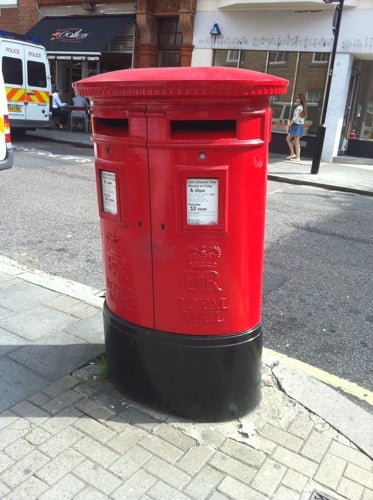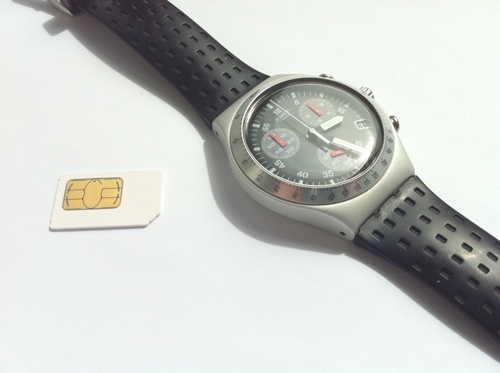 Click for full-size image
Video isn't bad either. The output is the lauded 720p HD - H.264 encoding, 10.5Mb/s bitrate, MOV file container, 44KHz mono AAC soundtrack - and is eminently suitable for YouTube footage and, I daresay, a fair few holiday cam captures.
All those folk who moaned about iOS' lack of multitasking have been answered, though the presence of the feature isn't limited to the iPhone 4. Apps have to be tweaked to make use of it, of course, to be aware that, although they're not visible to the user, they are active and can perform some limited tasks.
Personally, I never missed multitasking. The iOS mandate that 'good' apps should preserve their state when they quit, coupled with generally fast loading times, meant that switch from one to another and back again gave you no sense that apps where ever really turned off.
That hasn't changed, and certainly smaller apps with minimal load times won't pop into the foreground noticeably quicker than they did before, though big apps with long load times, such as games, do.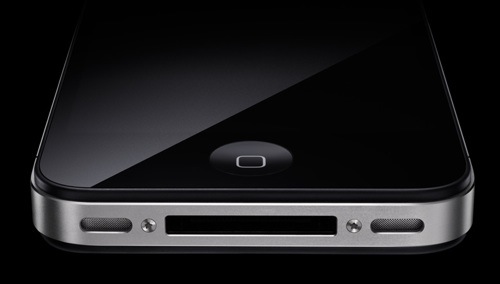 Big audio dynamite: best sounding iPhone yet
I originally used the new task bar - double-tap the Home button to view it - often, but now I no longer. Quitting apps involves holding down an icon until they all start wobbling and gain red exit-app icons. I did this a few times in the early days, but it makes no appreciable difference whether you do it or not. I have 30 apps running at the moment and switching between them isn't appreciably slower than having just two on the go.
The iOS memory management is clearly such that having lots of apps loaded doesn't slow the system down - no shades of Windows Mobile here - and it does at last mean that if you do use apps that can benefit, they will be able to do so.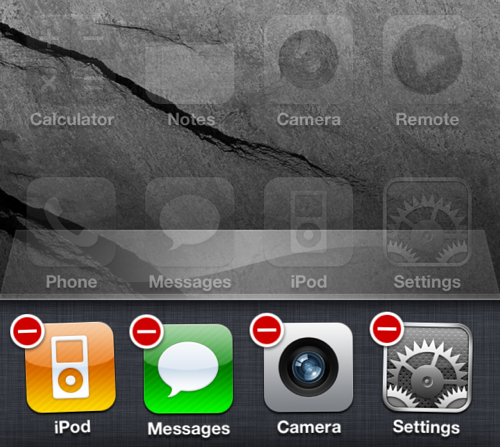 Quit apps if you like, but there's really no need
Multitasking iOS style, then, won't change how you use the iPhone, but that's how it should be: extra functionality, no extra work on your part.
Some reviewers have bemoaned the iPhone 4's lack of 5GHz 802.11n Wi-Fi - it's limited to 2.4GHz only - but that won't hinder anyone still using 802.11b/g devices. And the good news is that the iPhone 4's Wi-Fi is noticeably quicker than the 3GS' is.
Incidentally, music playback is better on the iPhone 4 too, producing a sound that gets as close to the iPod Shuffle's playback quality - it's the clearest-sounding iPod, without a doubt - than any iPhone yet has.
But there's no escaping the crucial flaw, the the infamous signal loss issue. It's there. Grasp the bottom left corner of the metal band and the signal starts to slip away.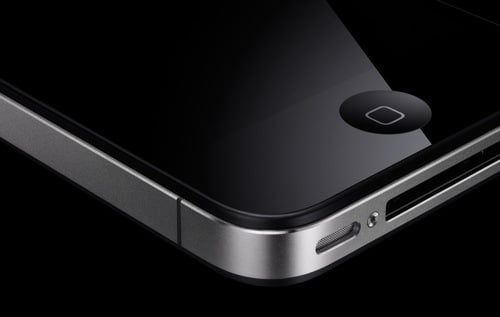 Hands off... here, at least
For me, it hasn't been a problem. I haven't experienced dropped calls, and I see signal fluctuations anyway just as I saw on my 3GS when similarly connected to the O2 network. Hold the iPhone 4 in the 'wrong way' and the signal sometimes creeps steadily come back up.
But too many other people have had dropped calls, and to tell people to spend an extra 25 quid on a sliver of rubber to wrap around the side just doesn't go far enough put matters right.
The iPhone's call quality may be very good indeed, but that's no help if you're struggling to make a call in the first place.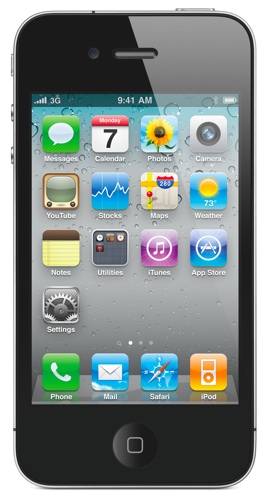 Looks like a third-gen product, works like the first generation
You shouldn't struggle to keep its battery topped up, though like any smartphone it's not going to last for weeks on single charge. But a day or two, depending on usage, yes. How much of a hit multitasking makes is arguably irrelevant since you can't switch it off.
Verdict
Some say the iPhone 4 is the best iPhone yet. I'm not so sure. It ought to be, and on paper it certainly is, but in the flesh it isn't. This is Apple's third iPhone design, yet it feels in some ways like its first. Fixes may come, but for now this is a phone that forces its users to like or lump its quirks.
You just didn't have to do that with the 3GS. You took it out of the box and it worked the way you expected it to. Its successor, pretty though it is, requires you to hold it carefully so that you don't lose the signal and don't tap buttons with your ear because the proximity sensor doesn't work properly. And that's wrong.
BlackBerry fans may mutter sullenly about function being more important that form, there's no doubt that the iPhone 4 is a gorgeous looking phone - a thing of beauty that raises the technological bar for Nokia, HTC, Samsung and co. to reach up to. They all will, of course, but by the time they do, Apple will have the 4GS ready and that really will blow your socks off. ®
More Smartphone Reviews

BlackBerry
Pearl 3G
Dell
Streak
Samsung
Wave
HTC
Desire