Original URL: https://www.theregister.co.uk/2010/07/02/review_scope_leica_pinmaster_golfing_rangefinder/
Leica Pinmaster rangefinder
The ultimate weapon for golf war veterans?
Posted in Personal Tech, 2nd July 2010 07:02 GMT
Review Golfers are a funny lot, many of them play with superstitions or simply have faith that their perseverance will eventually win out. Yet I know that the perfect swing is not all technical and mechanical, but it's also about feeling perfectly balanced and believing that the club in my hands is just an extension of my mind's eye. When these things come together in a simple relaxed swing, it's a Zen moment that produces perfection.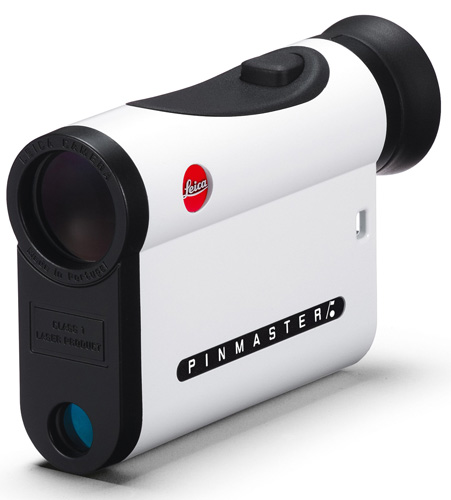 Tee, anyone? Leica's Pinmaster
Naturally, I don't share this insight with professionals or anyone with a decent handicap. For most golfers, consistency is the name of the game and, for those competing, I can see that any edge is an edge. So it's easy to imagine that professional sportsmen and their caddies are going to love Leica's Pinmaster. It delivers an edge by precisely measuring the distance you are from the pin (or hole to the non-golfers out there), so you can decide the best club to drive with, and using the Pinmaster is not against the rules either according Leica's press release which states: "Use of the Leica Pinmaster on the golf course is allowed under R&A rule 14.3."
With features akin to gun sights, the Pinmaster has a 7x magnification and a dioptre adjustment to compensate for visual impairments, although the eyepiece is big enough to allow use with spectacles on. The device fits neatly in the palm of the hand with a button on top to activate its laser rangefinder. This targets just one per cent of the viewing area. Align the red square in the centre of the viewfinder and once locked onto a flag (or anything with some contrast) a three-digit LED display below the target area will tell you just how far away it is.
The Pinmaster operates with 'first target logic', so if there is confusion about another contrasty thing near the tiny flag, it will show the reading of the nearest object. In use, you'll find that anything within 15m of each other will be a challenge at a great distance, but for all the time I used it, I never doubted a reading. At the other end of the scale, the minimum targeting distance is 10m/11 yards.
One thing that it could be very useful for at the beginning of your golf quest, is determining how far you can hit with each of the clubs in your bag. A driving range or local common will help you determine how far say, your seven iron can take you at certain power or height of swing.
Now it may seem obvious, but in this country distances on links are measured in yards, which no doubt explains why there is a 'Y' on the end of the name on the box. A metric version is also available, so if you do decide to go shopping for a Pinmaster, be sure it measures in your preferred units.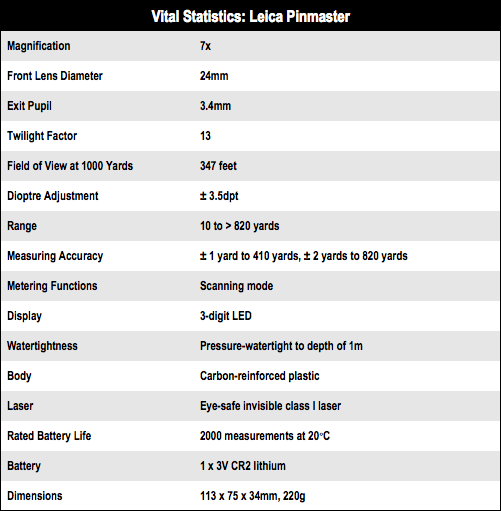 The carbon-reinforced plastic body allows the Pinmaster to take the knocks and it's also watertight for 30mins at 1m depth, if it does fall out of your grip whilst chipping out of the water hazard. There's also a two-year guarantee, that offers some comfort too, but not as generous as the 10 years Leica offers for binoculars. The targeting range extends to 750m/820 yards, which, at nearly half a mile, could be a challenge to find a flag at that distance.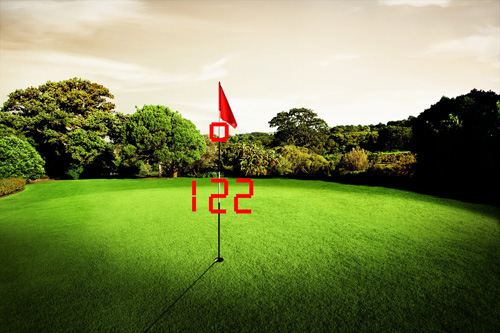 Gun sight technology for duelling golfers
During tests, some of the figures didn't add up but that was due to its good accuracy, if anything. On most courses, the distance from the tee to the pin is not what is printed on the scorecard. What you get is the distance is from somewhere on the tee to the centre of the green. Not all pins are in the centre of the green, and tees get hacked up – movement along the surface is good for them. There are also other tees for the ladies/youngsters. So here we have the first real advantage in an approximate world – an accurate distance to the pin. Not just from open play, but from the moment you line up to drive off.
Good for 2000 measurements on just one CR2 battery, the laser is invisible and only measures for a maximum of 0.9 sec. There is a scan mode that – when the single control up top is pressed a second time and held – will repeatedly give a new reading twice a second. This is obviously for when you are on manœuvres.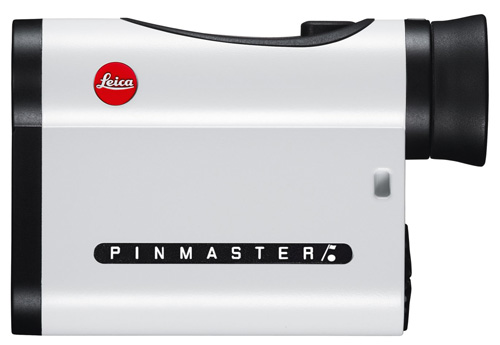 The caddies' companion?
The Leica Pinmaster is so well made you could see it living on the outside of your golfing bag, without fear of the elements. Yet I suspect it should be round your neck for quick access – perhaps not when trying to swing, as it has to go somewhere – so there is a belt carrying case supplied. Moreover, it's designed to withstand the rough treatment bags receive when hauled in and out of car boots, but is so discreet that it doesn't look like you are using anything other than a sight to find your ball.
Verdict
Certainly, a great talking point back at the clubhouse and reassuringly expensive too, but no more than a decent driver. While the Pinmaster's technology provides an edge for golfers – it simply offers accurate distance readings and no club suggestions – as always, the rest is still up to you. ®
More Lifestyle Gear Reviews…

Ten Essential
Travel Speakers
Veho
Muvi Atom
Speedo
Aquabeat
Tiger Woods
PGA Tour 11