Original URL: https://www.theregister.co.uk/2010/07/01/review_tablet_apple_ipad_3g/
Apple iPad 3G 32GB
Wandering star
Posted in Personal Tech, 1st July 2010 12:02 GMT
Review The problem of choice when buying an iPad is compounded not just by the size of the storage, but the issue of whether or not to shell out an additional hundred quid for the 3G version. It's not as simple as the choice between an iPod Touch and an iPhone, since the iPad 3G doesn't include phone capabilities: it all depends on where and how you want to use it.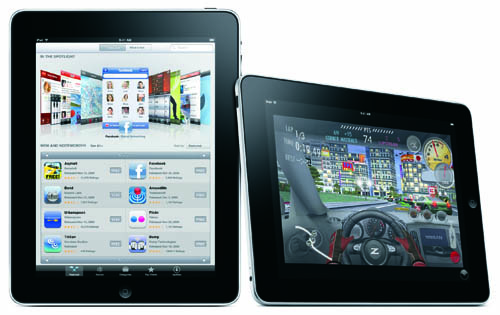 Apple's iPad 3G is unlocked, and 30-day contracts exist so you can choose the cellco with the best coverage
And that's the cruncher. Unlike a laptop or a phone, the iPad is an unknown genre of device: you can't run desktop applications on it, so it's not a laptop substitute. As a wholly new type of machine, you don't really know how you're going to use it until you've had one for a while. Register Hardware has already reviewed the entry-level Wi-Fi-only 16GB iPad, so now it's time to find out if a 32GB 3G iPad is worth the extra.
The limitations of the Wi-Fi-only version are clear – use it for web browsing, email, Twitter and YouTube only when at home or in an area where there's free Wi-Fi. Unless you plan to spend afternoons sitting over a coffee in MacDonalds or Little Chef, you'll soon discover the Wi-Fi version's limited capabilities. Indeed, connectivity, rather than game playing, music and photo browsing, is really what the iPad is all about.
The Wi-Fi reception of the iPad is notoriously variable in quality: even in an upstairs bedroom where I get a decent Wi-Fi signal on a laptop, the chances are that the reception on the iPad will drop off more drastically, the further away I am from the base station. Often, the 3G reception will give a better signal, even at home, which means pages and videos will load quicker and more reliably.
The good news is that with a decent signal, 3G on the iPad is really snappy. The speedy A4 processor means that web pages and videos load fast and run smoothly. It's noticeably faster than 3G on an iPhone 3GS, even though it's loading higher resolution images and video content due to the higher pixel resolution of the screen.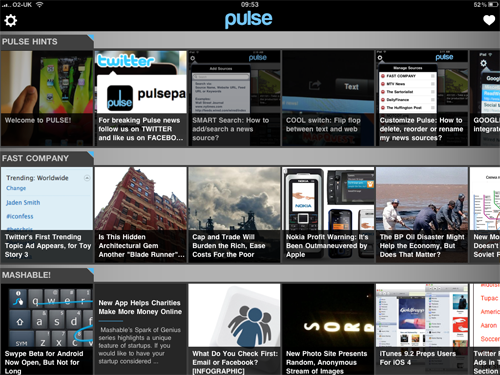 Pulse presents news feeds in a beautiful and highly visual way - and it's very quick to load
Having the 3G iPad means does allow you stay in touch more effectively when on the move. On the iPhone, you want a newsreader to deliver the raw text as quickly and efficiently as possible - there just isn't room for eye candy. But on the iPad different rules apply with newsreader apps such as Pulse, which displays a graphical view of all the news feeds with its large-scale thumbnails for each news item delivering a wholly visual sense of what's new and of interest.
There are numerous Twitter clients as well, from plain but functional free offerings to high-spec, attractive options such as Osfoora. Do we need beauty to use Twitter? If we're using an iPad 3G, then the answer is yes. Because to many, beauty is what the iPad is all about and the decision to buy an iPad comes from the heart more than the head.
Big screen satnav anyone? Besides Google Maps there are plenty of iPad-friendly satnav apps available
All the major phone companies offer a range of data plans, from 3's £15 for 10Gb to O2's £15 for 3Gb - but the O2 deal does include free Wi-Fi from The Cloud and BT Openzone as part of the package. Few of us have any real idea of how much data we're likely to use. The iPad 3G does provide good feedback on the data consumption, delivered from the service provider's pane in the General Preferences menu; some, like O2, allow an additional 500MB top up, as required.
As always, 3G reception varies considerably from supplier to supplier. In deepest Suffolk, where I spend a lot of my leisure time, the O2 reception is excellent - but there's no Vodafone coverage in that nook. The good news is that you don't not locked into a long-term contract: on a 30-day rollover, it's quite feasible to try different micro Sims from different suppliers until you find the service that provides the best 3G coverage in your area. And, of course, the 30-day contract means you can easily vary your data purchasing to suit your needs.
The iPad 3G has a built-in GPS receiver, so it can act as a satellite navigation device when you're on the move. Using Google Maps, it operates as a reasonable satnav, with the ability to plan routes and – thanks to the recent Maps update – a turn-by-turn function as well.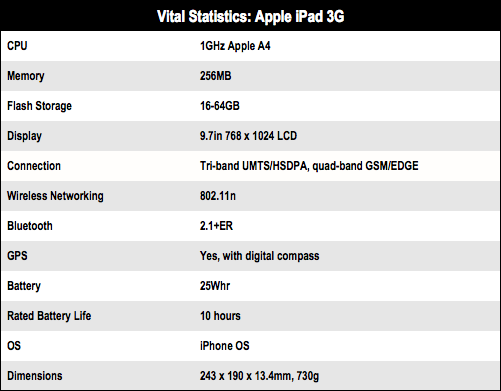 Unlike a dedicated satnav, though, the iPad's GPS won't pin you to the nearest road. Although it's just as accurate as any other satnav, it appears less so because your apparent position occasionally seems to wander off the route; conventional satnavs always make sure you're on a road, where possible.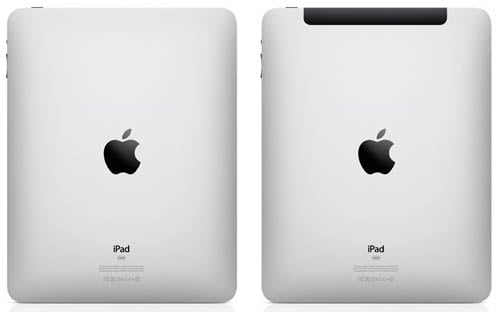 3G iPad on the right with its tell-tale antenna housing in black
The GPS unit is fast to find your location, faster in most cases than a dedicated TomTom or Garmin unit. With the addition of one of the many satnav apps downloadable from the App Store, it can act as a fully-fledged device that has the advantage of larger maps than any of the dedicated devices.
Battery life remains robust, even with 3G turned on. Of course, you're not accessing 3G constantly, but watching an hour of YouTube seemed to use about 10 per cent, which is good.
Verdict
The iPad 3G has a reasonable touchscreen keyboard – certainly one that's much easier to use than that on the iPhone, for all but the shortest messages – and the ability to remain in e-mail and Twitter contact, wherever you are, is, for some, a major consideration. If you bought a WiFi-only iPad and, in six months' time, someone offered you 3G functionality for an extra £100, the chances are you'd jump at it. Best to make that choice now, while the deal is still on the table. ®
More Tablet Reviews...

Apple iPad
16GB Wi-Fi only
Dell
Streak
Archos 9
Amazon
Kindle DX