Original URL: https://www.theregister.co.uk/2010/07/01/review_music_technology_korg_nanokey_midi_controller/
Korg NanoKey MIDI controller
Compact keyboard of the musical variety
Posted in Personal Tech, 1st July 2010 07:02 GMT
Review The Korg NanoKey is one of the smallest musical keyboards you can buy. At just 320 x 83 x 14mm, it's almost exactly the same width as a 13in laptop. Small enough to slip into a briefcase or laptop bag, the tiny form factor nonetheless features a two-octave, 25-note keyboard.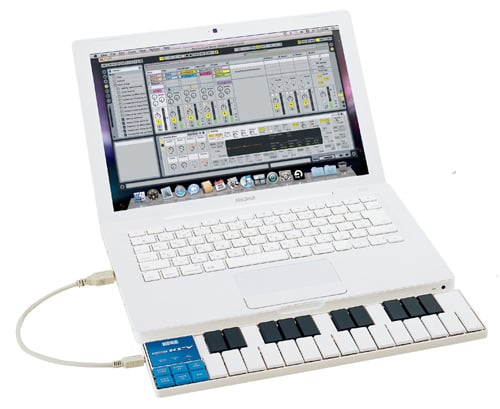 Korg's NanoKey: worth making a note of?
Because of the small height, the keys don't in any way resemble real piano keys: they're more like the keys on a typical laptop. But they're velocity sensitive, which means the harder you hit them, the louder the note produced.
It's quite possible to play with both hands on the polyphonic keyboard; in practice, though, users are more likely to play a single melody or chord line at a time, using the keyboard as an input device for a desktop or laptop based sequencing program.
Available in either black or white, the keyboard has a branded Korg logo that lights up when it's plugged into a USB socket. To the side of the piano keyboard are six further keys that provide additional functionality: a CC Mode button that allows it to operate as a MIDI controller, a Modulation button, and Pitch Up/Pitch Down controls that depend on the controlling software.

Also available in black
Most useful of all are the Octave Up and Octave Down buttons, which feature LEDs that indicate the degree of shift: a green light for one octave change, an orange light for two, a red light for three. This gives at-a-glance feedback that's a truly invaluable innovation.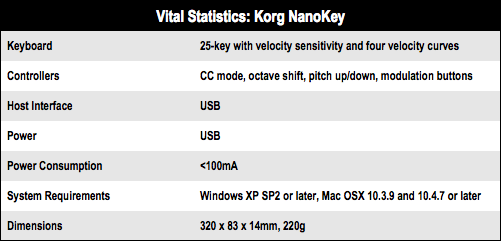 On the Mac, the NanoKey works with plug-and-play simplicity with GarageBand, the music authoring application that's bundled with all new Macs. No complicated MIDI setup is required, as the keyboard operates entirely via USB: simply plug it in and GarageBand will recognise it.
As a basic controller, it's a far more immediate experience than using either a virtual keyboard or forcing the computer keyboard to behave like a piano. And with a power consumption of less then 100mA, it can draw power directly from even an unplugged laptop for supreme on-the-road use.
The NanoKey also ships with a voucher to download Korg's own M1 LE, a limited edition software emulation of its classic late-1980s M1 hardware synthesizer. The M1 LE is an eight-part multi-timbral tone generator with 32-note polyphony, and functions as a powerful standalone synthesizer as well as offering RTAS, VST or AudioUnits plug-ins for use within composition software.
Verdict
Because of its small size and the limited travel of the keys, you'd be unlikely to want to use the Korg NanoKey for performance, or even as a substitute for a real piano in your own home. While it's possible to play tunes and chords with reasonable accuracy, that's not what it's designed for and certainly isn't where its strength lies. But as a tiny, portable keyboard for the travelling musician, or even for the home user who wants a cheap, simple way of inputting tunes into a software synth or sequencer, it's a neat and ingenious solution. And at just £50 – and under half a pound - it won't weigh you down. ®
More Audio Gear Reviews...

M-Audio
Pro Tools
Recording Studio
Sennheiser RS 160
wireless
headphones
Sonos
ZonePlayer
S5
Olympus
LS-10
recorder