Original URL: http://www.theregister.co.uk/2010/06/30/review_hd_dvr_ipvision_fetchtv_smartbox_8000/
IPVision FetchTV SmartBox 8000 DVR
Freeview recorder with Sky Player and iPlayer to boot
Posted in Personal Tech, 30th June 2010 12:02 GMT
Review The Freeview market has been getting more crowded recently, stimulated – as were we all – by the long-awaited addition of new high-definition channels to the service. However, there's still plenty of new kit that out there that merely tunes into standard definition, such as the FetchTV SmartBox 8000 from IPVision. What makes it stand out from the crowd though is it's the first Freeview box to provide access to the Sky Player, as well as the BBC iPlayer.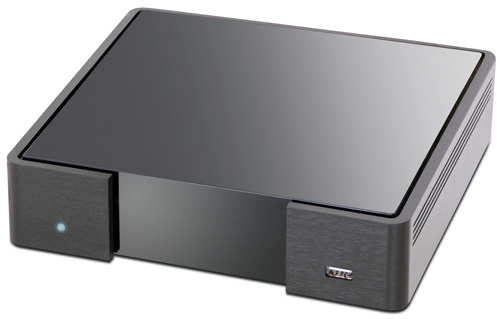 More than just a Freeview box: IPVision's FetchTV SmartBox 8000
The SmartBox isn't much to look at, consisting of little more than a square lump of black plastic. The only noticeable features on the front are a USB port and a tiny little power light. Tucked around the back of the unit there's a single aerial input that connects to twin tuners inside the box, allowing you to record two programmes simultaneously. The SmartBox 8000 has a 160GB hard disk, which can record about 80 hours worth of programmes.
Next to the tuner is an HDMI connector, which provides 1080i output, a SP/DIF that supports Dolby Digital and DTS audio, and a separate headphone connector. There's a 10/100 Ethernet port for network connectivity, and the SmartBox also has built-in 802.11g Wi-Fi too.
The SmartBox doesn't have a Scart connector, although there is a mini-DIN output for analogue video, and IPVision includes a DIN-to-Scart adaptor cable in the box, along with the remote control and cables for the aerial, Ethernet and HDMI.

No Scart socket, but if you need it a mini-DIN to Scart adapter is included
Getting started is nice and easy, even for less technically knowledgeable users, as the SmartBox guides you through the set-up process one step at a time. There's no internal fan, so it runs very quietly, and power consumption is a steady 11W – although this only drops to about 9W in standby mode, which certainly leaves room for some power-saving improvements.
The only real annoyance during the initial set-up is the intrusive online activation process, which requires you to provide your address, telephone number and credit card details even if you don't want to sign up for the Sky Player or other optional on-demand delights such as Hellenic TV. You should be allowed to use the basic Freeview features straight out of the box, without being pestered for your credit card until you specifically choose to use the optional paid-for services.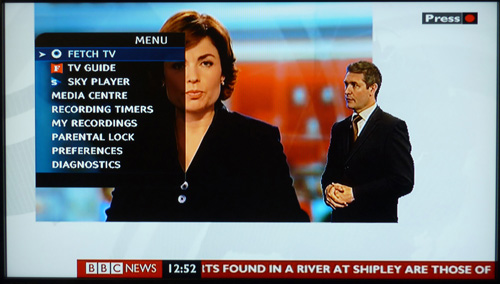 Main FetchTV menu
However, once the activation process is out of the way the SmartBox performs very well. In addition to the standard eight-day EPG, the remote control also allows you to activate a special FetchTV menu that provides access to the BBC iPlayer and Sky Player. The BBC iPlayer worked well, producing image quality that was comparable to ordinary standard-definition programmes.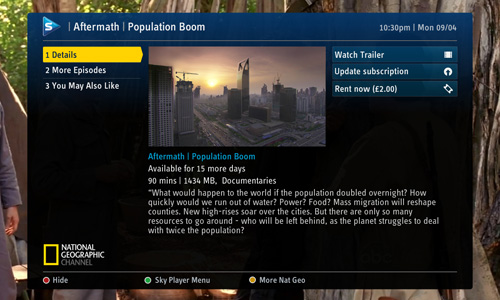 Programme summary
The Sky Player is certainly an attractive option too, although the content available here will depend on what you choose to pay for. Sky subscriptions range from £15 for the most basic package up to £41.50 per month for all the sports and movie channels. The good news is that you can sign up for one month at a time, so you can just dip into it for occasional events such as the French Open tennis or that football malarkey.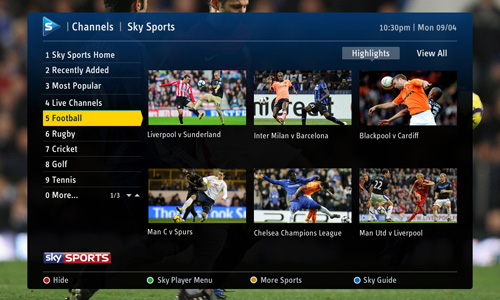 Sporting choices
The SmartBox also provides its own fairly modest selection of on-demand movies and other programmes, with older films such as Armageddon typically costing £2 each and more recent releases such as Paranormal Activity at £3.50.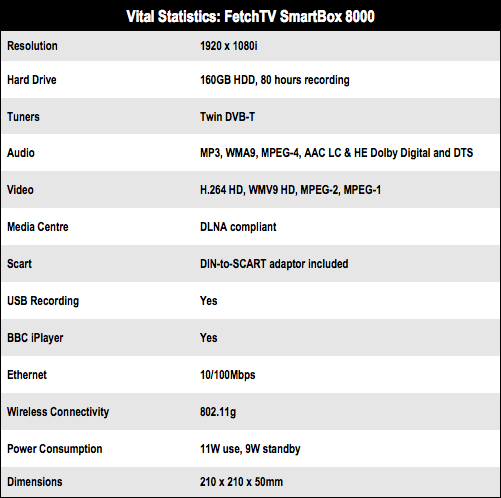 dth="501">
We do have some small niggles, though. The lack of an LCD display on the SmartBox means that you don't get much feedback in response to your commands, and this is irritating when you're first learning how to use it.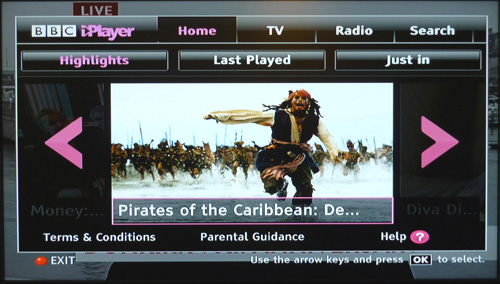 BBC iPlayer in action
The remote control is thin and oddly-shaped, with small fiddly buttons. The slim QuickStart guide doesn't provide as much detail as it could – for instance, it took a while to figure out how to switch back to the live broadcast after using the 'live pause' option.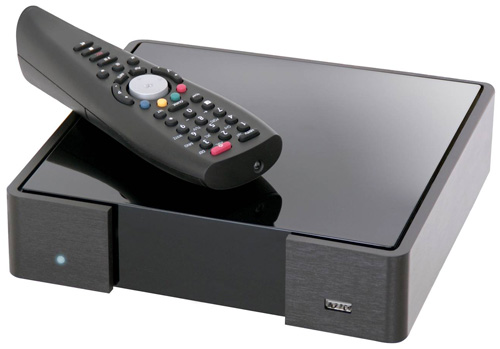 Versatile, but at a cost
Verdict
Despite those minor annoyances, the SmartBox 8000 works well and is an attractive option if you're looking for a Freeview box that lets you go beyond the standard selection of Freeview channels. It's a little more expensive than some of its rivals – you can get twice the storage space from a number of similarly-priced Freeview recorders – but the BBC iPlayer adds to its value, while the option of dipping into the Sky Player every now and then will appeal to a lot of people who might be reluctant to sign up to Sky's full satellite service. Its main weakness is the lack of Freeview HD channels, so some people may prefer to pay the extra for the HD model that should also be hitting the shelves now. ®
More Freeview Gear Reviews…

Group Test
Freeview HD boxes
TVonics
DTR-HV250
Digital Vision
GiGo DV-DTR1
Wyplay
Wyplayer