Original URL: http://www.theregister.co.uk/2010/06/29/review_phone_rim_blackberry_pearl_3g_9105/
RIM BlackBerry Pearl 3G phone
Redesigned keypad that's strikingly familiar
Posted in Personal Tech, 29th June 2010 12:02 GMT
Review What's this, a BlackBerry without a keyboard? In phone circles it's akin to a Factor without its X. The Pearl 3G 9105 is BlackBerry's first handset to sport a standard numeric keypad, rather than a Qwerty keyboard or its own SureType alphanumeric blend, which assigns two letters to each key. It's likely that this is something of an experiment, since the same phone is available with the SureType option in the US as the 9100. Can its other improvements make up for the loss of one of Blackberry's major assets?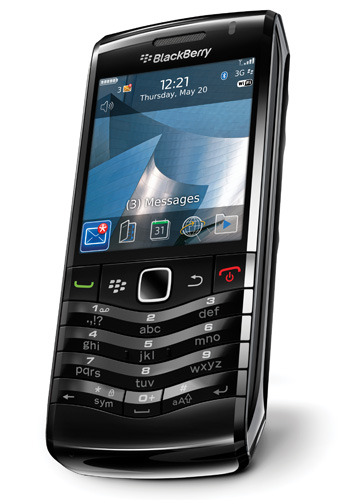 Retrograde in motion? RIM's BlackBerry Pearl 3G 9105
At first glance, the 9105 is very much a Pearl. It's kept the same sort of wavy keyboard pattern that we saw on its previous incarnation and it's just as petite at 108 x 50 x 13mm and 93g – pretty much the same size as the 2G version, and just a couple of grammes heavier.
Like its recent BlackBerry brethren, this latest Pearl comes with an optical trackpad, rather than the old-style trackball and it's all the better for it. The trackpad is responds nicely under the thumb and you can adjust the sensitivity to suit.
The sides have the now-familiar black plastic strip, which hides volume buttons, camera shutter release and voice dial button. The latter two are actually smart keys that can be set as short cuts to a range of function and features.
There's also a micro USB charge/sync slot and a 3.5mm jack. The top has a touch-sensitive strip with media player controls (play/pause, FFWD, REV and mute). Build quality feels solid enough and the neatly tapered top and bottom helps it slip easily into the pocket.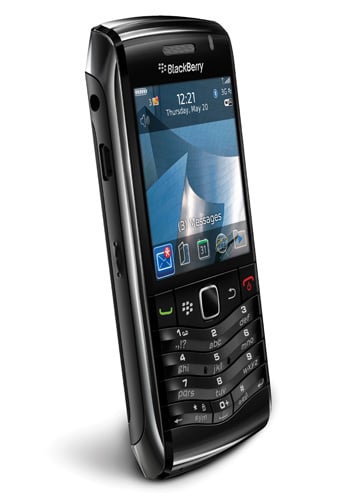 As with other BlackBerrys, side buttons can be assigned to different functions
The keyboard is, of course, the big difference, but really, it's only different because this is a BlackBerry. It's a standard numeric keypad with 14 keys and there's nothing wrong with that, but it does feel like a bit of a backward step. I've never had a problem with SureType handsets, certainly it's a different method, but takes barely any time to get your head around, and it offers more ease of use than T9-style text prediction.
So, replacing the SureType approach with a standard numeric keypad doesn't really make much sense to me, nor, I suspect, most other phone buffs. Might the abandonment of SureType – and its perceived learning curve – persuade casual users who've been put off by the BlackBerry's 'difference' in the past, yet covet RIM's facility with email? Maybe. At least RIM is working the options.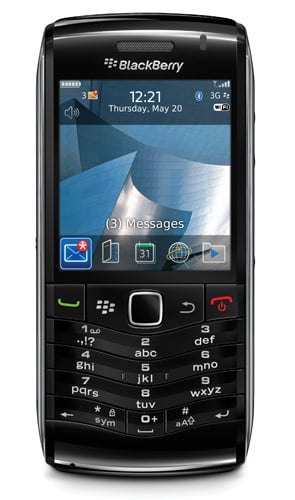 Will offering a conventional keypad be a fruitless exercise?
In action though, the keypad works perfectly well, with nicely responsive keys, and the wavy layout actually helps a little with two-thumbed typing. The fact is though, it's just not as quick as a Qwerty keyboard or even the SureType keyboard on previous Blackberry Pearls, such as the 8120.
Like the most recent Curve 8520, the Pearl 3G runs on the latest v5 of the Blackberry operating system, backed by an improved processor, and very nice it is too, with its easy-to-navigate icon-based user interface. It's not as flashy perhaps as Android's widget-based layout, but its supremely practical and easy to navigate. The push email system is still just about as good as it gets, and while many are approaching it in terms of usability these days, arguably, RIM handsets still have the edge in terms of security and reliability.
The browser is efficient enough – speedy whether you're connected by Wi-Fi (now upgraded to 802.11n) or 3G network link – with scanning of pages made easy by the nippy trackpad which only requires a single press to zoom. But with a screen measuring an extremely snug 2.2in, browsing never gets to be much fun. There's no Flash support either, but then with a screen this size, you're unlikely to be keen to watch a lot of streaming video on it.
The Pearl 3G can play MPEG4, H.263, H.264 and WMV3 video formats but, like web browsing, actually viewing this content can be a bit of a chore. While the 360 x 400-pixel screen is sharp and clear, there's no option to adjust the resolution and, as a consequence, widescreen film trailers and the like appear in a squint-inducing dwarf letterbox format.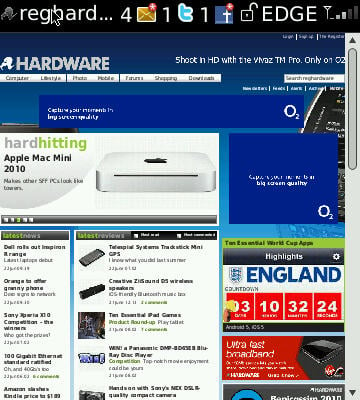 Browsing is fairly swift, but with such a small screen it isn't particularly satisfying
The music player benefits from having the transport controls on the top, so you can organise your tunes while the phone is in your pocket. Unfortunately, the sound tends to be a bit muddy and on the boomy side, despite the best efforts of an equaliser with 12 heavy-handed presets. It will play MP3, eAAC+, WMA, Flac and Ogg Vorbis formats and there's a 2GB micro SD card included as standard for storing your media.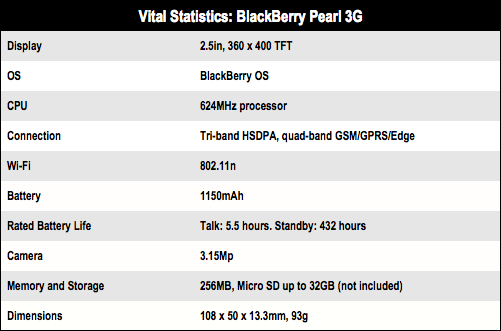 The 3.2Mp camera is certainly a step up from the previous Pearl's 2Mp model, yet it's still on the basic side compared with flashier snappers from Samsung and LG. It does, however, come with an LED flash, autofocus and a 2.5x digital zoom. The picture quality isn't bad at all, though edges have a tendency to get a little fuzzy and there's a bit too much purple fringing than I would ideally want to see.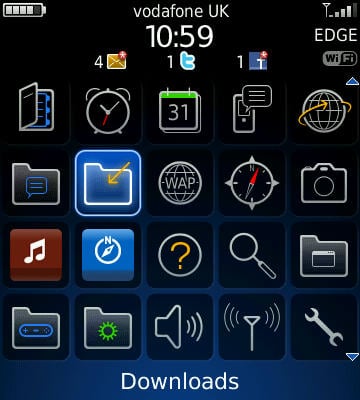 Runs version 5 OS and can utilise App World to enhance functionality
The battery held up well on the Pearl 3G 9105, granting us a good three and a half days of moderate use before we needed to recharge and the call quality was fine too with voices always sounding clear through the speaker.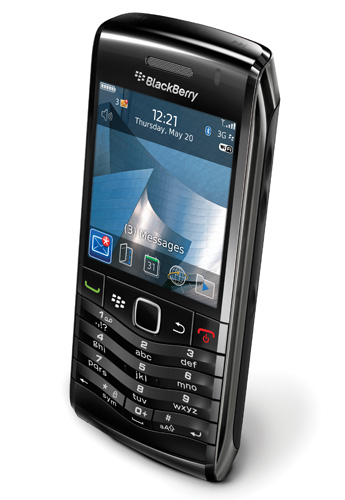 For fruit fanciers with no taste for the pips
Verdict
The 9105 is a nice little addition to Blackberry's consumer-friendly Pearl range. But while I'm happy to see the trackpad replace the trackball, the improved camera and processor, and pleased that the addition of 3G connectivity hasn't affected the size of the device. Yet I really don't see the advantage of replacing the SureType keypad with a standard numeric type, the only advantage of which, is to offer a BlackBerry which doesn't look like a BlackBerry. ®
More Mobile Phone Reviews...

Sony Ericsson Elm
Samsung Diva
Nokia C5
Sony Ericsson Yari