Original URL: https://www.theregister.co.uk/2010/06/29/review_desktop_pc_gateway_ds50/
Gateway DS50 Core i3 desktop PC
Small footprint, big impression?
Posted in Personal Tech, 29th June 2010 07:02 GMT
Review The main reason for wanting a compact PC is lack of room on or under a desk. The Gateway DS50 is not SFF in the Asus EeePC terms, but in the sense of something roughly half the volume of a midi-tower. It still has room for a full-height DVD rewriter, a 3.5in hard drive inside the case, an internal power supply and a 95mm cooler over the Core i3-530 processor.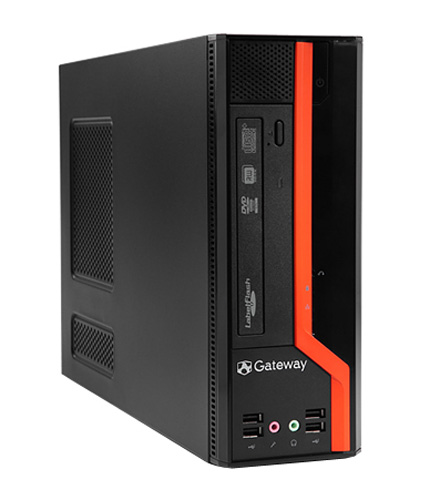 Gateway DS50: packs in a full-size a 32x DVD rewriter
Gateway says the DS50 is aimed at small businesses in need of a machine for more than core word processing, spreadsheet and Internet work. The company highlights multimedia editing as a task suited to the machine, so 3D rendering and video editing should be up its street.
What it isn't is a games PC – the integrated Intel HD graphics in the Core i3-530 aren't up to the frame rates demanded by this year's games. Nor is it a home cinema machine, though it could be adapted. The machine has two, half-height PCI Express slots, one x1 and the other x16, so it would be feasible to fit a TV tuner – or to plug in a USB one, a wireless network card and to replace the DVD rewriter with a Blu-Ray drive.
Two large perforated panels on the side offer enough airflow to keep the CPU very cool, but do mean, if you choose to position the machine flat, that you have to be very careful with spills. Upright makes more sense, though you then only have the two tiny lugs on the rim of the DVD tray to stop discs falling out.
2GB of 1066MHz DDR3 memory is enough for most Windows 7 functions, though if you want to do heavyweight video or rendering work, you can increase this to a maximum of 16GB. The 320GB SATA hard drive might also need supplementing in this environment and, although there's no room inside the case, there's an external SATA socket on the back panel.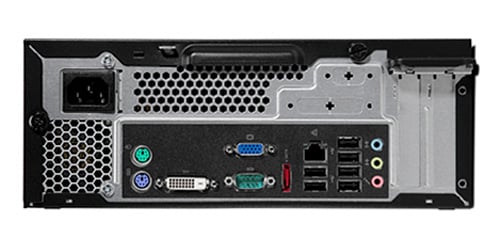 PCI Express expansion offers more flexibility compared to most SFF alternatives
There are also six USB 2 sockets there, with a further four at the front, with audio interfacing for the embedded 5.1 audio, split between front and back panels. Gigabit Ethernet is supported, too, and there's a legacy serial port, but no Firewire. USB keyboard and mouse are provided in the box and, while these are reasonably comfortable, they're no better than sets you can pick up for £20 or so.
PCMark Vantage returned an index of 5940, which isn't that impressive. Putting it against the six Mini Desktop PCs Reg Hardware tested in April, it comes in third. If you break the indexes down, there's not a lot of variance within the categories that make up the overall index, either.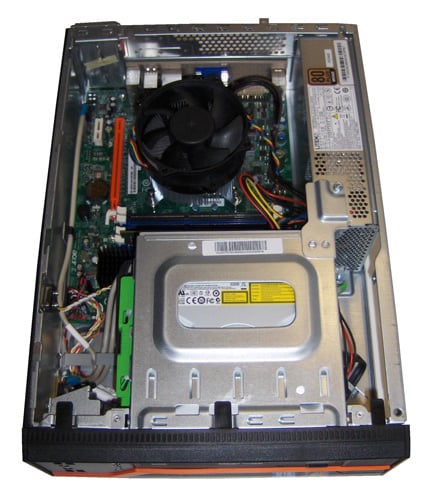 Well-organised internals and cool-running Core i3
It comes second in Memories and TV and Movies, giving some credence to Gateway's assertion it should be good with multimedia, but it's HD performance isn't exciting, coming last among those mini PCs that use 3.5-inch drives. Looking at overall bang for buck, though, the Gateway machine is quite a bit cheaper than many in that group, though not than the winning Viewsonic PC Mini 132.
Benchmark Tests
PCMark Vantage Results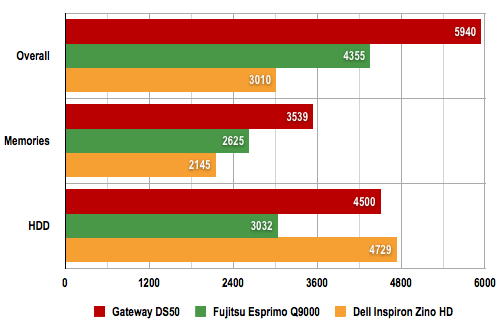 Longer bars are better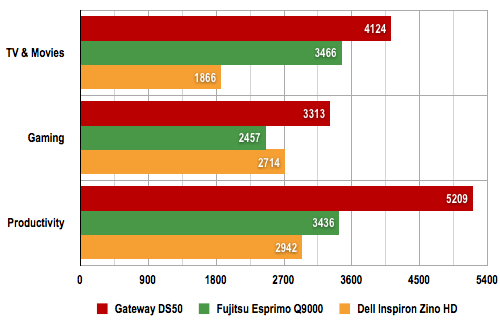 Longer bars are better
Since one of its target markets is multimedia editing, I also ran Cinebench R11, to test rendering performance. The OpenGL result was 1.58fps and the CPU figure was 2.31pts. For comparison, a 4-core Core i7-860 system with an ATI Radeon HD4850 scored 32.26fps and 5.06pts and a 12-core, dual Opteron 2435 with an ATI FirePro V8750 scored 48.73fps and 7.95pts.
The CPU result is interesting if you look at the number of threads each processor offers. The 12-thread Opteron result is 1.6 times greater than from the 8-thread Core i7, which is in turn 2.2 times faster than the 4-thread Core i3 in the DS50. The performance ratios aren't too far off the ratio of threads. Even so, the OpenGL performance doesn't suggest the DS50 is an ideal tool for 3D rendering, though its 2D video performance could make it a useful, low-cost video-editing platform.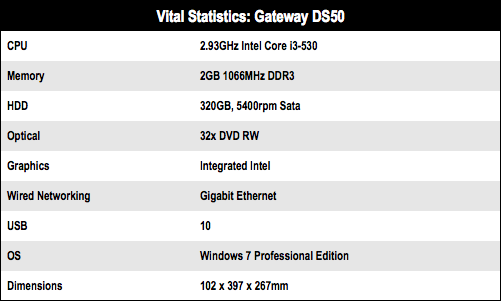 Gateway was keen to point out the warranty that comes with the DS50. It covers the machine on-site, next-business-day for a full year and continues covering parts for two years after that, so is more comprehensive than many.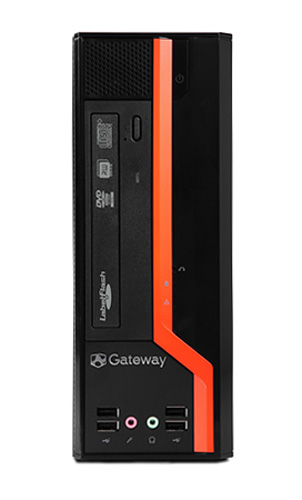 Its 3D scores aren't up to gaming, but certainly capable for video work
Looking at discounted prices, the DS50 comes in at around £420, which is better than competitive. Compared with a machine like Novatech's SFF iBizz, for example, the DS50 has a lower spec and an apparently higher price, until you notice the iBizz doesn't come with an OS. It may be ideal if you want to load up Linux, but the cost rises to over £500 with a copy of Windows 7 Pro, as pre-installed on the DS50.
Verdict
This is a well-made, reasonably well-equipped, compact business PC, designed for business multimedia editing. As long as that's 2D multimedia and you're not asking too much of its graphics, it should be able to keep its head up in this environment. It's a bit heavyweight for simpler office work, though. ®
More Desktop PC Reviews…

Group Test
Mini Desktop PCs
HP
Pavilion Elite
HPE-180
YoYoTech
Warbird
i750CX
Shuttle
XPC SX58H7