Original URL: http://www.theregister.co.uk/2010/06/29/games_review_singularity/
Singularity
Shootin' through spacetime
Posted in Personal Tech, 29th June 2010 13:12 GMT
I'm not sure why I'm writing this review when you've already played Singularity countless times before. Don't worry, though. Your memory isn't failing you. Quite the contrary, it's working far too well.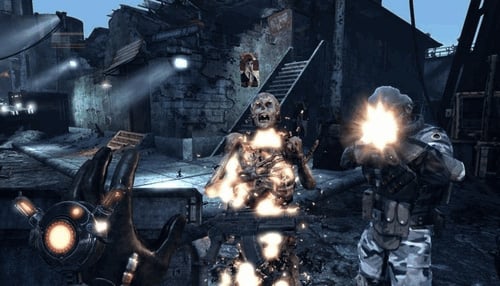 Now now, you've gone and got a head of yourself
You see, you fought Singularity's amorphous mutants in Dead Space and its exploding arachnids in Halo; you were unnerved by its ghostly apparitions in F.E.A.R, and you were thrilled by its gravity gun in Half Life 2; and, most pertinently, as its narrative unfolded through audio tapes, you augmented its weapons and abilities at upgrade stations in Bioshock.
But while it wears these imitations on its shirt like gaming chevrons, Raven Software's latest FPS has enough tricks up its sleeve to make for a thoroughly enjoyable romp.
You play as Nate Renko, an American Airforce pilot sent to reconnoitre Katorga 12, an abandoned Russian scientific compound on a remote island in the Bering Strait. Katorga 12 was the scene of a devastating disaster some 50-years ago, where, in a bid to combat the American atomic threat, those pesky Cold War Ruskies began experimenting with a newly discovered element called E99.
Unimaginably powerful, E99 fuels the game's various Einstein-bending technologies, from zero point energy and anti gravity, to time travel. But it's also extremely volatile, producing disastrous side effects, such as mutations and temporal phasing. No wonder, then, that the experiments went horribly wrong, leaving the island in ruins and overrun with mutants.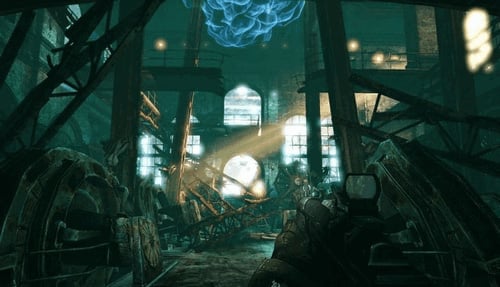 Hmm, this place looks safe
Singularity doesn't take itself seriously...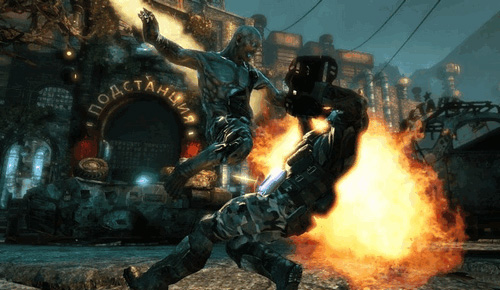 That's one hot slapper
If the mention of mutants alone doesn't get your trigger finger itching, the Russians have returned with Spetsnatz forces in a bid to reclaim the technology. Cue one of gaming's most convoluted and downright silly adventures to date (hardly surprising given Raven's last game was the 2009 re-imagining of Wolfenstein).
It's a good thing, then, that Singularity doesn't take itself seriously. Whether in the risibly hammy dialogue of NPCs, slo-mo sniping and boss weak spots, or in the pure deus ex machina of combat and puzzles, the game reaches a new level of cliché for the sci-fi FPS genre.
Fortunately, the variety of gameplay elevates Singularity from mere pastiche. Set pieces are rarely repeated, so you're never quite sure what's around the next corner. One minute you'll be fighting a hundred metre-tall monster aboard a train, and the next you'll be scrambling around for oxygen canisters to refill your gas mask in toxic underground tunnels. And although you've seen the game's weapons and abilities in different guises elsewhere, Singularity combines their use to to present varied combat and puzzle solving.
The ability to affect time provides the most novel mechanic. Wielding the game's Time Manipulation Device (TMD) allows you to alter the temporal state of objects and enemies. When puzzle solving, it might mean rebuilding a stairway that has collapsed with age, or rejuvenating a rust-flattened metal case to jack open a rolling door. And in combat it might mean pulling a mutant out of phase, where it's invulnerable, and into the present time, or ageing an enemy soldier until his flesh disintegrates into dust and his skeleton falls to the floor.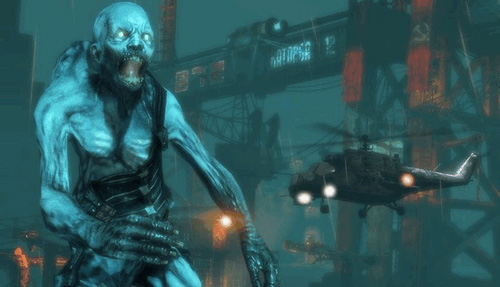 Hell, a copter
Deadlock holiday..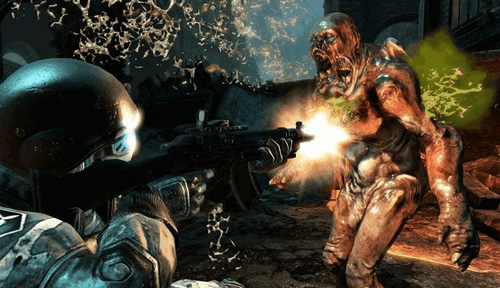 Take that, slimebag
One unwelcome attribute of the TMD is its Deadlock ability, which arrives via an upgrade around the halfway mark. With it you can generate a projectile bubble that envelops an area in suspended time. Introduced (unsurprisingly) to halt fast moving fan blades, you soon realise it can be used anywhere, on any enemy, and without cost to your E99 supplies.
Even on the game's most difficult setting, which until then proves extremely tough, the game is suddenly made too easy. Enter a room full of soldiers and mutants and the temptation to throw a Deadlock around them is too great. Once trapped, all that remains is for you to walk leisurely in and spray them with bullets.
The only saving grace is that Deadlocks can be combined with exploding barrels and freezing canisters to provide some memorable and entertaining moments. But even this can't prevent dissatisfaction with your new found omnipotence. It's ironic in a game which otherwise excels through variation that this one ability can be employed to such devastating effect throughout its entire second half.
In spite of this invulnerability, you'll still find yourself wanting to complete Singularity. The plot, although littered with paradoxes (we are talking time travel after all), crescendos to a thrilling climax. And the variety of combat and puzzles never diminishes. Even the graphics and architecture, unimaginative in the game's early levels, improve significantly throughout.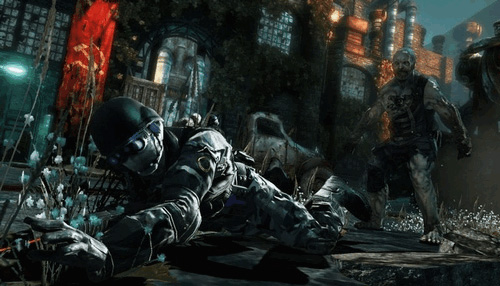 Man down
Verdict
You may have seen it all before, but through great variation and pacing, Singularity manages to always entertain. And if you can resist using Deadlocks at every opportunity, you'll also find there's plenty of challenge.
More Games Reviews

Prince of
International
Cricket 2010
Darkstar One:
Broken Alliance
Alpha
Protocol
Red Dead
Redemption