Original URL: http://www.theregister.co.uk/2010/06/28/ten_essential_travel_speakers/
Ten Essential... Travel Speakers
The acme of alfresco audio
Posted in Personal Tech, 28th June 2010 08:02 GMT
Product Round-up With summer galloping towards us with unjustifiable confidence, the thoughts of young men an women turn towards kit that will work alfresco. With this in mind, today I'm taking a shufti at travel speakers.
The key ingredients here are size, weight and price - or rather the the lack thereof in all three instances - an internal power source, be it some AAAs or a re-chargeable battery, and universal compatibility. In other words anything with a 3.5mm headphones jack.
With the emphasis as much on being able to sling them in your backpack before heading off to the beach as well as in your hold luggage I've deliberately not included any of the larger iPod/iPhone. Yes they are often fine sounding bits of kit but they are also big and expensive and I for one would not risk getting sand in them.

Sony Ericsson MBS-400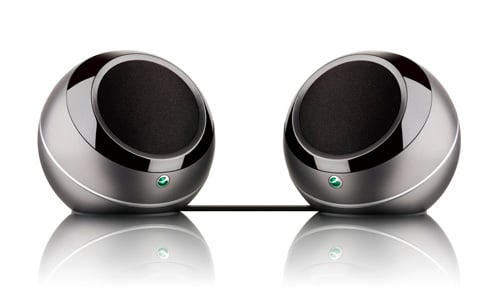 Using Bluetooth, the MBS-400 speaker system dispenses with unsightly cables between source and speaker, though the two speaker units still need to be tethered with the 1.5m bundled 3.5mm audio cable. Still, at least it's long enough to give all the stereo separation you are likely to want or need in a product of this kind.
Users of Sony Ericsson phones get the added benefit of song titles and incoming caller information displayed on an "invisible" LED display on top of the speaker units. If you don't have a Bluetooth device, don't worry - you can attach an MP3 player using the 3.5mm jack, though this does perhaps defeat the object of buying them in the first place.
Each speaker unit is 100mm in diameter and weighs 145g, which when combined with the travel bag Sony Ericsson includes makes for a reasonably convenient package. Having to use a Sony Ericsson charger to keep them topped up, and having to charge each unit individually is less so. Sound was generally impressive with plenty of warmth and power. If your main mobile music source is a Walkman phone these can be recommended.

LG MSP-300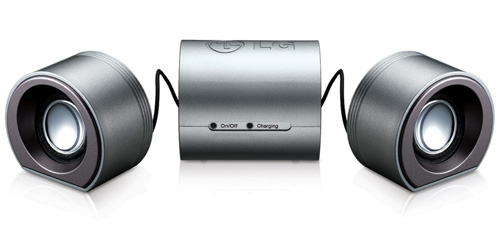 LG eschews the disposable battery option in favour of a rechargeable power pack. This has two downsides: firstly, you only get four hours from a charge and, secondly, if you misplace the bundled LG charger you are stuffed.
Consisting of two speaker units that clip onto a central section, the smart looking MSP-300 flatters to deceive - that middle bit is not a pocket sub-woofer as you might think, it just houses the power pack. The speaker tether cables are a not unreasonable 250mm in length giving decent stereo separation, and they coil up inside the drivers before they conveniently clip onto the tube. If you can't be bothered uncliping the speakers they still work when attached to the main body.
Audio input is via a 3.5mm jack around the back but you don't get a volume control. In terms of sound quality, they just shade the Samsung unit delivering a brighter and more composed soundscape at higher volumes. Clip everything together and you get a tube that measures 120 x 52 x 46mm and weighs around 150g making it no less packable than the Sammy alternative.
Reg Rating 75%
Price £20
More Info LG

Nokia MD-6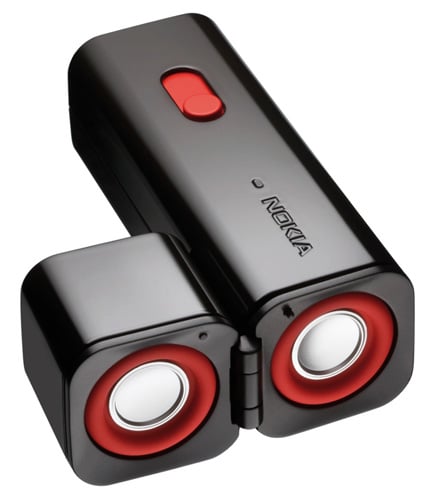 Nokia's MD-6 offers a unique twist on how to mount stereo speakers into a small unit. Flip open the magnetically closed 'top' of the unit and the two 1.5W speakers are revealed. Magnets then hold the two speaker housings in place side-by-side.
It's a design that does nothing for stereo separation but it's still quite clever. The two speaker housings are actually the same size - all that extra space behind the left-hand unit houses the four AAA cells that should keep you grooving for 27 hours, and the cable store.
The cable store is worth a few more words. Push an orange button and the rear of the unit opens to reveal a spool with a 700mm 3.5mm audio cable. Just unroll as much as you need then close the caddy to conceal to the remainder. Sound quality is pretty good too, with no distortion and a fair amount of bass for something so small.
Reg Rating 75%
Price £25
More Info Nokia

Verbatim Bluetooth Audio Cube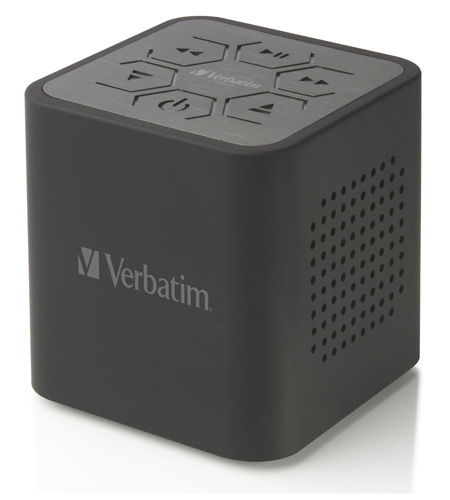 Unlike the similarly Bluetooth linked Solar Sound 2, the Verbatim only works as a speaker, so no hands-free telephony here. That's fair enough since it costs a lot less.
No excuses need to be made for the design, though, which is superb. A rubberised black 700mm square cube with an etched metallic control panel on the top, the Verbatim is the single best piece of design in this round-up.
The control panel houses six hexagonal pressure switches which give you full control over any paired AVRCP audio device. Each side of the cube houses a 50mm 1W driver. Together, these pump out a reasonable if not startlingly good sound. For best performance, don't push the volume above around 80 per cent of the maximum or some breakup can start to intrude.
Power comes either by USB cable or from four AA cells which hide behind a panel in the base. Next to the mini USB charge slot resides a 3.5mm audio jack for wired connections. At 180g including the batteries, the Verbatim shouldn't weigh you down on your travels, and the four rubber feet keep things steady when in use.
Reg Rating 80%
Price £40
More Info Verbatim

iHome iP49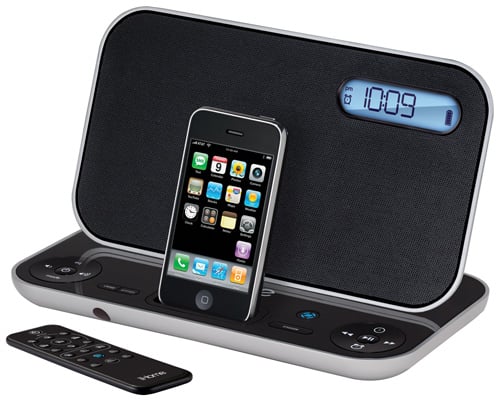 OK, the iP49 is as much a dock as a portable speaker system, but it sneaks under the bar because it folds flat into a rounded package with convenient dimensions of 250 x 130 x 25mm. Use it with an iPod or iPhone - it's fully iPhone compliant - and you can also use the bundled remote control to navigate your tunes library, but a 3.5mm auxiliary jack means it will work with just about anything else too.   As well as being a speaker, the iP49 also has a built-in FM radio with six channel presets and an alarm clock, making it a very handy travel companion. Away from the mains, the unit is powered by a rechargeable battery back which I found to be good for around six hours of playback.
With 20W of power on tap courtesy of Bongiovi Acousitcs' patented Digital Power Station technology with four drivers, the iP49 produces an impressively composed and, perhaps more importantly, loud sound. At £150, it's not cheap, but is still decent value for money.
Reg Rating 80%
Price £150
More Info iHome

Samsung SP100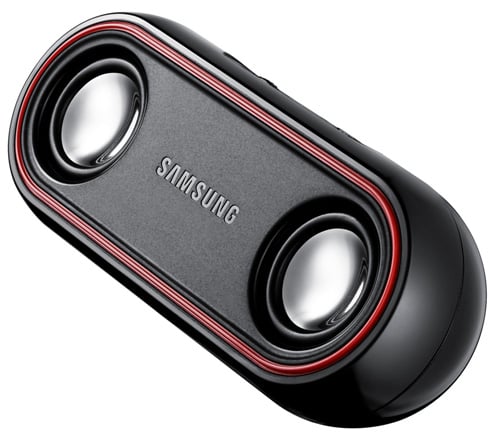 A hugely popular travel speaker that's available from most UK mobile telecos and independent mobile phone sellers, both online and on the high street, the Samsung SP100 is hard to avoid. It's nothing much too look at, with the plastic body and exposed silver speaker drivers looking just a little bargain basement, but it does the job.
Though rated at 2 x 2W, the SP100 is not the loudest unit here but what sound it does produce is well balanced and possessed of a pleasant sense of warmth. For a little late-night listening to Carole King or similar, the Samsung is ideal. Usefully for such a cheap package, the SP100 also has a built in volume control. You connect it up with a bundled 3.5-3.5mm audio cable.
Finding space for your SP100 isn't going to be an issue - it's only 125 x 50mm and weighs 99.5g, including three AAA cells. Samsung has done a decent job at squeezing a quart of sound quality into a pint pot of speaker. A final word of advice: the black unit looks much nicer than the red one.
Reg Rating 80%
Price £15
More Info Samsung

X-mini X-Max II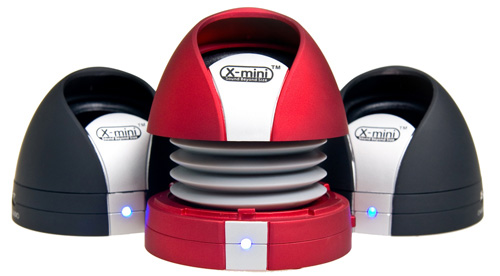 Big brothers to the X-Mini travel speakers, the X-Max IIs stick to the same basic recipe of two expandable concertina capsule speakers that can be joined together at their bases magnetically for ease of carriage. When split apart, the capsules are connected by a cable that terminates in two mini USB connectors, while another cable that ends in both 3.5mm audio and USB connectors is used to connect to your MP3 player and PC for playing and charging, respectively.
Stylistically, things have taken a step forward with open speaker drivers and faux chrome now the order of the day. Power comes from a rechargeable battery in each capsule that's good for around 12 hours of use. Buy two or more sets of speakers and you can join them together into a "buddy" chain.
The drivers in the new capsule speakers are rated at 2.5W apiece making them a touch louder than their predecessors while the larger drivers and enclosures generate a more focused and better structured if still rather raw sound.

JBL On Tour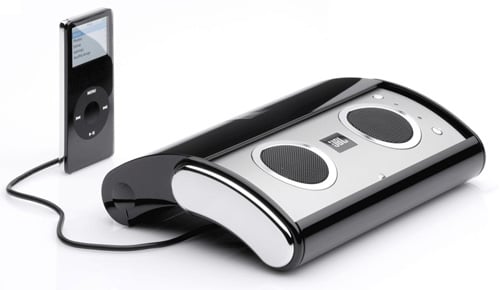 You'd expect a portable unit from a well-known speaker maker like JBL to deliver the goods, and the On Tour doesn't disappoint. Though only rated at 2 x 3W, the On Tour delivers a clean and punchy sound that's as impressive now as it was when JBL launched it. Its also produces a surprising amount fo bass for something with only two 1in speakers.
The On Tour scores well in the portability stakes too thanks to a clever sliding-out-of-itself design that sees in transform from something the shape of a hip flask to something the shape of two hip flasks welded together. With it weighing only 350g and measuring up at 175 x 88 x 35mm, finding space for the On Tour is unlikely to ever be an issue.
The On Tour's stylish, sleek and well made plastic and chrome body is a joy to behold and the touch-sensitive volume controls also impress. It's powered by four AAA batteries, and you should get around 24 hours of playback between trips to the 7-11, though JBL also bundles a mains adapter if you find yourself closer to the beaten path.
Reg Rating 90%
Price £50
More Info JBL

Devotec Solar Sound 2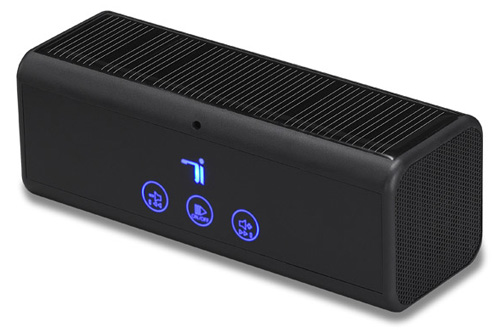 A bit of an exclusive here, as I managed to snag one of the first Bluetooth-connected Solar Sounds 2s to arrive in the UK. The SS2 not only does away with the need for cables but for a physical power source too: the rechargeable power pack can be juiced up using the solar panel on top of the unit - or via USB - making it perfect for outdoor use on your summer hols.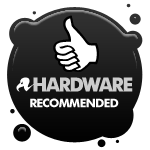 Besides working as a speaker, the SS2 also functions as a hands-free speakerphone and you can hook it up a fully fledged hi-fi or larger set of powered speakers via the 3.5mm audio-out socket. If you want to connect it to a non-Bluetooth device, that's not a problem - you get a 3.5mm audio-in socket too.
The rechargeable battery is rated at 1600mAh which should give you 12 hours of wireless playback or 36 hours from a cabled music source. The two 2W speakers at either end of the unit won't bring the roof down but the sound is clear, crisp and well balanced and in-coming calls come across loud and clear. At 165 x 55 x 55mm and weighing 280g this versatile little box of tricks is well worth the money.
Reg Rating 90%
Price £70
More Info Devotec

Altec Lansing iMT237 Orbit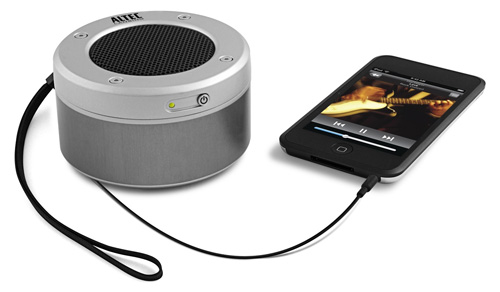 The squat circular Orbit is a classic bit of Altec design complete with fake Allen screws. Thankfully the build quality lives up to the industrial design. I especially like the stiff metal grille that covers the single speaker.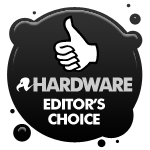 For something no bigger than the lower half a coffee mug, the Orbit produces an absolutely superb sound. Bass and definition and both top rate, and the unit projects a soundscape beyond anything something this small should be capable of. A 200mm audio cable coils around the bottom of the unit, which also has handy snap-in receptacle for the 3.5mm jack. Unscrew the bottom part of the cable tidy and find the bay for three AAA batteries which should be good for 24 hours of music play.
Though the Orbit carries an RRP of £30, at the time of writing at least one online retailer is selling it for half that which makes it a bargain. My advice: buy two and a 3.5mm splitter.