Original URL: http://www.theregister.co.uk/2010/06/28/review_laptop_packard_bell_easynote_lm/
Packard Bell EasyNote LM 17in laptop
Big screen for small pockets
Posted in Personal Tech, 28th June 2010 12:02 GMT
Review Back in May I reviewed Packard Bell's dot S2 netbook and was disappointed to find it was little more than a Aspire One 532h rebranded from parent company Acer. I was therefore pleased to see the new EasyNote LM looks totally unlike any of Acer's 17in Aspires and Timelines.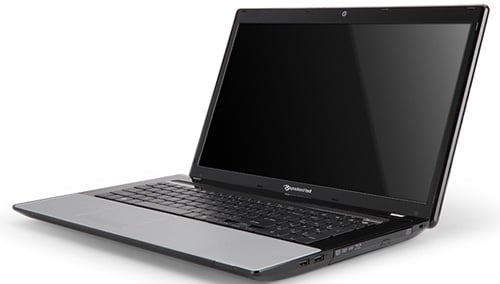 Packard Bell's EasyNote LM: nothing like an Acer
Various versions of the EasyNote LM are available. This one is the LM86-GN-005UK, which is the lowest-specified model and has a Core i3 processor, 3GB DDR3 memory, 320GB hard drive and Intel GMA HD graphics.
Part with an extra £100 and you can get your hands on the LM86-JN-009UK – this sticks with the same processor, but adds an extra gigabyte of memory, doubles the hard drive capacity and is more gamer-friendly with a Radeon HD5470. There's also a Core i5-driven LM86-JN-010UK model, but at the time of writing I couldn't find this on sale anywhere in the UK.
A fairly restrained wavy lined pattern adorns the lid and wrist rest, but apart from that it's a pretty bog-standard design. Red, silver, white and black are your colours choices. With plenty of space to stretch out, the low-profile keyboard features decent-sized keys along with a numeric keypad. The keys feel a bit spongy when depressed and it's not the nicest to type on, but then again I've never been a huge fan of low-profile keyboards.
Taking the form of a single rocker-bar, the left and right buttons below the touchpad aren't great. As with the keys on the keyboard, they feel spongy and could do with a bit more travel. Using two individual buttons instead of a rocker-bar would also be preferable.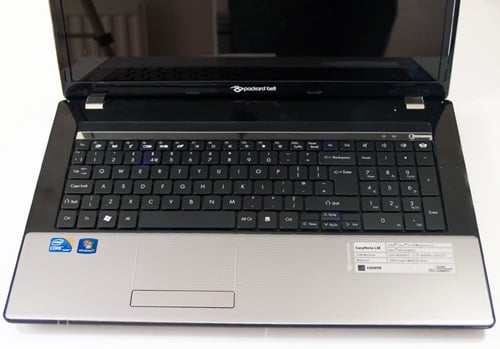 Full-size keys, but it's not the nicest to type on
Packard Bell markets the EasyNote LM as providing 'a true cinematic experience', but I wasn't surprised to find the speakers a little lacking. They'll fill a small room, but distortion creeps in at high volume and bass is non-existent.
However, movies look great thanks to the 17.3in screen's glossy coating. The display is also bright and produces vibrant colours, but with a native resolution of 1600 x 900 it won't be able to please your eyes with a bit of 1080p HD action. The EasyNote LM can be hooked up to a suitable TV using its HDMI port, though.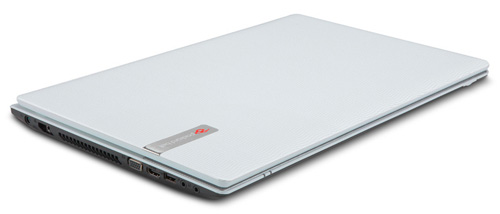 Packard Bell's gone for a Plain Jane approach
During testing, I noticed that the screen flexed quite a bit, and it only takes a slight bit of pressure at the back to knock it against the main chassis. More worrying, however, is the fact that the covers encasing the two screen hinges are far too easily popped out of position.
Had this only happened on one of the hinge covers I could have put it down to a manufacturing fault, but the fact both of the covers only require a slight push to dislodge them isn't great. The stability of the hinges themselves isn't affected, though, and the rest of the chassis feels pretty sturdy.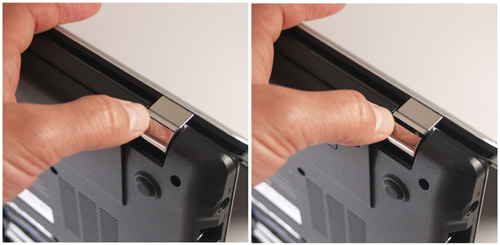 Even the slightest of touches would dislodge the hinge cover
Five screws on the underside are all that stand in your way of a bit of upgrading. A 2GB and a 1GB module occupy the memory slots, but if you ditch latter a quick upgrade to 4GB is possible. Alternatively, you can discard both and slap in two 4GB modules to reach the laptop's 8GB maximum. The 5,400rpm hard drive can also be accessed, as can the Atheros wireless card. Should you have a need for it, there's a spare full-length Mini PCI Express slot on the right.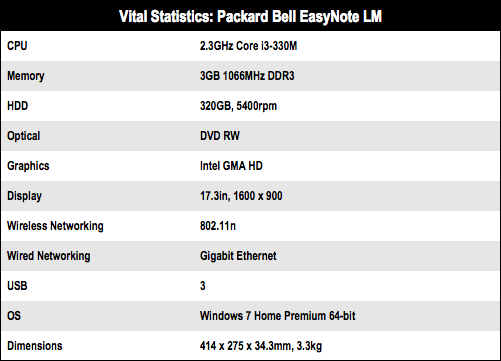 The Core i3-330M CPU that drives the laptop sits near the bottom of Intel's latest processor line up. It's a dual-core model running at 2.13GHz, but it doesn't feature Intel's clock speed-enhancing Turbo Boost technology – that's reserved for the i5 and i7 chips.
Benchmark Tests
PCMark Vantage Results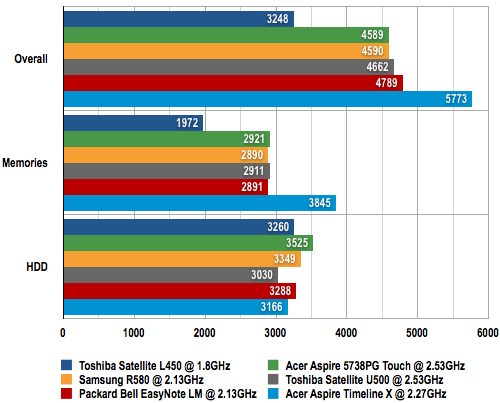 Longer bars are better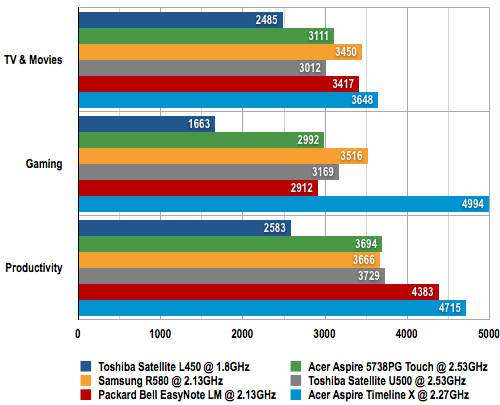 Longer bars are better
Battery Life Results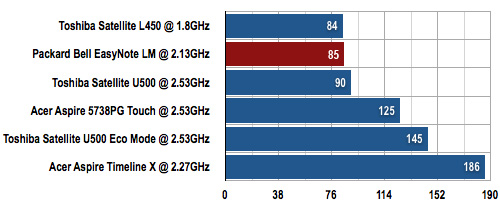 Battery life in minutes
Longer bars are better
Still, with 3GB of DDR3 memory, it trotted its way through the PCMark Vantage suite with an overall score of 4789. 3DMark Vantage turned its nose up at the EasyNote LM, but I did manage to get some old-fashioned 3DMark06 scores out of it – 1448 at 1280 x 800 and 1244 at the native 1600 x 900, to be precise
A 48Wh (4,400mAh) battery slots neatly into the chassis – a larger capacity battery would be nice, but it's unlikely you'll be taking this 3.3kg laptop on the road that much. With the 17.3in screen and Core i3 processor placing heavy demands on the battery, it's no surprise that the EasyNote LM only managed 85 minutes in our PCMark Vantage loop test.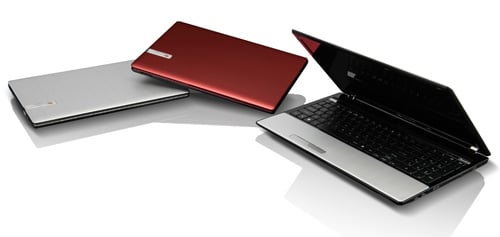 Budget desktop replacement, with a build quality to match
As for the competition, most other 17in Core i3 desktop replacements come in at around the same price. I did, however, spot HP's 17in G72-110SA for £499 on the PC World website. This is almost identical to the EasyNote LM in terms of specs, so if you're after a cheap desktop replacement it's probably worth checking that one out as well – beware, though, it appears to only have 802.11b/g wireless.
Verdict
The EasyNote LM ticks all the right boxes in terms of a budget desktop replacement, but there were a few things that soured my experience with it. The dodgy screen hinge covers were disappointing, while the keyboard and touchpad buttons could have been better. I'd also like to see a higher resolution screen, but that would no doubt push the price up. Overall, it's a fairly average desktop replacement, at a fairly average price. ®
More Notebook Reviews...

Apple
MacBook Pro 15in
Acer
Timeline X
4820TG
Dell
Studio 17
Toshiba
Satellite
U500