Original URL: https://www.theregister.co.uk/2010/06/28/project_canvas/
WTF is... Project Canvas?
A good thing, we say
Posted in Personal Tech, 28th June 2010 11:02 GMT
The BBC Trust announced on Friday that it had approved Project Canvas, the internet-connected TV specification that's backed by the BBC along with the other public service broadcasters, plus telcos Talk Talk and BT, and transmitter overseer Arqiva.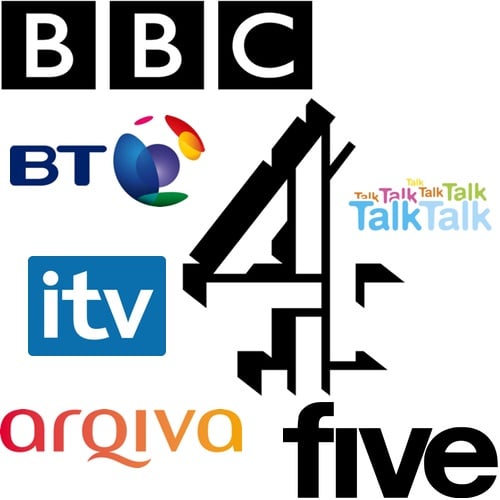 The Project Canvas partners
The decision follows months of debating and consultation, with some other broadcasters claiming that the BBC has no business being involved in setting up such ventures, and presumably hoping to kill it off – in much the same way that Project Kangaroo was halted, before being sold off to Arqiva as the basis of its SeeSaw online video site.
Amidst all the complaints and reports about whether or not enough of the specification was discussed in advance, what's not been talked about so much is what the home user can expect, and when.
Get connected
Connected TVs are nothing new – we looked at them earlier this year - and the latest crop of Freeview HD-integrated TV sets has even more to offer in that regard. The Digital Television Group (DTG) is also working on a specification for connected TVs that will be incorporated in the next version of the 'D Book', which sets out the requirements for UK free-to-air equipment, building on the requirements for an Ethernet connection already included in Freesat and Freeview HD kit.
So what does Project Canvas bring to the table that you won't already be able to get by choosing a Panasonic, Sony or Samsung set that gives you access to the LoveFilm online rental system? And why have some people been so opposed to it?
The aim of Project Canvas – it's real name will be something else, yet to be decided, though "YouView" is one that's been mooted – is to provide a common user interface to access internet-streamed live, catch up and on-demand services.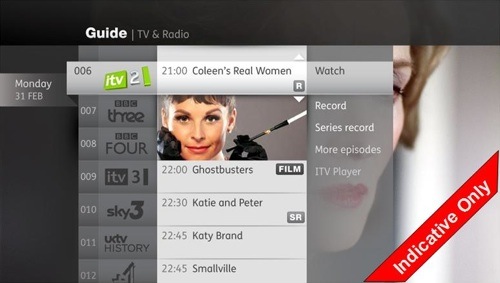 How Project Canvas may present EPG info
It's envisaged that it will be incorporated in both Freeview and Freesat equipment, providing those services with useful extras that, for many people, may mean that they simply don't feel the need to opt for a subscription TV service from Virgin Media or Sky.
Over the top
Key to making Canvas work will be the user interface. Though it hasn't yet been finalised, preview screenshots show how, for example, highlighting a show in the electronic programme guide (EPG) can provide not just the usual options to record, with or without a series link, but also a 'More episodes' link that will take the user to catch-up content, rather than having to access those services through a separate option, as is the case so far on boxes that have the iPlayer available, such as some Freesat products and iCan's Easy HD receiver.
The TV industry refers to programmes delivered over the internet like this as 'over the top' content, and it's not restricted to just the catch up services from the major broadcasters.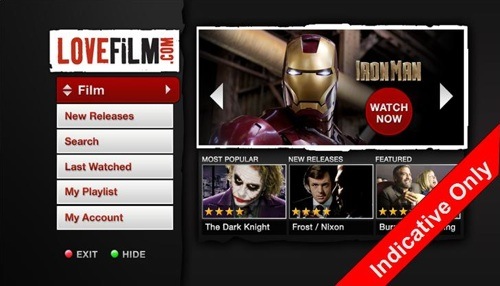 LoveFilm could standarise its TV UI
Canvas is also designed to allow other content providers to create applications for it, some of which may be free, others paid for. One example on the Canvas website is LoveFilm - with Canvas, rather than having to create separate applications for Sony and Samsung TVs, it can create one app that will run on all Canvas-compatible hardware.
And it's not necessarily just video services that Canvas can offer, either. Mock-up screens show other web services, like BBC news headlines, eBay and Flickr. Some of those, of course, are already available on connected TVs, but there too the implementation and range of services varies from brand to brand, something that won't happen with Canvas.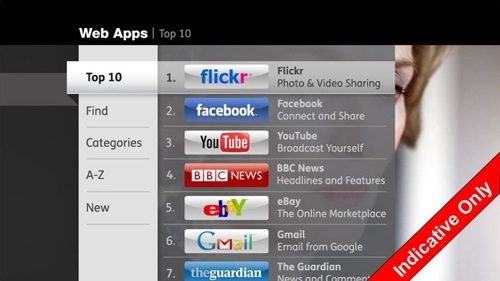 Canvas will front other internet services - not just TV
Who can play?
The conditions of approval for Canvas make it clear that licensing should be on a cost-recovery basis only, so just about anyone who's willing to sign up to the technical standards will be able to make compatible kit. That has to be good news for punters.
Humax is one of the key technology partners, and companies such as ADB – maker of the iCan – along with Vestel, which makes many Freeview products under different brand names, as well as Sagem and LG are all apparently interested in making compliant products.
The internet side of things is open to all-comers too. You won't have to have a connection from one of the Canvas partner ISPs to be able to use the service, though you will of course need a certain minimum speed. The BBC Trust's approval says that "quality standards for ISPs delivering Canvas will be set at a minimum level".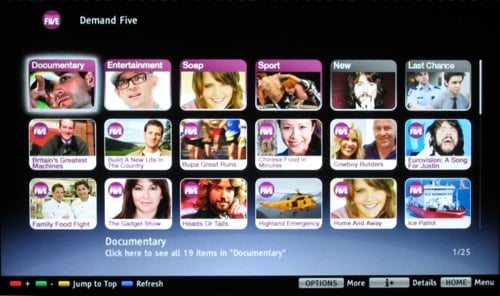 Canvas can deliver catch-up TV services
That means, effectively, that though you can use any broadband service, those that have signed up to use the eventual Canvas branding will have to meet certain standards. How detailed those requirements will be remains to be seen - we hope they will at least offer some clarity with regard to usage caps.
On the content side, again, access to the Canvas guide has to be fair and non-discriminatory, with minimal entry controls, helping to allay fears that the major broadcasters will try to keep new entrants off the system.
What's wrong?
Not everyone's happy with Canvas, of course. Some of the TV manufacturers would much rather do deals with content providers themselves, the better to differentiate their products from their rivals'.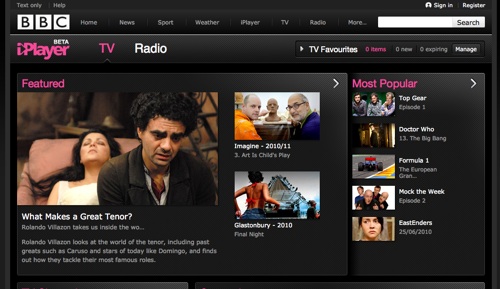 BBC iPlayer will be a key Canvas component
Companies like Sky see it as another example of the BBC doing something that could best be done by the market, citing growing availability of its own SkyPlayer as proof that a system like Canvas isn't really needed.
Reg Hardware isn't convinced by that argument. Common standards do work for the common good, on the whole, and with the might of all the major public broadcasters behind it, Canvas will surely help drive usage of on-demand TV. It may encourage ISPs to up their game, too, if they want to be able to claim compatibility.
Still, that won't stop the Virgin Media, for one, which has said it is planning to challenge the BBC Trust's decision - if necessary, in the courts. Sky may yet announce plans to do the same.
Surely, though, it would make more sense for them to expend these resources building apps they can use to sell their commercial service through the Canvas front end?
No date has yet been set for Canvas' formal launch. Its first specifications will be published in the next few weeks, and the BBC Trust decision requires them to be substantially complete within eight months of the launch date, making it likely that the first boxes should appear around Easter 2011 – incidentally around the time that Freeview HD equipment will have to include mandatory surround-sound transcoding. ®