Original URL: https://www.theregister.co.uk/2010/06/25/preview_e_car_vauxhall_ampera/
Vauxhall Ampera extended range e-car
Behind the wheel of GM's green mobile
Posted in Science, 25th June 2010 07:02 GMT
First Looks The first left-hand drive pre-production examples of the Vauxhall/Opel Ampera extended-range e-car have arrived in the UK. To illustrate the benefits of range extension, one of them was driven from the Vauxhall Heritage Centre in Luton to the assembly plant in Ellesmere Port where Reg Hardware was on hand to take it for a spin.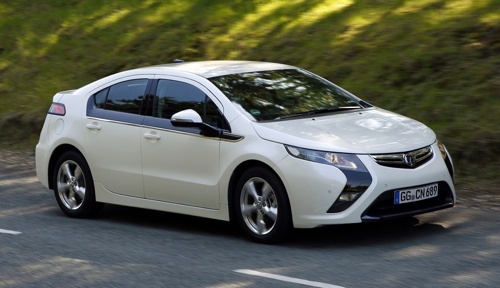 Touring range is what the Ampera is all about. Though capable of covering around 40 miles using the energy stored in its battery pack, an extra 310 miles is available should you wish to avail yourself of the contents of the petrol tank. That's the big pitch: no "range anxiety" for those wishing to use their e-car to cover long distances as well as local commutes.
In all circumstances, the front-wheel drive Ampera is powered by an electric motor with a peak power output of 111kW (149bhp) with the range extender coming into play when the 220-cell, 16kWh lithium-ion battery pack drops below 20 per cent of maximum charge.
When that happens a 1.4 litre petrol engine kicks in to drive the electric motor's generator and recharge the battery pack with the help of the regenerative braking system.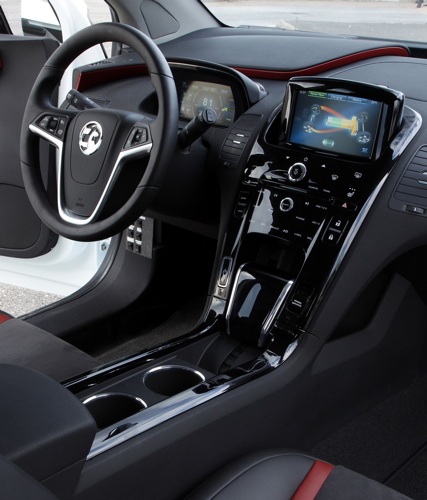 My test car had an exhausted battery so it was running in range-extension mode - ie. with the four pot running continually. It's not like any other petrol-engined car you will have driven, though because the engine runs at four fixed RPMs depending on system power requirements.
This means that the very subdued engine note stays the same no matter how hard you mash the throttle. It's a bit like driving a CVT automatic with a very quite and very refined engine, and with a huge amount of instant torque - 273lb ft (370Nm) to be exact - on tap.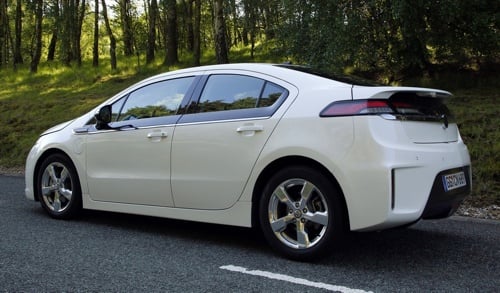 A 30-minute spin around Ellesmere Port in a left-hand drive test car that's been well used - he said politely - and with a Vauxhall tech hovering in the back seat to make sure I didn't hit the large red Emergency Stop button - not a feature of the finished car, apparently - is hardly ideal for a road test but I came away impressed.
Even with the petrol engine running, the Ampera was refined, quiet and very spirited. I'm can't confirm Vauxhall's claims of 0-60 in 8.5 seconds, or a top speed of 100mph, but you won't find as much low-speed urgency this side of a very good 2.0 litre turbo diesel. And even the very best diesels still sound like, well, diesels.
I'm not sure if the test car had suspension tuned for European rather than North American tastes, but if not General Motors has done a fine job with the ride and handling. The car showed no signs of the expected American wallow and felt tight, balanced and composed no matter how deliberately ham-fisted I tried to be.
In fact, it handles much like a Chevrolet Cruze with which it shares the same GM Delta II platform, as does the new Astra. The T-shaped battery pack built into the floor plan apparently significantly lowers the Ampera's centre of gravity compared to other cars in the same size class which can only help handling.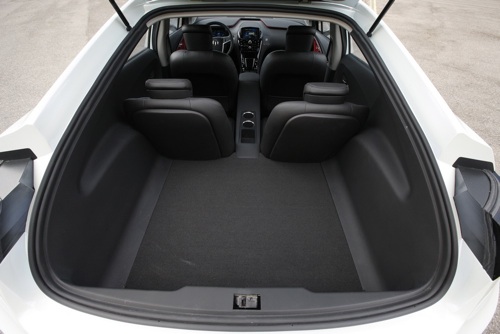 The interior is a pretty decent place to spend time even allowing for the slightly crumby pre-production plastics on display on the doors. The sporty semi-bucket seats hold you firmly in a low-slung driving position, and the trick LED instrument binnacle worked a treat even in strong sunlight. Being an automatic, Ampera gets going when you hit a start/stop button and push the big pedal.
The Ampera is a bit of a looker too. In an era of increasingly similar designs - the new Astra could just as easily be a Hyundai or a Mazda if you removed the badges - the Ampera, with its boomerang headlamp clusters, high rear shoulders and sculpted flanks, stands out from the crowd and, for my money, is more handsome than it's Chevrolet Volt brother.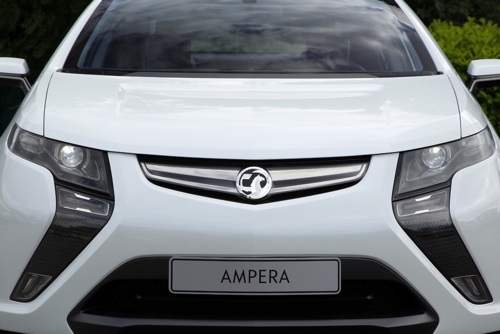 Left-hand drive Opel Amperas for continental Europe and, later, right-hand drive Vauxhalls for the British market will initially all be built in North America which at least means Blighty will see the Ampera in early 2012.
Ellesmere Port plant manager Tony Francavilla stressed that the Ampera will be sold as a regular line model and pitched as a true mass-market proposition. So there won't, for instance, be special Ampera dealers: buyers will just pick one up from their local Vauxhall dealer as they would an Astra or Insignia.
Nothing was said about pricing, though the cost to the consumer will depend on whether the new government honours the Brown government's pledge of a £5000 rebate on e-cars.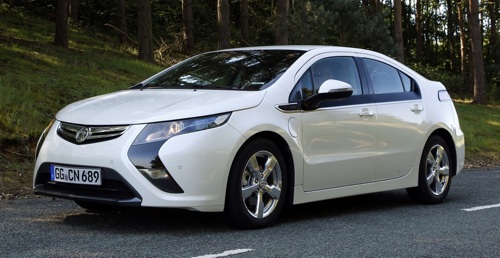 Issues such as the length of warranty on the battery pack will be finalised closer to launch and it will be interesting to see what the Ampera's fuel economy numbers are when it is being driven in range extender mode. If Vauxhall kept tabs on that on the trip from Luton to Ellesmere Port, it wasn't telling the press.
Verdict
If the price is right, and if my experiences behind the wheel are anything to go by, I'd say GM has a winner on its hands with the Ampera. The combination of a stylish five-door with full EV capability but no worries about running out of juice down the road should appeal to many potential buyers with an eye on economy and the tail pipe emissions. ®
E-Car Reviews

Honda
CR-Z
Toyota
Prius
4G
Honda
Insight
Mitsubishi
iMiEV