Original URL: http://www.theregister.co.uk/2010/06/23/review_gadgets_dyson_air_multiplier/
Dyson Air Multiplier desktop cooler
Fan-boys' delight?
Posted in Personal Tech, 23rd June 2010 12:02 GMT
Review Dyson, famous for its innovative vacuum cleaners and industrial hand dryers, has seemingly combined the two designs to create its first desk fan, the Dyson Air Multiplier.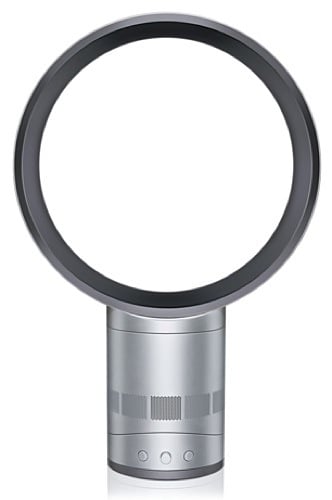 Cock-a-hoop: Dyson's Air Multiplier
Being Dyson, impressive aesthetics are to be expected and this unique design doesn't disappoint. Despite looking like an oversized TV aerial, adept for sucking up a Channel 5 signal in remote areas of Scotland, the appearance is a refreshing change from convention.
The fact I can put my hand through it without losing a finger or two only adds to the novelty.
With a small footprint and the huge space left by the lack of clunky blade covers, it looks fantastic on a desk, taking up minimal amounts of room. Only the cheap-feeling, silver-sprayed plastic casing lets the look down.
It's nothing massively groundbreaking though. Revamped with a modern feel, all the standard features of a fan are here. There's a button to regulate oscillation, a dial for output strength and the base can be tilted back and forth. What did you expect?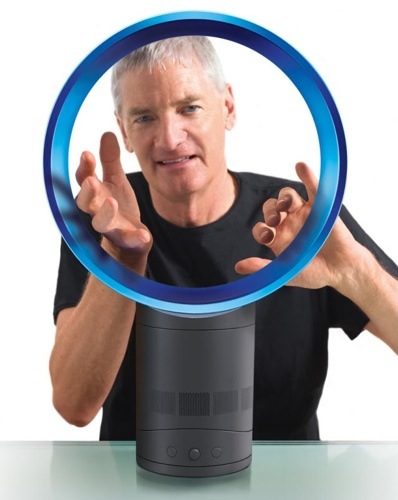 No danger to digits
Still, I haven't had my hands on a fan this flashy since I was backstage at a Snoop Dogg gig. But we all know it isn't how they look, it's how they blow, and the Dyson is no exception.
Dyson is slightly deceptive with its marketing, claiming the fan has "no blades". This is like hiding the wheels of a car behind a low body and claiming it hovers. There are blades - you just can't see them. They function further back on the production line and push air through filters, into the loop "amplifier". This results in a consistent flow of air rather than the blast after blast buffeting produced by traditional fan blades.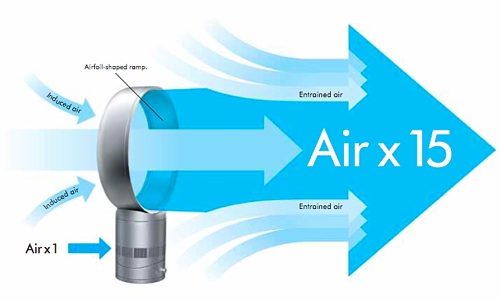 The science bit: air amplification, Dyson style
While in theory this sounds an improvement, I actually found it made the experience oddly artificial. I prefer the in-yer-face feeling of a wind turbine - this is more like an aircon. The airflow is more uniform from a distance, but when you're up close, it's like you're in some breezy vortex tunnel of wind. This donut of air is obviously larger with the 12in version I reviewed and would be interesting to compare to others. There's a 10in version for the same price and larger oblong shaped tower fans that cost an extra hundred.
The way air is multiplied is the biggest innovation here. So how exactly does it work? After being drawn into the base of the machine, air is pushed - using the hidden blades - into the loop and accelerated through a 1.3mm slot running the length of the ring's inner circumference. The jet this produces pulls air in from behind the fan as other air from the front and sides are forced in too, amplifying the original flow 15 times. Or something...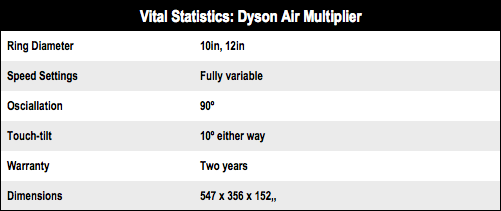 Utilising physics to multiply airflow, the Dyson is greener than I expected and consumes a little less power than my regular desk fan: 24W to 36W, according to the Reg Hardware meter.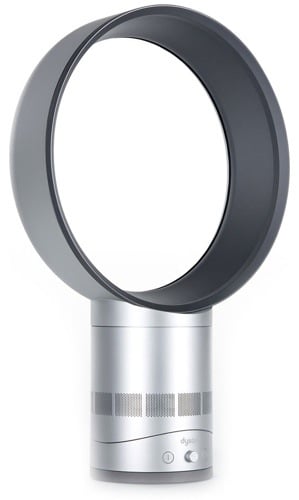 Curved air
The speed isn't confined either, making energy cutbacks easier. While traditional desk fans come with fixed speed settings, the Dyson has a smooth dial control for airflow which enables an output of almost unnoticeable - but still cooling - amounts. It works wonders at such a level and for those looking for a subtle breeze to take the edge off things, it's perfect.
When the output is increased, the sound quickly becomes irritating, though. While not particularly louder in decibelage than a regular fan, the frequency is higher which makes a huge difference on the ears. In an environment with other noise, this becomes irrelevant, but for me, any equivalent output greater than the low setting on my standard fan was unbearable.
Verdict
I like the Air Multiplier but it falls seriously short of respectable marks when you consider the price tag: £200 is a lot to ask for a desk fan, to say the least.
Paying more for a Dyson vacuum is understandable - the difference in price is a fair reflection of the difference in product. However, it's hard to see why one should fork out ten times the cost of a regular fan for this.
Aesthetically, it's miles ahead of a traditional fan. Feature wise it's one of the best I've used. While the higher pitched output is annoying, the biggest thing letting this bad boy down is the price. ®
More Gadget Reviews

Cideko
Air
Keyboard
Samsung
NaviBot
cleaner
Livescribe
Pulse
Smartpen
SWaP
Signature
watchphone