Original URL: https://www.theregister.co.uk/2010/06/22/review_gps_networx_automotive_trackstick_mini/
Telespial Systems Trackstick Mini GPS
I know what you did last summer
Posted in Science, 22nd June 2010 07:02 GMT
Review If your business or pleasure activities can be enhanced by accurately recording where you have been and when, then a good passive GPS tracker can be a handy gadget to have. Of course, GPS trackers also have a slight whiff of the ignoble and sneaky about them and rightly so ,as one of their major advantage over a GPS tracking smartphone app is that you can use them to record what other people have been up to.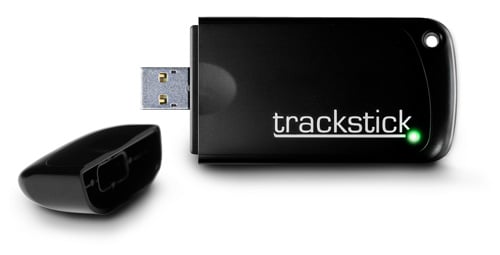 Eye in the sky: Telespial Systems' Trackstick Mini
The new Trackstick Mini GPS tracker seems to have been deliberately styled with covert ops in mind. An amorphous black lump it weighs just 70g and is small enough to be secreted just about anywhere you care to imagine.
Advertised as waterproof, the end-cap that covers the built-in USB connector is a very tight fit which makes it a bit of a sod to remove with wet or greasy hands. To keeps things ship-shape and secure, the Mini comes with a protective rubber boot and a magnetic clamp. The last is a thoroughly solid bit of kit with a couple of large magnets that should keep it in position no matter how rough the ride gets.
The only controls and indicators are a simple on/off slider and a single status LED to let you know its working and has a GPS lock. Depending on conditions the Mini should acquire GPS lock in between 10 seconds and one minute. I found it seldom took more than 15 seconds even in built-up areas and once acquired, the signal was seldom dropped – a trip through the Kingsway Tunnel in Liverpool being the only time I noticed a data gap.
It's claimed that the 360 degree antenna fitted to the Mini makes it seven times more sensitive than previous Trackstick models and helps it keep hold of a GPS signal no matter which way up it is. It certainly seems to work because, no matter where I placed it inside my car or at what angle – including underneath the driver's seat and in the glove box – it functioned perfectly.

Magnetic mounting for the long haul
The extra sensitivity can't work miracles though because when shut tight in the boot and surrounded by some good old Mercedes steel, it couldn't pick up a signal.
A weeks worth of use proved the Trackstick to be generally accurate and reliable but on a couple of occasions the indicated plot did put me well beyond reality and the +/- 2.5m which Trackstick claims as the margin of error. The worst I noticed was a plot a good 40m off target, though the US Air Force would probably regard that as right on the money, so perhaps I am being picky.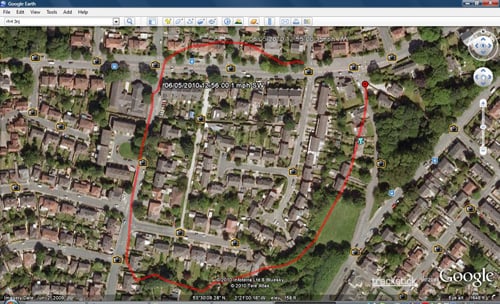 Journeys by foot mapped out
In use the Trackstick records the date, time, latitude, longitude, temperature, speed and compass bearing of travel. Time spent at rest is shown as such, and all measurements can be viewed in metric or imperial, while each datum point comes with a direct link to Google Maps. Data can be exported as .kmz files to be viewed in Google Earth or as HTML, RTF, CSV or GPX files.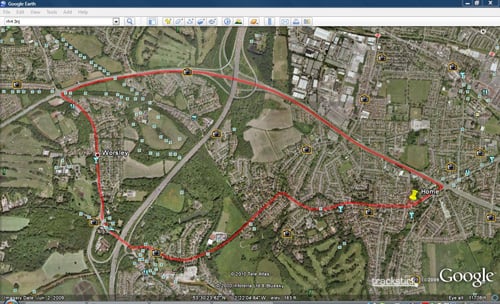 Journeys by road revealed
The desktop software also lets you view journey data by adjusting the filter for the length of time spent stationary between each journey, so brief halts caused by traffic lights and the like can be removed from the picture – perfect for doing your travel expenses.
The Mini will charge in under two hours from a USB port which should be fast enough for all but the professional snoop and, once fully juiced, Trackstick reckons it should be good for 80 hours of operation. That seems a reasonable claim, as 20 hours of near continuous recording saw the battery monitor in the desktop software register a 25 per cent drop.

The system can be set to take a fix from every five seconds to every 15 minutes so it's possible to get far more than 80 hours active use out of a charge, while a built-in vibration sensor puts the unit into a power saving mode when at rest.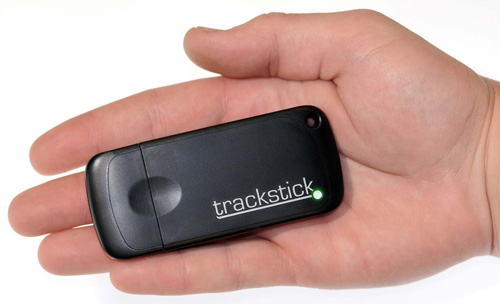 Travelling companion?
The 4GB of built-in storage should be more than enough for most users – a nine hour record session spent driving hither and thither continually used up only 4 per cent of the available space. A maximum of 16,000 waypoints can be stored before you need to start deleting data. The Trackstick desktop management software is Windows only, but you can use it to geotag photographs by matching GPS locations and picture time codes.
At £220 the Trackstick Mini isn't cheap, so you need to make sure a smartphone GPS tracking app won't answer your needs. But if it doesn't and you drive for a living and need to keep track of distances and times, spend a lot of time tramping through the great outdoors or are simply paranoid about what the missus is up to when she says she is at her book club or how fast young Jimmy is driving his car, it could justify the outlay. ®
Thanks to Networx Automotive for the loan of the review sample.
More GPS Gear Reviews...

Nokia
C5
Vexia
Econav 480
Race Telcom
WiGoMo One
IDC
Ecco Personal