Original URL: https://www.theregister.co.uk/2010/06/22/dyson_deskfan_duo/
Dyson delivers new deskfan duo
Fresh designs for airhead fans
Posted in Personal Tech, 22nd June 2010 11:49 GMT
Appliance giants Dyson has announced two additions to its deskfan range.
Stepping away from the original loop design, the AM02 Tower Fan, available in iron/blue and all-silver finishes stands at approximately a metre tall. Designed to take up minimal floor space, it amplifies air 16 times, drawing in 33 litres each second.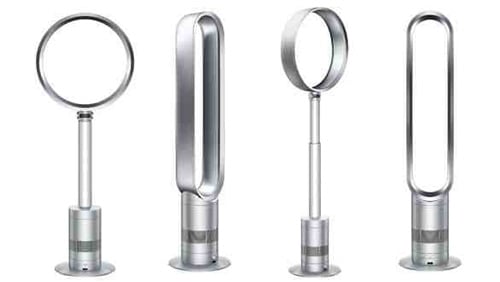 Fan-tastic
For an even more powerful airflow, there's the AM03 Pedestal Fan that comes in white/silver and amplifies air eighteenfold, the company claimed. The fan's height can be adjusted between 1.1m and 1.4m, and the head can be tilted 20° either way.
Both are available for £300.
Look out for Reg Hardware's review of the original Dyson Air Multiplier coming soon. ®