Original URL: https://www.theregister.co.uk/2010/06/18/utah_twitter/
Utah Attorney General tweets execution go-ahead
What's happening? A firing squad, that's what's happening
Posted in Policy, 18th June 2010 11:37 GMT
Utah Attorney General Mark Shurtleff last night used Twitter to announce the impending execution of Ronnie Lee Gardner.
Shurtleff declared from his iPhone* ealier yesterday: "A solemn day. Barring a stay by Sup Ct, & with my final nod, Utah will use most extreme power & execute a killer. Mourn his victims. Justice"
He later tweeted: "I just gave the go ahead to Corrections Director to proceed with Gardner's execution. May God grant him the mercy he denied his victims."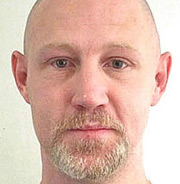 Gardner (pictured) was executed by five-man firing squad just after midnight local time (06:00 GMT) at a prison in in Draper, Salt Lake City, thereby earning the dubious honour of becoming the first man to be dispatched by this method in the US in 14 years.
He had spent 25 years on death row for two murders - the 1984 killing of barman Melvyn Otterstrom and the murder of a lawyer in 1985 in a Salt Lake City courthouse. The second occurred during a failed attempt to escape during the trial for the first offence.
According to the BBC, which has more on the execution here, Gardner was "hooded and strapped to a black metal chair, with a white target pinned to his chest".
When asked if he had any final words, he said: "I do not. No." He was then shot from a range of 25ft by the squad of police volunteers.
Utah Department of Corrections director Thomas Patterson said: "This is an unusual task but one we have done professionally. It has been done with absolute dignity and reverence for human life.
"It's been a balancing act of being sensitive to the families who lost loved ones and the family who lost a loved one tonight." ®
Bootnote
* Need to kill someone strapped to a chair? There's an app for that.