Original URL: https://www.theregister.co.uk/2010/06/18/thunderbird_3_1_rc_review/
Mozilla's next Thunderbird gives Gmailers hope
Sync-challenged. But faster and more searchable
Posted in The Channel, 18th June 2010 03:50 GMT
Review Thunderbird 3.0 was a less than stellar piece of software. Mozilla's email client was marred by some pretty serious bugs, such as the failure to import mail from past editions, which meant the suite had a habit of becoming unresponsive while indexing large mail stores.
And while Thunderbird 3.0 had a number of nice new features such as the tabbed interface and improvements to search and the overall user interface these were largely useless thanks to endless hangs and spinning cursors.Particularly notorious for those connecting to Gmail was the "All Mail" folder that generally caused Thunderbird to hang, sometimes for hours.
Thunderbird 3.1 does not suffer from the same problems. In fact, based on the second - and presumably final - release candidate that just became available, it's what 3.0 should have been.
Thunderbird 3.1 is remarkably faster than its predecessor - particularly when indexing messages in large mailboxes.
To test the new importing feature, I dug an old Thunderbird 2 POP mail store off a backup disk and imported it into the latest version without losing any mail.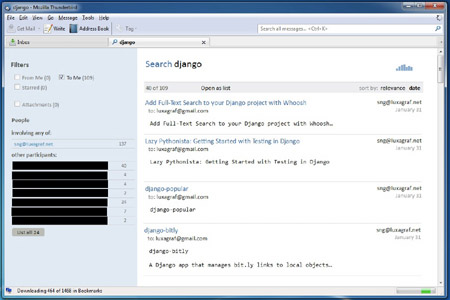 Thunderbird's search finally rivals that of Gmail
With Thunderbird 3.1, I was able to grab all the headers for some 17,000 messages in just over ten minutes. Even better, the rest of the program was perfectly responsive and usable even as the messages were downloaded and indexed.
Thunderbird's search is also considerably faster. The search tool, which first arrived in 3.0, rivals Gmail's search capabilities and offers additional filters that make it easy to narrow your search by sender, date and more.
Thanks to the improved indexing speed, the search tool is also much quicker in this release.
But Thunderbird 3.1 isn't just about correcting Thunderbird 3.0's bugs and speed issues. There are several new features as well.
The new Quick Filter makes it easy to filter messages by Unread, Starred, Contact, Tags, or Attachments. There's also a handy button to make filters persistent even when you're changing folders. The only thing missing in the new Quick Filter tool is a way to customize filters.
While you can't add your own filters to the new Quick Filter bar, there is an extension that adds a few more features, like the ability to filter based on sender and date.
Also new is a "saved files" manager for dealing with attachments. Similar in appearance and function to Firefox's Download Manager, the Saved Files Manager displays all the files you've downloaded from your e-mail to your computer, making it easy to find them later.
Thunderbird 3.1 has a new Account Setup Wizard. While it looks the same on the surface, hundreds of ISP settings have been added, which means Thunderbird is much better at guessing your settings. Just enter your name, e-mail address and password and Thunderbird will configure the rest of your setup for you.
All you need is, um, a GB of RAM
While on the whole Thunderbird 3.1 is a much needed improvement over its predecessor, it's worth noting that the new app has a new set of system requirements, including the need for a worrying 1GB of RAM.
Considering that the 2.0 release only needed 64MB, it's not hard to see why some call the Thunderbird 3.x line bloated. In my testing Thunderbird never went over 250MBs of RAM, but that's still a significant jump from 2.0, which was considerably less RAM-heavy.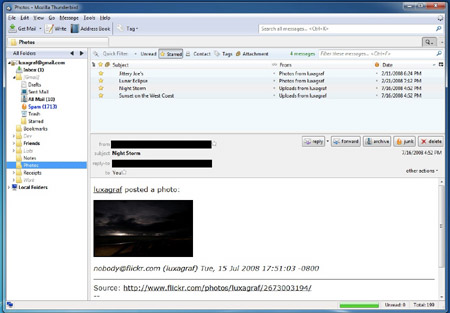 Quick Filters: the only thing missing is the ability to customize
Thunderbird 3.1 is also not without its annoying quirks. For example, search results are limited to 10 returns, forcing endless clicks of the "more" button to see all the results. Similarly, while the ability to select multiple messages and see a snippet of each is one of the handiest features, the snippets are only two lines which is often not quite enough to get the gist of a message.
Other niggling complaints include burying the option to turn off HTML e-mail three menus deep in the account preferences section. And of course, Thunderbird's platform integration - that is, how well the user interface fits the various operating systems it runs on - lags well behind its sibling, Firefox.
More serious complaints include the inability to sync contacts with popular web mail providers like Gmail and Yahoo!. There is an add-on that will work with Gmail, but it hasn't yet been updated to support Thunderbird 3.1, and - frankly - contact syncing should be built into the app.
Still, even if you have to manually import your contacts, Thunderbird 3.1 is a worthy e-mail client and definitely worth the upgrade if you're using 3.0. If the horror stories of early 3.0 adopters put you off and you're still using Thunderbird 2, it's safe to jump back in the water.
Even if you swear by web mail interfaces, Thunderbird is a good option to keep around for backing up your accounts. Just periodically fire up Thunderbird, let it download your messages and you'll spare yourself the pain when Google shuts down your e-mail account for no apparent reason.
Thunderbird 3.1 is a free download, you can grab a copy from the Mozilla Thunderbird website, here. ®