Original URL: https://www.theregister.co.uk/2010/06/18/expedition_24/
Expedition 24 crew board ISS
Warm welcome at orbiting outpost
Posted in Science, 18th June 2010 09:05 GMT
The trio of flight Expedition 24 flight engineers who blasted off on Tuesday from Kazakhstan's Baikonur Cosmodrome were yesterday welcomed aboard the International Space Station.
The Soyuz TMA-19 spacecraft bearing NASA astronauts Shannon Walker and Doug Wheelock and Russian cosmonaut Fyodor Yurchikhin docked with the orbiting outpost at 22:21 GMT last night.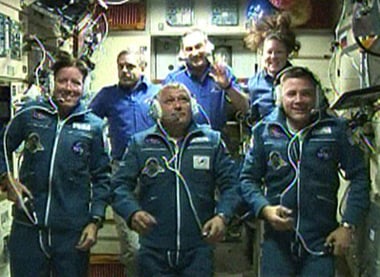 The hatches were opened at 00:52 GMT this morning, and the three were greeted by fellow Expedition 24 crew members commander Alexander Skvortsov, and flight engineers Tracy Caldwell Dyson and Mikhail Kornienko.
The new arrivals will spend five-and-a-half months aloft. In September, they'll become the Expedition 25 crew when Dyson, Kornienko and Skvortsov return to Earth on the Soyuz TMA-18 which delivered them to the ISS on 4 April.
Walker, 45, is enjoying her first trip into space. NASA describes the graduate of Rice University as "the first native Houstonian to be named an astronaut".
US Army colonel Wheelock, 50, is on his second jaunt to the ISS, having previously visited on space shuttle Discovery's STS-120 mission in 2007.
Veteran cosmonaut Yurchikhin, 51, has now clocked up three space missions, and Expedition 24 represents his second long-duration residence aboard the ISS. In October 2002, he boarded space shuttle Atlantis for its STS-112 mission to the station, and as Expedition 15 commander, he spent six months in the heavens in 2007. ®