Original URL: http://www.theregister.co.uk/2010/06/17/review_phone_nokia_c5/
Nokia C5
Compact candybar for avid texters
Posted in Personal Tech, 17th June 2010 07:02 GMT
Review Nokia's lower end and mid range handsets might not offer the bells and whistles of the leading edge phones, but they can be solid workhorses. The C5 is a case in point. Just be aware when eyeing up the specs that its small screen means it can't do some things nearly as well as bigger screened alternatives.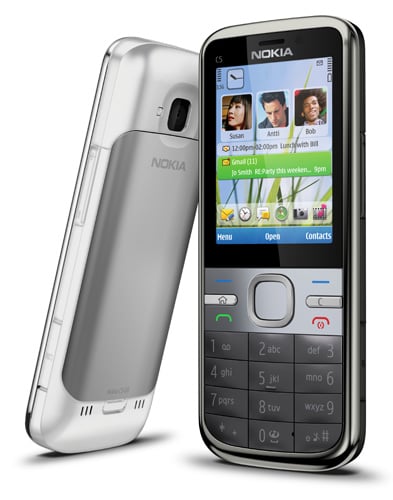 Slimline satnav: Nokia's C5 includes Ovi Maps
This standard candybar handset weighs 89.3g and at 112 x 46 x 12.3mm, it is almost unnoticeable in a pocket. The metal backplate is a nice touch, while on the front silver highlights joined a two-tone grey and black colour scheme in my review sample. There is also a white version. Neither colour scheme is innovative, but pleasant enough.
The number pad is relatively large, each key is slightly domed and I was able to tap out texts at my maximum speed for a handset of this general design. Above the number pad are large Call, End and soft menu keys, while Home and Clear keys are tiny but raised from their surroundings and easy to hit.
The navpad is large enough, with a big central select button. Indeed, Nokia really does have the main ergonomics down to a fine art and while there's nothing new here, the keys and overall layout work very well indeed.
None of this matters a jot if the specs and value for money points don't add up, though. And at £169 you can't expect leading edge stuff. This is a 3G handset with A-GPS but not Wi-Fi. Bluetooth is here, and there is a 3.5mm headset connector on the top of the chassis. Hence, the phone can sit perfectly in the pocket with no chance of snagging and ripping at connectors.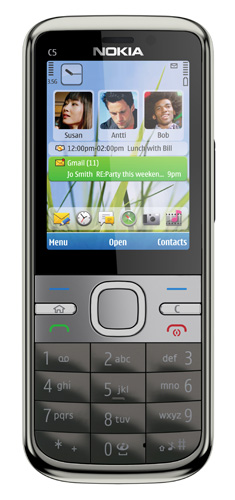 The slot is on the right edge of the chassis
Nokia's provided headset is satisfactory, although the flat in-ear buds refused to stay in my ears and a higher quality alternative set improved sound output considerably. The equaliser had practically no effect on sound output, as far as I could see. The FM radio has a generous 50 presets. With only 23 slots filled by downloading station data for the South East and London area, there's plenty of room for expansion.
The C5 runs Symbian S60 3rd Edition and the music player happily picked up tunes from my micro SD card, all of which are tucked away in folders. It's a basic feature, but still very refreshing to see and the handset sorted its music library out extremely quickly every time I swapped cards. Internal storage runs to 50MB, and the handset comes with a 2GB micro SD card.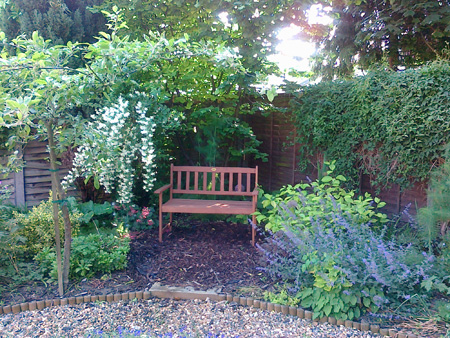 Click for a full-resolution image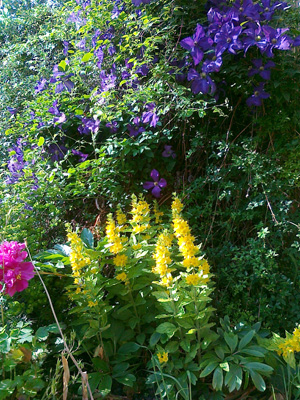 Click for a full-resolution image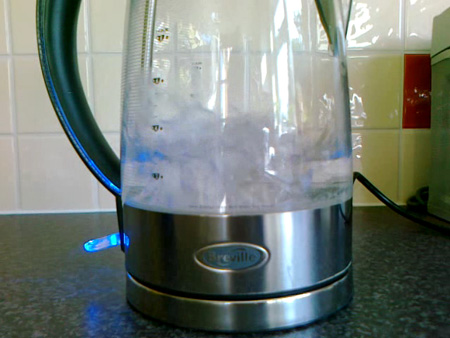 Click for a video clip
There is a front VGA (640 x 480) camera for two-way video calling which you can also use to shoot stills and video. The main camera, a 3.2Mp shooter with a small LED flash is a bit disappointing. In bright sunlight the camera struggles to capture detail and with no macro mode it is hopeless for close ups. The shots will suffice for e-mail and basic Web use, but not much more. Like with video that's captured at 640 x 480 and 15 frames a second – it's passable, but not great.
It is very difficult to see the handset's screen in bright sunlight, which makes framing photos challenging. And this problem is replicated in other aspects of outdoor use. Even anything as simple as texting can require a move out of full on sunshine.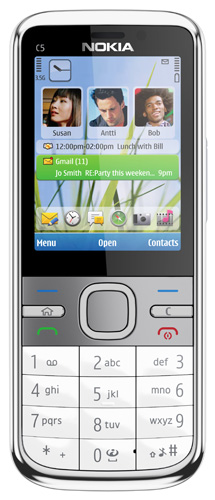 Finger-friendly keypad, but the small screen doesn't do justice to Ovi Maps
Ovi Maps is pre-installed. If you think the Nokia C5 might replace your standalone satnav device, though, you might want to think again. Yes it got me through a few trips, but there are some shortcomings. The 2.2in, 320 x 240 pixels screen is one significant one. 2D, 3D, arrow (turn by turn) and route overviews are available. 2D and 3D map views, complete with place names, street names, POI overlays and a couple of rows of status data are just too crowded and cluttered for a quick glance. The turn by turn view is easier to glance at.
Configuring Ovi maps is a bit more of a faff than it is with a dedicated satnav. With no touchscreen and a series of menus to get through to do things like change voice for instructions and set driving preferences, you can't simply flick at the handset while you are out and about. You'll need to make settings when you are stopped for longer than at traffic lights.
Volume from the loudspeaker is too quiet. When in walking mode and working with headphones the sound is loud enough, but in a car instructions are easily drowned out by general chat or the car radio.
Call me picky at this point, but pronunciation also leaves a lot to be desired. Using guidance with street names I was surprised to hear, for example, Bushy Road pronounced as in mushy (as in peas) rather than bushy (as in trees). And that was one of several examples that could cause problems if you mishear directions and are looking for road names. Still, the routing was generally good, safety camera and speed limit alerts timely, downloading of data fast, and recalculation of routes very quick.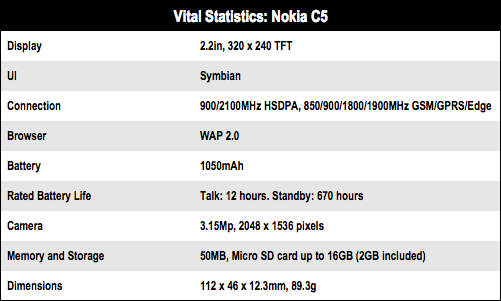 It is also very useful that the display tells you how much data you've downloaded in any one session (if you haven't obtained what you need off-line already). Those with a cap will want to keep an eye on the stats. Overall I found Ovi Maps effective, and on a larger screened handset with a louder speaker it might meet all my navigation needs – but not on this phone.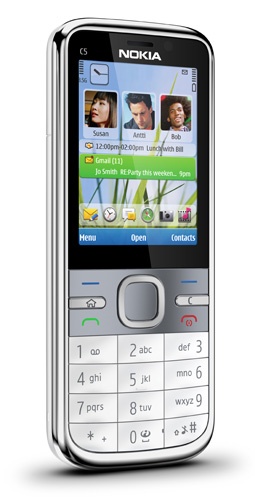 Compact and capable with a good battery life
Call quality was fine and without the drain of a large screen or power hungry processor, battery life was great. After a weekend of usage including two hours of satnav, the battery status was on five of its six bars.
Verdict
I've got to admire Nokia's keenness to put Ovi Maps on every handset in its portfolio, but when a screen is just 2.2in across diagonal corners it is not particularly workable. Yet the Nokia C5 is a compact, well-made, functional handset with good user ergonomics, as far as the keypad goes. If you are a frequent texter who regards this as a primary activity, it is certainly a handset to consider. ®
More Mobile Phone Reviews

Sony Ericsson Elm
Samsung Diva
Nokia X3
Sony Ericsson Yari