Original URL: http://www.theregister.co.uk/2010/06/16/ten_essential_portable_hard_drives/
Ten Essential... 500GB Portable Hard Drives
Half a terabyte in the palm of your hand
Posted in Personal Tech, 16th June 2010 07:02 GMT
Product Round-up Portable hard drives may not offer the capacity or speed of their desktop siblings, but for laptop owners looking for handy back-up space or extra storage capacity, they're a must.
Users of desktop computers too like their bus-powered plug-and-go convenience, especially if raw storage capacity isn't of paramount importance.
But with so many drives on offer, which do you choose? I put ten 500GB drives from all the major manufacturers through their paces, testing their performance with CrystalDiskMark 3.0 and judging them on their price, looks and the overall user experience they offer.

Buffalo MiniStation Lite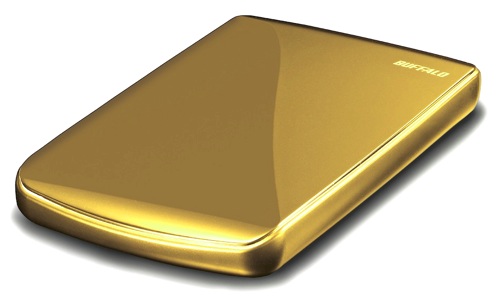 I tested the shiny gold version of Buffalo's MiniStation Lite series, and while this particular model is a bit on yuck side, the design itself is fine if a little bland. It's also one of the large drives I looked at, though it feels less chunky than the similarly sized Toshiba Stor-E and the Hitachi G.
Price-wise it's towards the top end and its performance characteristics were average - until I ran the bundled Turbo USB utility. It pushed sequential read speeds right up, and lifted random read speeds up to. Write speeds also benefited a little.
In fact, the Buffalo's overall software bundle is good, combining Turbo USB, a disk formatting tool, a utility to reduce the drive's power consumption and Memeo AutoSync for duplicating folders on your PC on the drive and keeping them up to date. It's not a back-up tool - delete a file on your computer and it's removed from the Buffalo - but it does ensure you have a mirror copy of your data.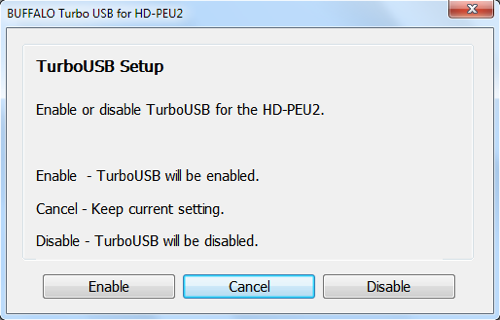 Reg Rating 80%
Price £90
Size 130 x 81 x 15mm, 190g
More Info Buffalo

Dane-Elec SO Mobile Plus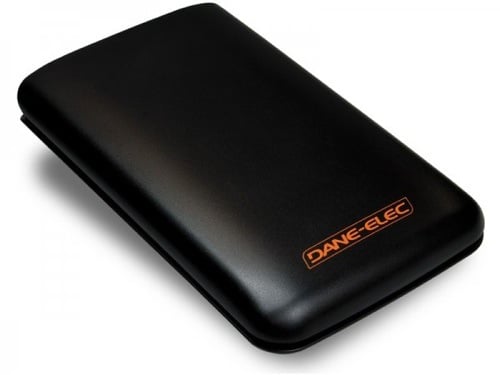 Two things really put me off Dane-Elec's SO Mobile Plus: the poor back-up software and the off performance characteristics. The back-up app is FNet's crude PCClone EX Lite, a tool that doesn't appear to have been updated since Windows XP was in short trousers and is a classic case of low-cost software obtained in Asia: the very poor English is a giveaway. You can download better freeware than this.
The SO Mobile Plus yielded the poorest read speeds of all the drives tested, though write speeds were above average, suggesting it would make a good back-up drive if the bundled software were replaced. That seems to be the role Dane-Elec has in mind - there's a wee button on the back that triggers PCClone EX Lite. But we live in the days of automatic backup and so this didn't impress me too much.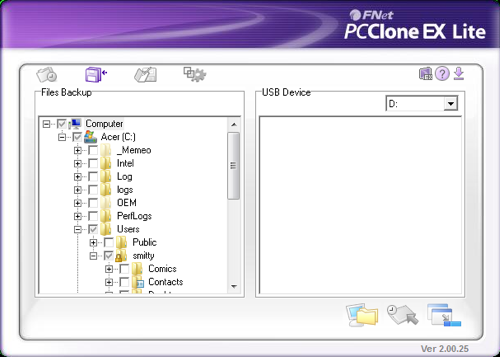 Reg Rating 60%
Price £90
Size 134 x 84 x 15mm, 180g
More Info Dane-Elec

Freecom Mobile Drive XXS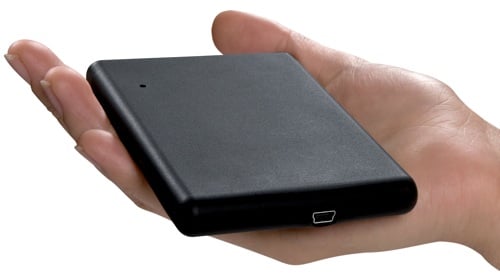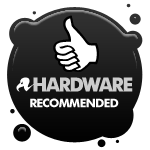 Freecom claims the XXS is the smallest 2.5in external hard drive there is. Maybe, but the LaCie Rikiki and Samsung S2 are so darn close I'll leave it up to the manufacturers to argue the toss over a millimetre or two here and there. For me, there's not lot in it.
There's not a lot inside it either, Freecom's bundled software extending to a USB speed booster for Windows, even though there is a Mac app to view the manual and back-up the pre-loaded files. My tests showed that the Turbo USB utility speeds big sequential transfers off the disk, but not much else.
But the XXS is a very nice-looking, compact drive, and its rubbery, grip-friendly casing gives it some resistance to knocks and bumps, though there's not much underneath other than the 2.5in HDD. That makes light and tops for portability.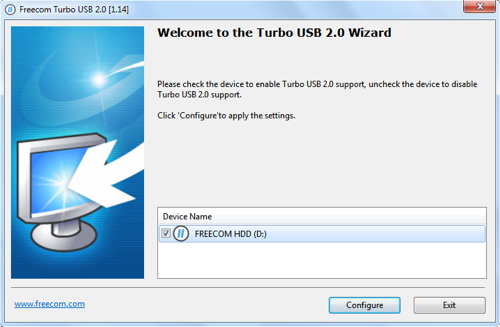 Reg Rating 85%
Price £90
Size 109 x 79 x 13mm, 155g
More Info Freecom

Hitachi G-Drive Mobile USB

The G-Drive is the only product here intended for use out of the box as a Mac add-on. So it's formatted with the HFS+ Journalled file system and clad in glossy MacBook white.
It's also one of the biggest and heaviest of the drives here - like the Toshiba Stor-E, it looks like desktop drive that's been shrunk rather than designed with mobility in mind. And with its metal casing - only the top is plastic - it weighs a fair bit more than the other drives here too.
To that, I have to add that there's no bundled software yet it's one of the priciest drives here. It's not a bad performer, but neither is it a distinguished one.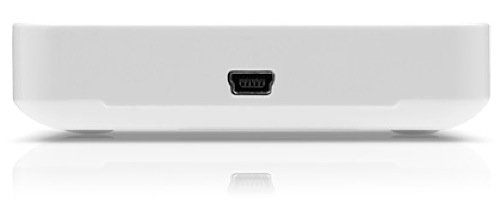 Reg Rating 70%
Price £100
Size 127 x 83 x 19mm, 250g
More Info Hitachi

Iomega eGo BlackBelt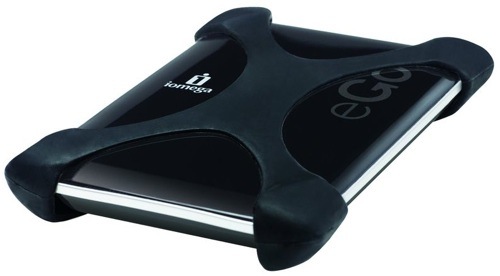 Iomega's eGo delivers mainstream performance at a mainstream price point, but it's one of the better looking drives here, especially if you remove the x-shaped rubber strap that it comes bound in - hence the BlackBelt moniker.
Keep the belt on, and the eGo gets a degree of shock protection that most of the other drives here lack. It's also one of the few to come bundled with a double-headed USB cable in case one port doesn't pump out enough juice.
What it doesn't come with is software - you have to download that separately. There are three back-up options - four if you include the Mac version - and I thought I'd try Iomega QuikProtect. No dice, though - it's Windows XP or Vista only. EMC Retrospect Express HD works with Windows 7, fortunately. It's pedestrian, but it does the job.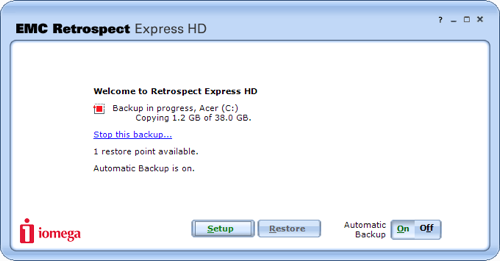 Reg Rating 70%
Price £90
Size 137 x 89 x 16mm, 180g More Info Iomega

LaCie Rikiki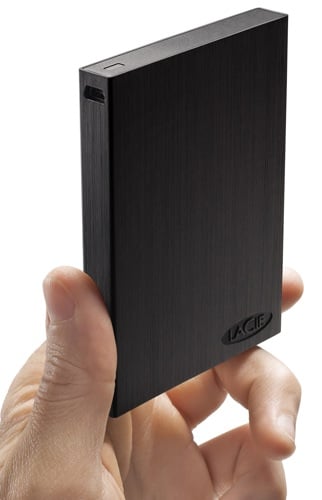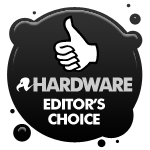 LaCie's black brushed-aluminium Rikiki vies with Freecom's XXS not only for the best looking portable hard drive crown but also the award for the smallest. If you love curves, you'll prefer the XXS - the Rikiki is all straight lines. I like 'em both.
I like the Rikiki's performance too: write speeds well ahead of the rest, even though the read speeds were right among the crowd. Potentially, the drive can do better. It comes with USB Boost to up data transfers. Unfortunately, I'm running Windows 7 Home Premium 64-bit and so got the warning: "LaCie USB Boost does not support Windows Vista (x64)" complete with exclamation mark.
Still, LaCie's own Genie Backup Assistant will keep your data duplicated on the drive, which is reasonably priced.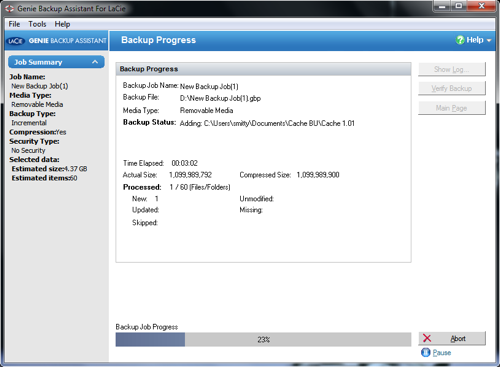 Reg Rating 85%
Price £90
Size 110 x 75 x 13mm, 158g
More Info LaCie

Seagate FreeAgent Go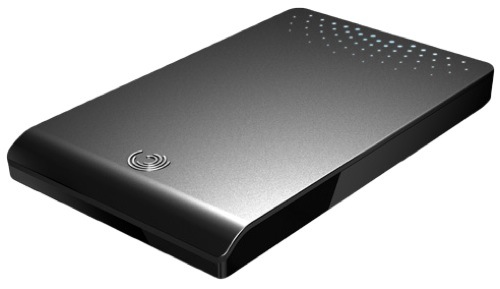 Seagate wasn't able to supply one of its latest FreeAgent GoFlex drives, but its previous-generation FreeAgent Go series is still available so it lent me one of those. It's still an attractive drive that's not quite as compact as the LaCie Rikiki or the Freecom XXS, but not very far off.
Its performance falls toward the bottom end of the scale, but it's by no means the slowest drive here, and the price is reasonable for the capacity on offer.
The drive's software comprises a single tool, Seagate Manager, but it integrates folder synchronisation, automatic backup and automatic AES data encryption. You can also use it to disable the pattern of disk activity lights dotted on the drive's upper surface.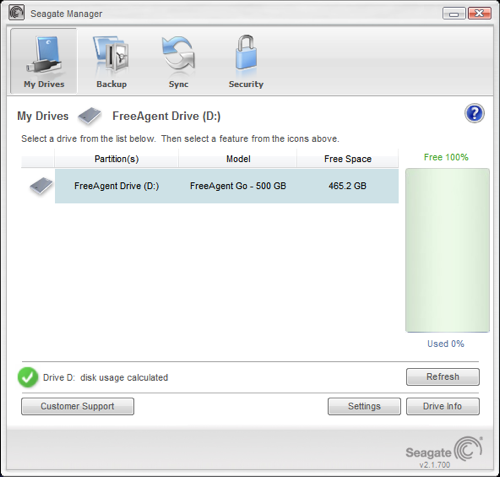 Reg Rating 80%
Price £90
Size 119 x 80 x 12mm, 160g
More Info Seagate

Samsung S2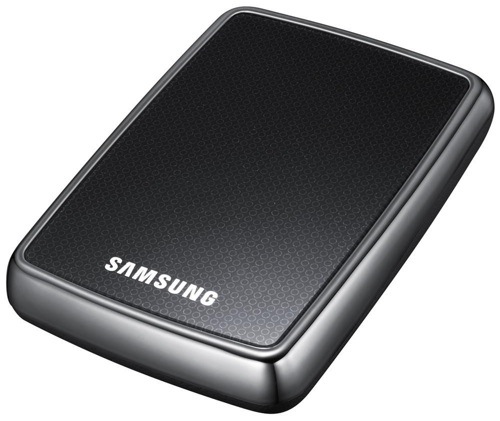 Samsung's S2 line has long been a favourite of mine and, in its latest, 500GB incarnation, it's even more attractive. The S2 is a good size for slipping into a pocket, and with its matt-textured based and glossy top it's not a bad looker, either. Performance is average, mind, but the price is good.
Samsung is one of the few suppliers to include a slipcase with its drive, along with a good size USB cable. The S2 also comes loaded with Samsung's Windows-only automatic backup software and a utility for password-protecting and encrypting part of the drive. The utilities are good and don't feel like they've been picked up cheap in Asia, crudely translated into English and slapped on the disk.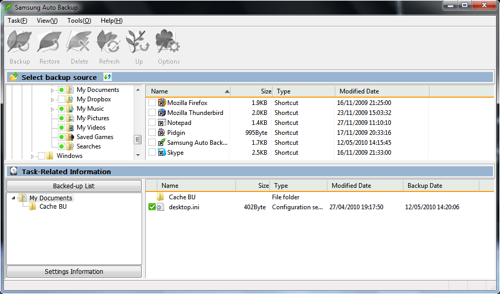 Reg Rating 75%
Price £80
Size 111 x 82 x 18mm, 170g
More Info Samsung

Toshiba Stor-E Art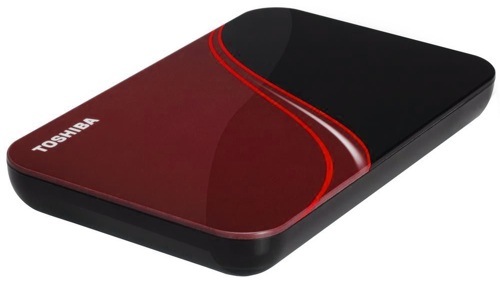 As you'll have guessed from the name, Toshiba stresses the Stor-E Art's looks, highlighting the curvy red and black decoration on the top of the drive. It's not unattractive, but it's not the best looking either, though beauty is, of course, in the eye of the beholder.
And as my testing shows there's not a huge amount of difference between the performance of the drives, why not base your buying decision on drives' looks?
If you do choose the Toshiba, you'll get a decent back-up - NTI Backup Now EZ - though it only runs in Windows. It's a large drive, feeling - as the Hitach G-Drive does - like a desktop drive scaled down rather than something designed for mobility.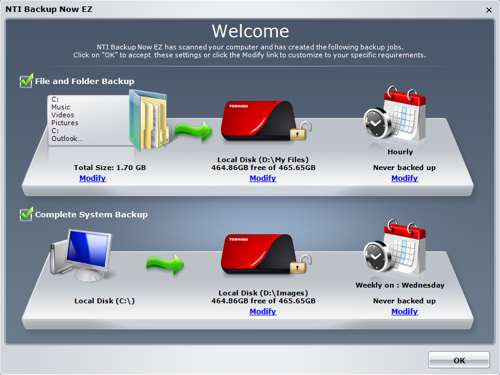 Reg Rating 75%
Price £80
Size 127 x 81 x 17mm, 155g
More Info Toshiba

Western Digital My Passport Elite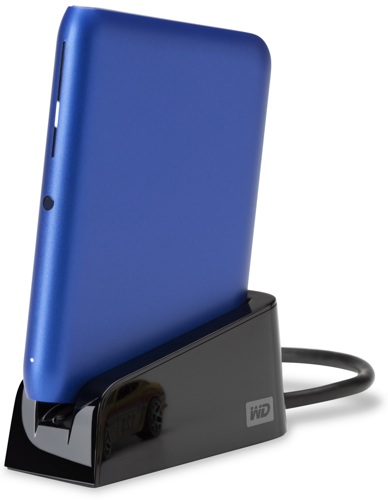 Alone among the drives I tested, the WD My Passport Elite has a micro USB port rather than a mini one. Fair dos - the USB Implementers Forum has dropped the mini port from the standard, but it's so commonplace, it means one cable can be used with any number of drives - except the WD one, of course.
To its credit, WD bundles not only a micro USB cable but also a desktop dock. This makes keeping the drive connected to your computer so much neater - and easier to just grab and go. And as one of the smaller drives here, the Elite alone is easy to carry around.
WD also keeps all the bundled software on a "virtual CD" built into the drive, so it doesn't use up HDD storage capacity and can't be erased by accident. A strip of LEDs on the edge give you a at-a-glance spare capacity readout, so this is certainly the most feature-packed drive here.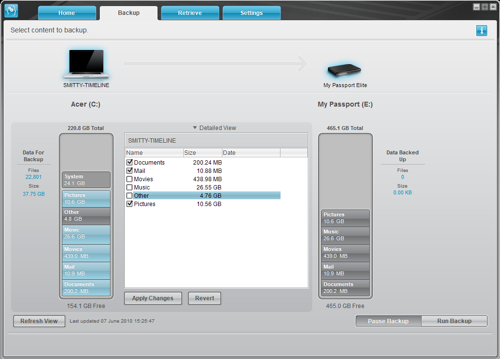 Reg Rating 80%
Price £80
Size 109 x 83 x 13mm, 180g
More Info Western Digital
CrystalDiskMark 3 Performance Results