Original URL: https://www.theregister.co.uk/2010/06/16/review_gaming_bigfoot_killer_2100_network_card/
Bigfoot Networks Killer 2100 gaming network card
The quick and the dead
Posted in Personal Tech, 16th June 2010 15:02 GMT
Review Bigfoot Networks' new Killer 2100 is more than just an Ethernet card as it features a network-processing unit designed to reduce lag when on-line gaming. The manufacturer's claim the benefit is improved performance in games with high network traffic: think MMOs in crowded cities or raids. To try out this card, I tested it in the World of Warcraft Dalaran City on about 10 different occasions.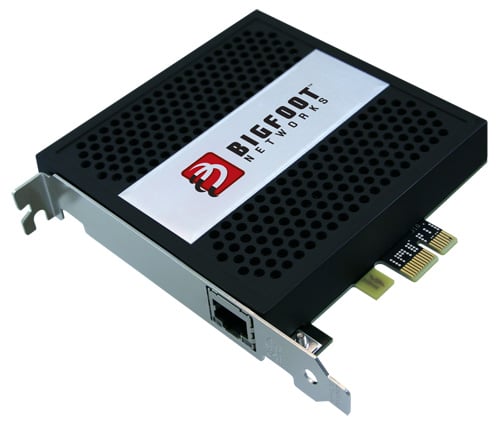 Need for speed: Bigfoot Networks' Killer 2100
Installing the Killer 2100 was a really simple plug and play operation. It slotted into my machine easily and while not very exciting to look at, it is small enough not to cause any crowding problems. The Bigfoot web site offers 32-bit and 64-bit Vista and Windows 7 drivers and utilities. With the software installed, I rebooted and examined the Killer Network Manager control panel, which is surprisingly easy to get to grips with.
The main page displays the system's processor, main network card, memory, graphics, network statistics and a bandwidth usage visualisation. The PC monitor page displays modes showing graphs of current activity: CPU%, NPU%, Bandwidth and so on. These visualisations helped me pinpoint which applications were monopolising my connection and throttle bandwidth, as necessary. So downloads can still take place, but you simply adjust a slider to reduce throughput to give priority to gaming traffic. You can even save the stats so you can diagnose and tune your PCs networking configuration.
There's more to the Killer 2100 than prioritizing bandwidth though, as the company utilises its own Windows Network Stack Bypass feature, designed to avoid certain time-consuming Windows routines. It's all part of the Gaming Network DNA functionality built into Bigfoot network cards. You can read more about the details of these features here.
We all know latency is what wreaks havoc in on-line gaming – Alterac Valley is no fun if you get a lag spike while trying to Zerg Van – and sure, there's latency elsewhere in my system as I know there are good tweaks you can make to your PC and router to make them perform better. However, the sign of a great card is the ability to make a noticeable reduction in ping when the going gets tough online.

That reduction in ping is there with the Killer 2100. If you are standing idle in a place with no Zergs, no PVP, and basically nothing happening, you won't notice any difference having one of these cards installed. But play with it installed when all hell breaks loose and you will notice a difference, because that is what it is designed for. If you're tired of being ganked by people before your computer is even aware of them, then this is the card for you.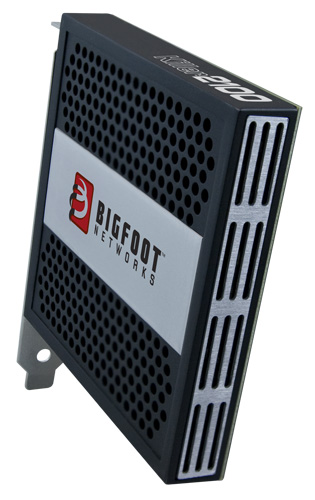 An investment that could make the difference between life and death
Indeed, during gaming, my latency went from an average of about 90ms to 45ms (hanging out around the bank-auction area saw this up slightly), and there were noticeably fewer severe frame rate spikes compared to other cards. No stuttering or freezing here in London, and I play on the North American servers.
Verdict
The Bigfoot Networks Killer 2100 does not work miracles and being priced at around £100 it is only a wise purchase for serious gamers who will appreciate noticeable in-game smoothness. Maybe it's not the first piece of kit to spend your money on when building a gaming PC, however, you will get small, but perceptible improvements in heavy traffic encounters. ®
More Network Kit Reviews

Iomega
iConnect
Cloud Engines
Pogoplug
Belkin
Home Base
Conceptronic
Grab'n'Go