Original URL: https://www.theregister.co.uk/2010/06/15/review_storage_synology_diskstation_ds410_nas/
Synology DiskStation DS410 Nas box
Box clever
Posted in Personal Tech, 15th June 2010 07:02 GMT
Review Synology's DS410 is a four drive Nas aimed at the small business market – or home use if overkill is your thing – with claimed read speeds of up to 110MB/s in RAID 5 whilst keeping power consumption down to 56W.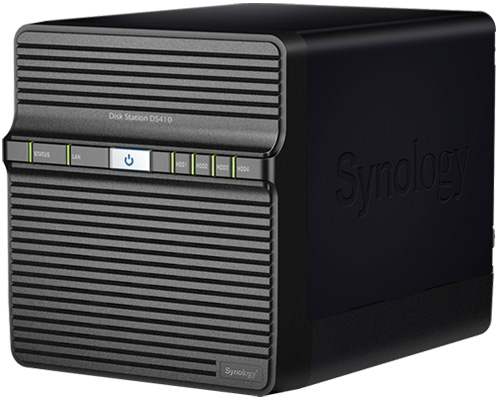 Synology's DiskStation DS410 four-bay Nas
Initial impressions are as expected, a high build quality coupled with a pleasing front panel design incorporating an informative row of status LEDs. Drive installation is somewhat more complicated than other Nas boxes, which use screw-less tray systems, but what are a few screws in a system not designed for hotswapping?
Although it's intended for small business use, there are certainly users out there who use devices such as this in their homes. Indeed, the DS410 has a relatively small footprint at 168 x 184 x 230mm and is certainly not intrusive.
Acoustically, Synology claims noise levels to be around 23dBA and in use the device is fairly inaudible above the ordinary operating noise of other equipment. However, in the home it'll be enough to become irritating if you live in a studio flat and are running overnight.
If you are more concerned about the power drain related to extended runtime than noise, don't panic – as claimed, the DS410 does indeed draw very little power, consistently using under 55W during testing, although the hibernation figures of around 20W certainly leave room for improvement. For those who are iPhone, iPod Touch or iPad users, there are three remote management applications: DS Audio (Audio Station), DS Photo (Photo Station) and DS Cam (Surveillance Station) all of which are free on the iTunes App Store.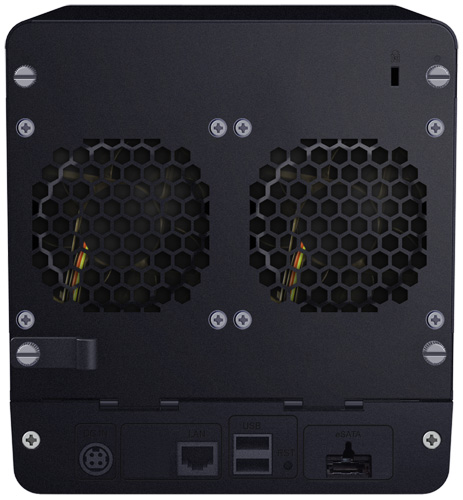 Interfacing includes an eSata port for expansion options
These apps hook up to the DS410 using Synology's DiskStation Manager 2.3 firmware, which powers most of its current product line. It is this core firmware and application set which gives the DS410 a host of wonderful features such as HTTP/FTP servers (with PHP & MySQL support), DLNA and iTunes media streaming, and in-browser tools such as a music manager (Audio Station 2), BitTorrent/eMule/NZB Client (Download Station 2) and file manager (File Station 3).
Many producers of Nas boxes kit them out with numerous outlandish features, but none of them come close to reproducing the experience and usability of Synology's products. Every single feature listed above works in perfect harmony with the device and the user.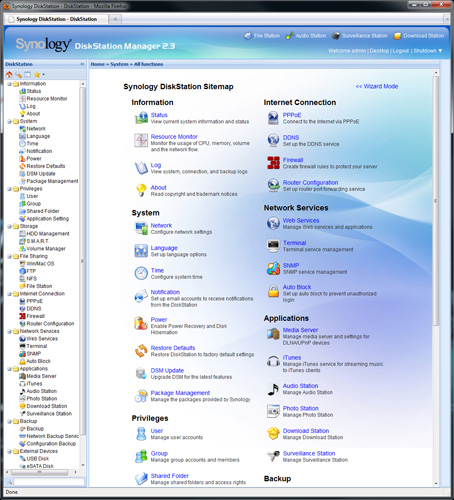 DiskStation Manager offers a comprehensive roster of configuration utilities
Click for a larger image
Media streaming and other functions are a breeze to set up with the built-in wizard and any number of advanced settings can be tinkered with – all without leaving the comfort of Synology's friendly DiskStation Manager interface.
With claimed average RAID 5 read speeds of 110MB/s and write speeds of 54.9MB/s, Synology has certainly sets the bar high. Yet in tests it seems that 110MB/s is a lot to ask, as the DS410 falls nearly 45MB/s short in a RAID 5 configuration.
Benchmark Tests
Drive Throughput Results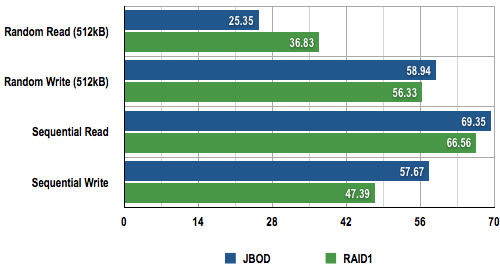 Throughput in Megabytes per Second (MB/s)
Longer bars are better
Drive Throughput Results
Compared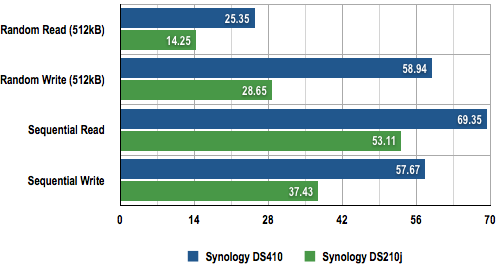 Throughput in Megabytes per Second (MB/s)
Longer bars are better
Drive Throughput Results
Raid 1 Compared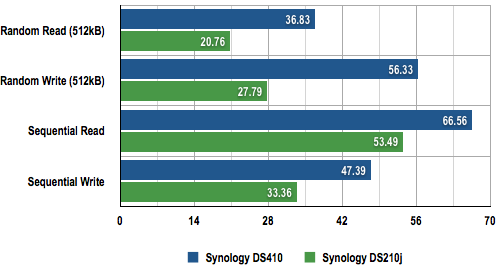 Throughput in Megabytes per Second (MB/s)
Longer bars are better
However, 110MB/s is also a lot to ask from the mix of slightly aging Seagate and Western Digital drives supplied with our DS410. The two 80GB Western Digital disks are from a time when PATA interfaces were still an option.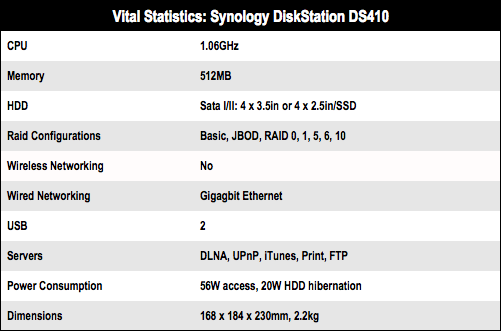 Thus, without having an ultra fast disk to push the limits of the device, the DS410 nevertheless performs well, giving what are still highly competitive results. Kit one of these out with quad SSDs in RAID 5 and it'll take off. For those of you who are torn between saving a bit of cash and buying something along the lines of the DS410's little two-drive sibling, the DS210j – check out the comparison graphs that clearly show that bigger is better. You can also view the spec here.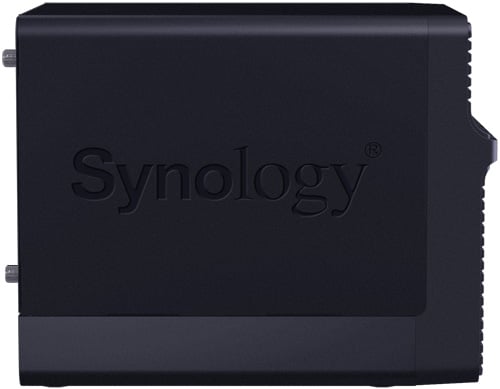 Very capable, but performance will always depend on the drives you use
Whilst it doesn't live up to Synology's lofty claims in terms of real-world performance, the DS410 still offers a competitive edge when it comes to speed and has one of the most comprehensive feature sets available on a Nas box. Combine this with Synology's reputation for building rock-solid quality products and you've got yourself one of the best business grade Nas boxes to be had for under £400.
Considering the DS210j (which runs the same software) can be had with half the storage for about half the price, £200 more for two more drive bays might seem a bit steep. Yet the DS410 also packs in 512MB of Ram, a Freescale MPC8533E 1.06GHz CPU and eSATA; a fair amount more than its lesser sibling.
Verdict
If you're in need of an 8TB storage capability, an exhaustive feature set and want to choose the disks that occupy your Nas box, then the Synology DS410 is certainly worth checking out. Just be sure to buy some drives to go in your £400 investment. ®
More Nas Box Reviews…

Iomega
StorCenter
ix2-200
Acer
Easystore
H340
Asus
Home Server
TS Mini
Netgear
ReadyNas
NVX