Original URL: http://www.theregister.co.uk/2010/06/15/review_netbook_sony_vaio_p/
Sony Vaio P netbook
Highly portable and highly priced
Posted in Personal Tech, 15th June 2010 12:00 GMT
Review Sony manages to conjure up some lovely pieces of kit, but it also has a tendency to slap outrageous price tags on them. And this was no more apparent than when it launched the Vaio P-Series last year.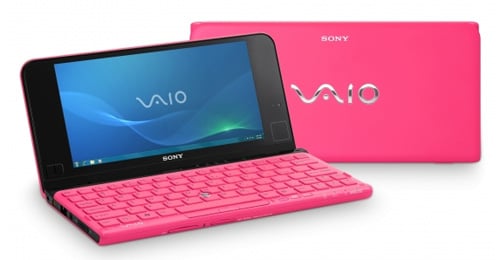 Sony's Vaio P: small, light, but darned expensive
Small and sexy, the original P-Series was designed to appeal to affluent types who wanted to join in the netbook revolution but couldn't stomach spending less than £300. Since then, Sony has bowed to pressure and released a more traditionally-priced netbook in the form of the Vaio M Atom. However, it still appears to have faith in the P-Series, and has just launched a new model.
This time round it's a bit more affordable, but at £799 the VPCP11S1E is still pretty darn expensive. The design is even more enticing than its predecessor, though, and with smooth, curved edges it looks and feels great. I was sent the rather garish pink version, but thankfully other colours are available.
The unit is powered by an Intel Atom Z540, which is clocked at 1.86GHz and has 2GB of DDR3 memory at its disposal. Graphics are handled by Intel's GMA 500.
With its 8in display having an ultra-widescreen resolution of 1,600 x 768, the VPCP11S1E takes on a very elongated appearance. Sony would like you to think it'll slip nicely into a coat pocket, but at 245mm long and 120mm wide that pocket will need to be fairly capacious. However, measuring just 20mm thick, it's incredibly slim and weighs a mere 632g.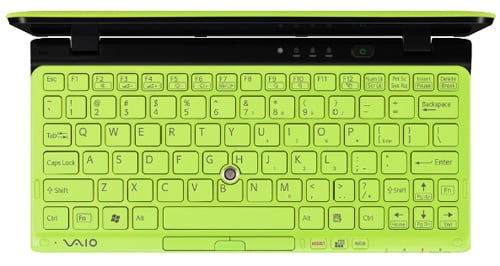 The keyboard is surprisingly finger friendly
Flip open the lid, and a surprisingly large and easy-to-use keyboard comes into view. There's no trackpad, but Sony does offer two alternatives. The first is a trackpoint that sits just above the 'B' key – this is used in conjunction with the three buttons below the space bar.
The second set of controls are situated either side of the display – a small touch-sensitive section sits on the right, while left and right buttons are on the left. It's a nice idea, but the buttons tend not to react unless pressed firmly, and the small touchpad requires very small and precise finger swipes in order to accurately move the mouse pointer.

Certainly, slim but a bit on the long side for coat pockets
With the screen having a relatively high resolution, reading small text can be tricky. Thankfully Sony includes a 'big/small' button (it's probably got a more glamorous official name), which quickly switches between the native resolution and a more eye-friendly 1,280 x 600.

At half the weight of most netbooks, it won't weigh you down
As far as connectivity goes, the VPCP11S1E isn't left wanting. The usual 802.11n wireless, Bluetooth and Gigabit Lan are joined by an unlocked 3G mobile broadband module in the form of Qualcomm's Gobi 2000. Sony's also managed to cram in a GPS receiver and the VPCP11S1E will even tell you in which direction you're stumbling with its built-in electronic compass. Other goodies include an ambient light sensor that adjusts the screens brightness, SD and Memorystick slots, two USB ports and a 0.3Mp webcam.
Benchmark Tests
PCMark05 Results
CPU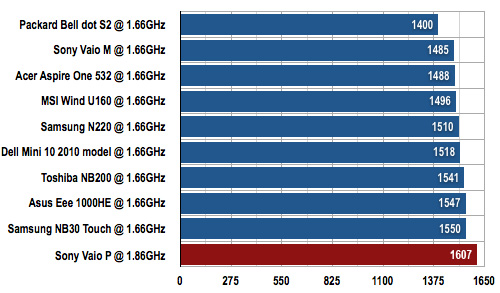 Longer bars are better
Memory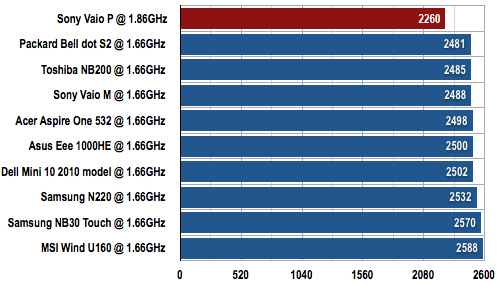 Longer bars are better
HDD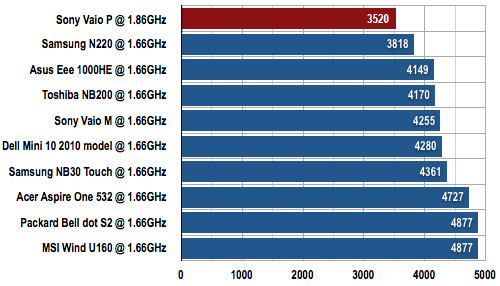 Longer bars are better
Video Loop Battery Life Results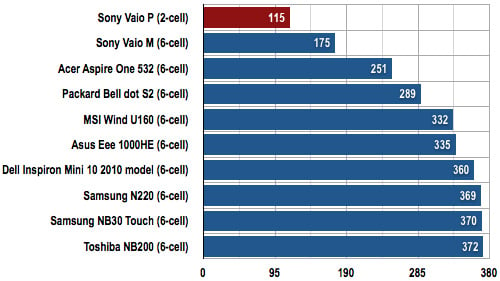 Battery life in minutes
Longer bars are better
Unlike with most netbooks, which have to make do with Windows 7 Starter, Sony's been able to instal the fully-fledged 32-bit Home Premium version. Unsurprisingly, the Atom processor occasionally finds things a bit too much and sluggish moments occur from time to time. PCMark Vantage, 3DMark Vantage and 3DMark 06 all proved too much, but it did manage to stumble its way through the entire PCMark05 suite, achieving an overall score of 1119. The HDD score of just 3520 was disappointing, though, especially considering the use of a 64GB SSD.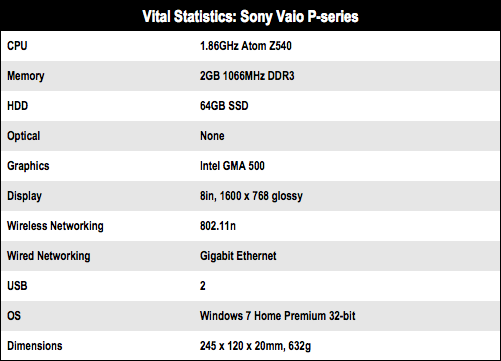 Although it doesn't appear to add much in terms of performance, this SSD (a Sandisk pSSD-P2 model) combined with the total lack of fans means the laptop is silent. It does, however, get pretty warm on the underside of the chassis after around 15 minutes of use. The VPCP11S1E can be booted into the included Linux-based Splashtop OS. This boots in around 30 seconds, but all it really offers is a web browser so is of limited use.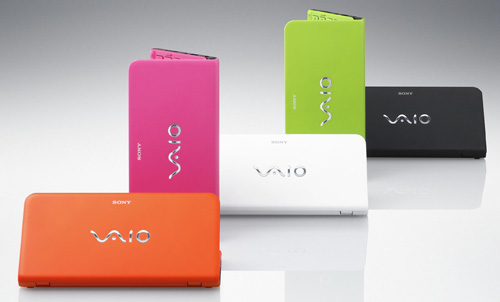 Irresistible? Pink, orange, green, black or white – the choice is yours
Curious as to how the VPCP11S1E copes under Linux, I installed the Ubuntu Netbook Remix. Things didn't get off to good start when it failed to recognise both the trackpoint and touchpad, meaning an external mouse had to be attached. It also ran like a dog, which is most likely down to the Intel GMA 500 graphics, and crashed on more than one occasion. If you've plenty of spare time these issues can probably be solved, but anyone hoping for an easy Ubuntu install will be left sorely disappointed.
Given the small chassis, it's no surprise to find the battery is a measly 19Wh model, but when running PCMark05 in a loop it coped reasonably well, ticking along for five minutes short of the two hour mark. Indulge in a bit of 3G or GPS activity, and this figure will drop significantly. Finally, it's worth mentioning that the VPCP11S1E isn't best suited to upgrades. With no screws in sight, you'd probably need to tear out the four rubber feet if you ever wanted to access the internals.
Verdict
The VPCP11S1E might be small and have an Atom processor, but it's most definitely not a netbook. No, this is a luxury device aimed at those who are happy to pay a premium for something that's a bit different. And it certainly has a lot going for it, not least built-in 3G and GPS, along with its ultra-lightweight design. The keyboard also impresses, but using the trackpoint and/or mini touchpad can be tricky, while the high resolution 8in screen isn't particularly easy on the eye. Moreover, I suspect most Reg readers, myself included, would shudder at the thought of splashing out £800 on such an under-powered device, no matter how pretty it might be.
More Netbook Reviews…

Samsung
NB30
Touch
MSI
Wind
U160
Sony
Vaio M
Dell
Mini 10