Original URL: http://www.theregister.co.uk/2010/06/14/dell_studio_15_battery_pack/
Dell customers count cost of battery back-up
HOW much for a spare power pack?
Posted in Personal Tech, 14th June 2010 09:22 GMT
One Reg Hardware was stunned this weekend when he went to check how much an extra battery for the Dell Studio 15 laptop he was planning to buy would set him back.
Little did reader Gerard Phelan realise that acquiring the six-cell, 56Whr power pack would necessitate taking out a mortgage.
Or a Lotto win.
The price: £1,174,998.83.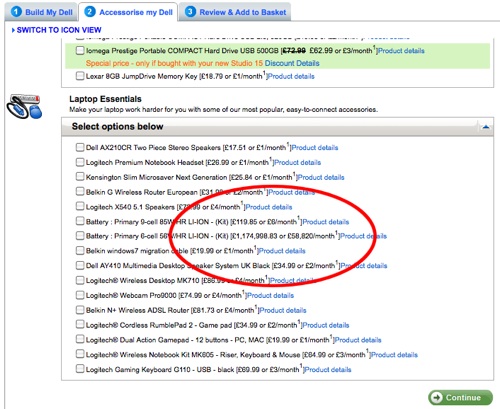 Click for full-size image
We'd recommend the more capacious, nine-cell battery, which is only 120 quid.
Dell's Studio 15 configuration page is here: the pricey battery, if it's still there, is on the accessories page. ®