Original URL: https://www.theregister.co.uk/2010/06/12/review_home_cinema_panasonic_sc_bt735/
Panasonic SC-BT735 Blu-ray home cinema kit
Slim stylish AV combo, anyone?
Posted in Personal Tech, 12th June 2010 08:02 GMT
Review Well-heeled home cinema devotees like to put together a trustworthy disc player, an amp built like a battleship and classy, carefully chosen speakers. Meanwhile, the budget and mid-range market is catered for by simple one-box packages, which flourished in the DVD era, so it's no surprise to find an increasing number based on Blu-ray.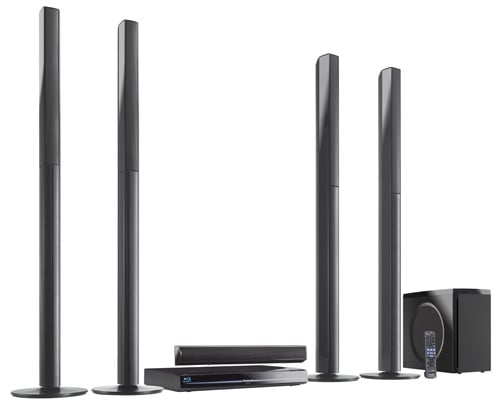 Call me Slim: Panasonic's SC-BT735
The SC-BT735 is at the higher end of Panasonic's home cinema systems. The player is also the amplifier, outputting to five speakers and a passive subwoofer. You could call the stereo and rear surrounds tallboy speakers, but the actual working parts are no larger than the slim centre speaker, the rest is a hollow floor-stand. You can remove the stand and wall-mount them, if necessary.
The speaker cables use Panasonic's own idiot-proof colour coded plugs but you can't change the wiring for something better or longer. With the SH-FX71 add-on you can lose the cabling to the rear speakers – although the wireless receiver kit requires mains power and it costs £99.
The player is a fully-fledged Blu-ray hub that also spins DVDs, CDs and handles DivX video, MP3 and JPEG photos from discs or USB drives (up to 128GB). Its SDXC card reader is geared to camera users too, as it accepts JPEGs, AVC HD footage or standard definition MPEG-2 video. There is an iPod/iPhone dock, with a corresponding on-screen menu, plus an Ethernet port for a limited amount of online content and media streaming from PCs. Another optional add-on (DY-WL10) enables Wi-Fi as an alternative.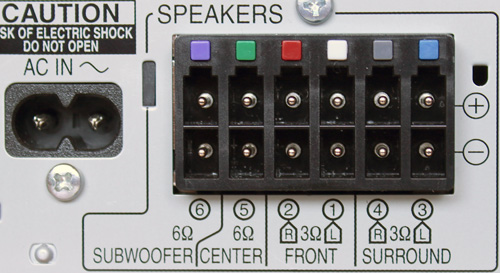 Speaker connectivity is easy to follow, but not so easy to extend
The HDMI output is the latest version 1.4 and includes an audio return channel for piping audio from v1.4-equipped TVs (and connected digiboxes) to the speakers without needing additional audio connections. For video it displays up to 1080p resolution from Blu-ray, AVC HD, DivX HD and upscaled DVD. There is also a movie-friendly 24-frame progressive mode for suitable screens.
There's no doubting Panasonic's Blu-ray credentials. From the steel-blue colour scheme of The Dark Knight to the sun-scorched landscape of No Country for Old Men and the bold hues of 2009's Star Trek reboot, the player's HD visuals have sumptuous levels of detail, crispy contrast and faithful flesh tones. That said, I had to boost my plasma's brightness as the player's output looked relatively dark.

Thumb-friendly remote
One of Blu-ray's benefits its sound quality, however, the SC-BT725's stereo pair is a touch on the frail side. It can't quite enliven the busiest film soundtracks, such as Star Trek, with the zest achieved by more substantial speakers. Bombastic action scenes are a stretch for the subwoofer, too. It does mid level bass suitably well, but doesn't plumb the floorboard-bothering depths of more sturdy subs. At least the neighbours will be grateful.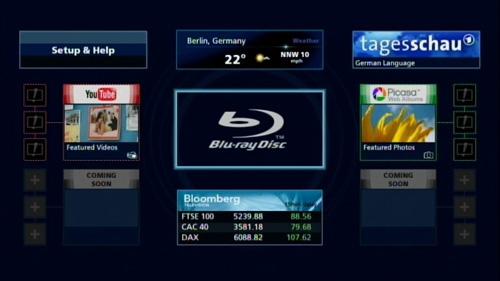 VieraCast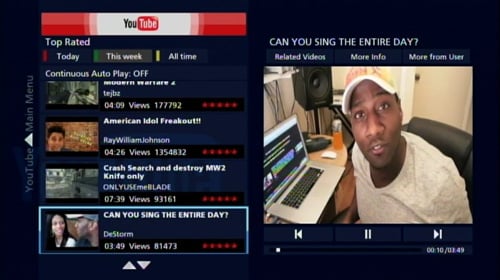 YouTube
With the moody and sparse soundscape of The Road in DTS-HD Master Audio the system works effectively. Vocals are legible and clear-cut throughout and it's worth playing with the four preset EQ modes to make things more full-blooded. The Heavy option does what it says, especially during blockbuster movies, but it can make music too woolly, so I toggled between Clear or even Flat for that. Alas, there are no customisable EQ settings.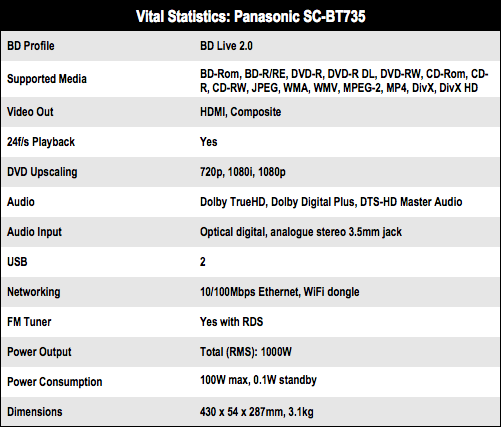 You can see the player working hard when upscaling DVD. The results are impressive, though some minor rippling around edges betrays the standard def origins. I found that the picture adjustments such as Fine mode and detail enhancement – tempting though they may be – exaggerate film grain.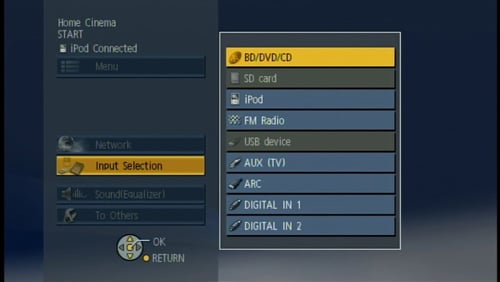 Plenty of input choices
DivX plays very well from USB (including high def versions) but network video streaming didn't work for me, despite trying three different DLNA/UPnP servers, which undermines the 'plug and play' aspect. Photo browsing is fine using plugged-in media, over a local network or from Picasa web albums – available through Panasonic's VieraCast portal along with YouTube. For iPod video, you can only use the lower quality composite output, not HDMI.
Audio streaming from PCs fares better with support for various formats including MP3, AAC, Apple Lossless, WAV, WMA (up to Pro and Lossless) but not FLAC. The results obviously depend on the level of compression.
Verdict
You may get compactness and simplicity from the SC-BT735 and the quality is better than TV speakers or a soundbar, but vocal clarity aside, it doesn't deliver a massive audio improvement over slightly cheaper counterparts. You can get the same strong picture quality from a standalone player costing a quarter of the price, enabling you to choose any amp and speaker package with the flexibility of changing the player later (perhaps to 3D) without ditching other components. ®
More Blu-ray Gear Reviews…

Sony
BDV-E370
Cambridge Audio
Azur 650BD
Toshiba
BDX2000
HDI
Dune BD Prime