Original URL: https://www.theregister.co.uk/2010/06/10/wiggin_survey_cloud_ebooks/
Cloud computing, eBooks - no thanks (or not just yet)
Canny UK consumers are wary
Posted in The Channel, 10th June 2010 10:21 GMT
We promised one final instalment for you from law firm Wiggin's epic annual consumer media survey - and here it is. Look away now if you're anticipating quick riches from your investments in eBooks, 3DTV or cloud computing. In all three areas, a wary public is going to keep its cash safe. At least for now.
On the other hand, if you've bet on MMORPGs or - and this might raise a few eyebrows - magazines, there's better news.
The sample used by the pollsters is a pretty tech-savvy one. 48 per cent use social networks, although for the purposes of the survey, YouTube counts as a social network. 35 per cent own a satellite dish, 29 per cent have Sky+ and 23 per cent Virgin cable. 41 per cent have a Wii at home, and one in four some kind of PVR. 24 per cent own an iPhone.
But this doesn't mean punters are taking a swing at anything going. Almost two thirds are not interested in eBooks, either on a mobile device or a dedicated reader. A whopping 89 per cent want only paper content from their newspapers and mags, or paper plus the occasional bit of digital content. Just three per cent have a Kindle.
The reason for this bears out the proposition put forward in Nick Carr's new book The Shallows, if not Nick's conclusion. Refuseniks cited the look and feel and ease of use of traditional paper technologies - including the ability to read in the bath - as a reason for preferring printed out. But 36 per cent agreed with the objection that "I spend long enough looking at screens" and "I like to relax with a magazine not a screen".
Consumer cloud computing services also receive the wait-and-see approach.
71 per cent prefer their personal documents to be stored locally, with just four per cent in the cloud. 59 per cent prefer their work documents with them, with eight per cent in the cloud (and nine per cent for both). Only amongst games users, many of whom have been online subscribers for years, is the figure under 50 per cent, with 16 per cent saying they're happy for the games to reside online, and 14 per cent for both.
Plus points include the unavailability of files if there was a problem with their computer (65 per cent) and mobility.
What's the objection to a cloudy future, then? 50 per cent cited security concerns and a reluctance to pay a fee. The same number cited objections to paying a fee. 40 per cent wanted control over where the files are stored, and knowing exactly where they are.
Maybe broadband has to become several times more reliable than PCs, before it can win punters' trust. Being perceived as equally unreliable just isn't going to give cloud services much of an advantage. Just a thought.
When asked what they expected to be doing more of in the coming year, the most popular activities cited were online games, watching TV over the interwebs, and downloading unlicensed movies.
When it comes to paying for content, around a third are happy to get TV programmes and albums online, but not so keen for newspapers and magazines. 81 per cent agree with the statement that "there is enough free news content on the internet so I don't need to pay".

Who wants a Paywall?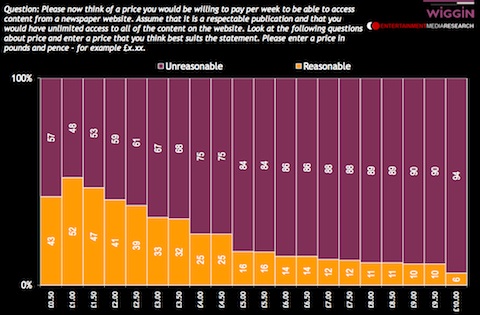 A quid a week for online newspaper access?
For 3DTV, 15 per cent said they'd be prepared to shell out for the kit needed to watch it at home - even after they were prompted about the cost of doing so, around £2,000. That's not a mass market, but it's a sizeable enough number to encourage the vendors and retailers. Eight per cent of the sample have a Blu-Ray box, a figure expected to grow.
And there's signs of trouble ahead for social networking sites. 42 per cent agree with the sentiment: "I'm getting bored with social networks." Two thirds of the sample want personal information to go only to people or brands the user trusts.
There's a good Mailbag on this coming up. ®