Original URL: https://www.theregister.co.uk/2010/06/09/digger_quest/
Plucky Finn attempts to drive length of Finland in small digger
Epic 2½-mph quest electrifies Scandinavia
Posted in Bootnotes, 9th June 2010 09:55 GMT
Occasionally, like Alexander the Great, adventurous souls living today's degenerate modern life weep because there are no more worlds to conquer. Everest has been climbed, then parachuted; the English Channel has not just been swum, but crossed by flying jetpack also; hardy golfers have played "the most remote and climatically extreme golf courses in the world... not using any caddy or cart".
Not only the great challenges offered to mankind by our home planet, but also the rather less impressive ones have been achieved. To be the first to accomplish any feat of significance, nowadays, would seem impossible.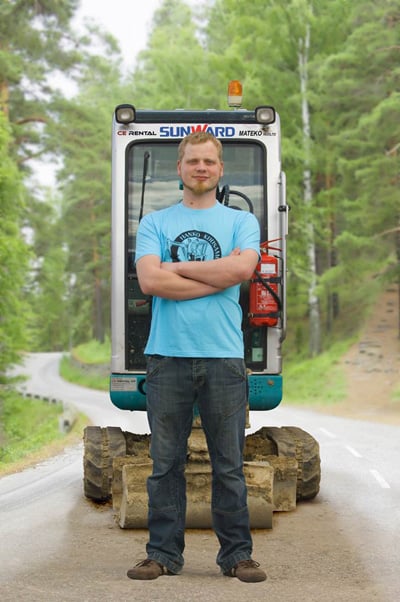 Forget about the Vikings, this is the true face of Scandinavian adventure.
But, in fact, this is not the case. All one needs to do is lower one's sights a little. Plucky Finnish excavator repairman and salesman Jukka Mutanen has done so, and is even now engaged in one of the great quests of our time: that is, to be the first man to drive most of the length of Finland mounted on a small one-man imported Chinese digger.
Mutanen, who prefers to be known to his friends as "Excavatorjack", set out on his great endeavour last week from the southern Finnish town of Hanko. Travelling at an average speed of around two and half miles per hour (his machine is capable of 2.8 going flat out), he expects to reach the remote north-Finnish finish line for the midsummer holiday celebrations on 24 June.
Full tech specs on the digger plus live on-bucket vid feed
For the digger enthusiasts out there - and it seems likely that there are plenty of you - here are full details on Mutanen's trusty mount.
It is an SWE17B manufactured by Hunan Sunward Intelligent Machinery Company Ltd of the Changsha Economic and Technological Development Zone in China. It runs on rubber tracks, has standard bucket capacity of 40 litres and "bucket digging force" of 13.1 kiloNewtons. The SWE17B is powered by a Yanmar 3TNV70-SSU diesel able to develop a maximum output of just over 13 horsepower at 2200 rpm.
Mr Mutanen normally works with Sunward's Finnish distributor, and the two firms have generously supported his record-breaking attempt by providing the digger and maintenance support during the trip. They are also "donating a certain amount of money to domestic charity institutions to thank for the supports and kindly attention received from society".
Mutanen's epic digger-borne quest has fired the imagination of his fellow Finns, with more than 87,000 indicating their support and approval on Facebook as of publication.
The plucky Finn has also transformed his chugging SWE17B into a mobile consumer-tech data node with support from various other sponsors. You can track his progress in near real time via Google map at his website; and of course a live streaming camera feed from the vehicle is also available:
This caper will certainly put the British adventurers who last year set out for Timbuctoo* in a flying car firmly in their place. ®
*Insert alternative spelling of your choice.