Original URL: https://www.theregister.co.uk/2010/06/08/ten_essential_world_cup_apps/
Ten Essential World Cup Apps
Android 5, iOS 5
Posted in Personal Tech, 8th June 2010 13:02 GMT
Product Round-up Kick off is mere days away - this coming Friday, no less, with South Africa vs Mexico and Uruguay playing France - so now's the time to get your smartphone loaded up with World Cup goodies.
Whether you'll be watching from home, at a friend's house, down the pub - or even in South Africa itself, here are our ten favourite apps, half of which run on Android and the rest on iOS - as we should now call the operating system running on the iPhone and iPad.
It's a game of two platforms, Barry.
ALK CoPilot Live for South Africa
Like all nations, South Africa has its good parts and its bad. Take a wrong turn in your rental car and a good satnav will be useful in getting back to your hotel or to the match. ALK's CoPliot live offers turn-by-turn navigation for all of South Africa so you shouldn't get lost to start with but if you do at least your phone will get you back on course. In use the system is identical to the UK CoPilot application tested here, though the only "Live" feature on offer is the weather forecast. At £33, it's a worthwhile investment if you plan to do any sightseeing while you down there.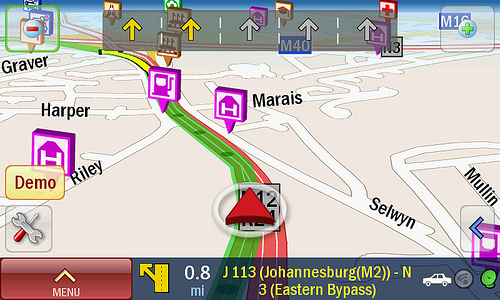 ---

Reg Rating
90%
Platform
Android
Price
£32.99
More Info
ALK
Download


Mandelaisms
Impress the locals with your encyclopaedic knowledge of the great man's bon mots with this handy quotations app that rustles up the sayings of Nelson Mandela at the touch of a screen. Of rather more value than most quotations apps because the source is a man of unusual insight, honesty and character, only a twit would not be moved to contemplation by the wisdom on offer. Some of the quotes may be a bit Utopian, but if a man's reach does not exceed his grasp, what's a heaven for? Each quote also comes with a handy email/SMS/Tweet function so you can spread a little enlightenment.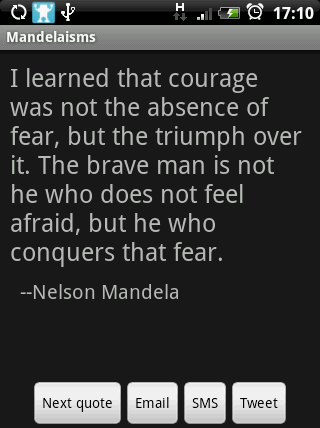 ---

Reg Rating
90%
Platform
Android
Price
Free
More Info
VirtualTechs
Download


The Official England App
Like most World Cup apps, the Official England App keeps you up to date on the latest World Cup news, as well as providing info on fixtures and player profiles. However, the advantage of buying this 'official' app developed by the FA is that it has access to video footage from FA.TV – the video channel on the FA's website. This includes behind-the-scenes footage from England training sessions, as well as interviews with Capello, Rooney and co. The only thing I didn't like was the weird chequered background used for text on the news section, which makes your eyes go a bit wobbly.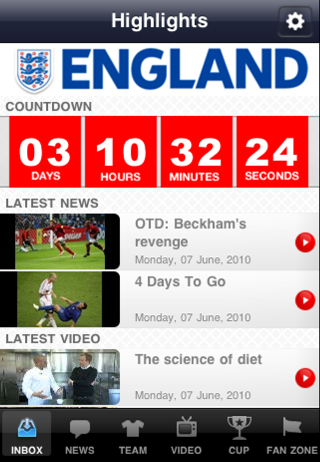 ---

Reg Rating
80%
Platform
iPhone/iPod Touch (iPad-compatible)
Price
£2.99
Download
App Store
More Info
The FA
Sun Football – World Cup Edition
The Sun's football app is a lot like the paper itself: it's packed with eye-catching info-nuggets that are good for browsing through on the train, but a bit lacking in depth - and there's also some very sloppy text formatting that suggests the Sun's publishing system is unfamiliar with the concept of the apostrophe. In addition to the main news section, the app also includes a 'match centre' with live coverage of matches in progress. There's an extensive photo-gallery, a selection of video clips, and a 'wall-chart' that uses the iPhone's touch-controls to let you quickly flick through each set of group matches.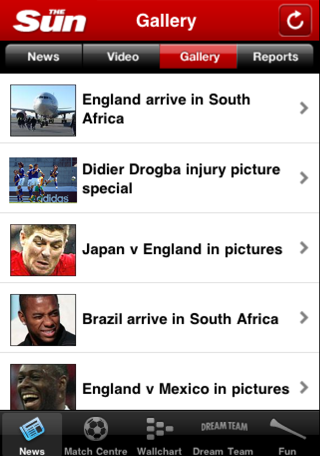 ---

Reg Rating
75%
Platform
iPhone/iPod Touch (iPad-compatible)
Price
£2.39
Download
App Store
More Info
The Sun
World Cup Funny Facts
Who was the first player ever to be sent of during a World Cup final? In what year was the yellow- and red-card system introduced? What was the best attended match ever in a World Cup finals tournament? The answers to there questions and more can be found in World Cup Funny Facts, though I'd argue none of them are actually funny and the grammar is a bit hit and miss. Have your moment in the sun at World Cup pub quizzes or bore the seven shades out of your mates when the conversation flags, the choice is yours. You can even add your own tit-bits of World Cup marginalia for future reference.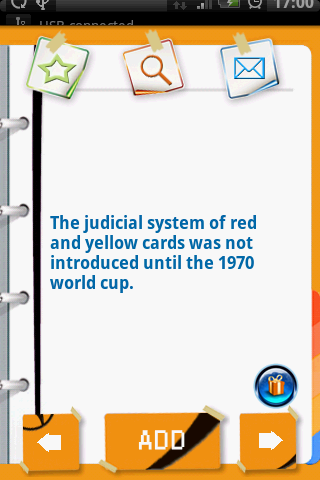 ---

Reg Rating
75%
Platform
Android
Price
Free
Download


World Cup Referee
The smartphone equivalent of yelling "Oi, ref are you effing blind?" Fire up the app and you are presented with six options. The yellow and red cards cause your screen to flash the relevant colour and launches an appropriate chant - "Off! Off! Off!" in the case of the red. The whistle icons play short and long whistle blows, while the last two produce an "Oooooooooooooooooh" roar for a near miss and a "GOAL!!!!!!!!!" roar for when it's in the back of the net. Probably of more use in front of the TV or in the pub back here in Blighty than on the terraces of Johannesburg.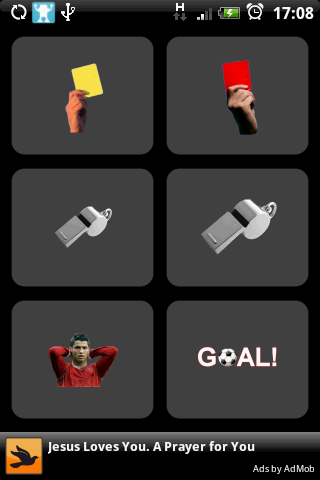 ---

Reg Rating
85%
Platform
Android
Price
Free
Download


World Cup Universe
This app is a must-have for trivia buffs, and for settling arguments down the pub with your pals. Instead of looking forward to forthcoming matches, World Cup Universe is jam-packed with results and statistics from previous World Cup tournaments going right back to Uruguay in 1930. There's a searchable database with info on hundreds of individual players, as well as head-to-head results for every single team. You can also look up trivia such as the teams that scored the most own-goals, matches with the biggest winning margins, and players with the best penalty results or the most red cards.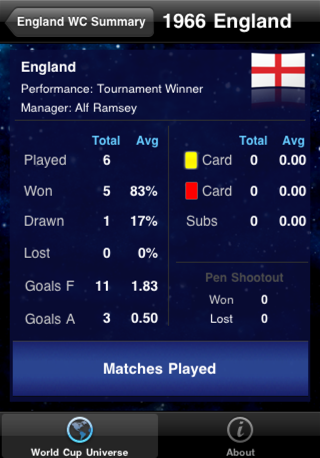 ---

Reg Rating
90%
Platform
iPhone/iPod Touch (iPad-compatible)
Price
£0.59
Download
App Store
More Info
World Cup Virtual Vuvuzela
From the sublime to the ridiculous. The vuvuzela is a trumpet-like affair that is the loud and bloody annoying instrument of choice among South Africa's footie fans. With this app, when the locals whip out their horns you can flash your Desire or Nexus One and join in. It actually does nothing more than cause your phone to emit a loud wail that could as well be the death rattle of one of HG Wells' Martians as anything else. During howls, the screen shows a vuvuzela in the colours of your team selected from a list of all those competing.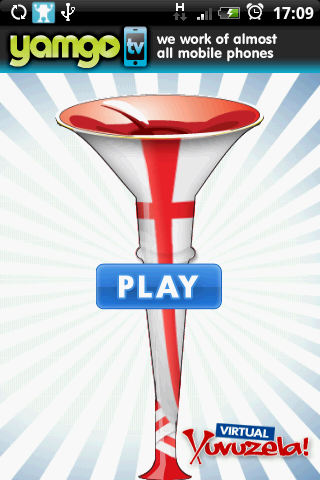 ---

Reg Rating
80%
Platform
Android
Price
Free
Download


2010 FIFA World Cup
This official World Cup game is essentially an updated version of the popular FIFA 10 football app that was released last year. It's designed for the iPhone, but the graphics still look good when zoomed up on the larger screen of the iPad, and the touch-screen controls are smooth and responsive. You can adjust the skill level from amateur to world-class, and create and customise your own player to captain your team. There's a tutorial mode to help you practice skills such as penalties – something that wouldn't hurt the England team either – and basic management controls for adjusting formations and assigning players to free kicks and penalties.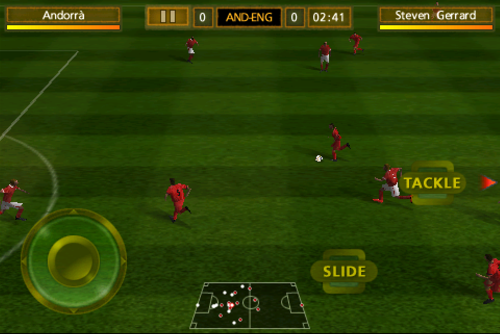 ---

Reg Rating
80%
Platform
iPhone/iPod Touch (iPad-compatible)
Price
£3.99
Download
App Store
More Info
EA
2010 Football News HD
The other World Cup apps we've looked at were all designed for the iPhone and iPod Touch - although they will also run on the iPad as well. However, 2010 Football News HD is the only one we've seen that was specifically designed for the iPad. It's little more than a newsfeed from the FIFA website, but it's free and is a good way to quickly check on the latest headlines. It also includes links to the FIFA site, where you can get more detailed info on individual teams and players – although you have to leave the app and use the Safari web browser to do so.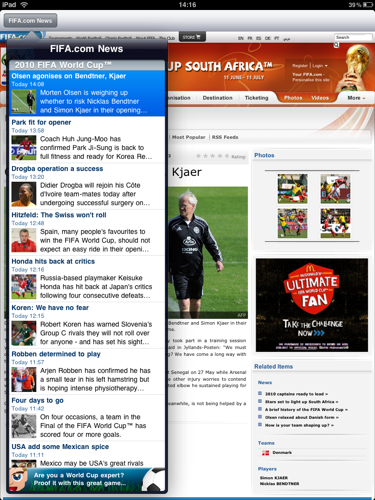 ---

Reg Rating
80%
Platform
iPad only
Price
Free
Download
App Store
More Info
Ernest Otto