Original URL: https://www.theregister.co.uk/2010/06/08/review_home_cinema_sony_bdv_e370/
Sony BDV-E370 Blu-ray home cinema kit
See no evil, hear no evil
Posted in Personal Tech, 8th June 2010 12:02 GMT
Review If you can't be bothered messing around with a separate Blu-ray player, amp and surround sound speaker set-up, then an all-in-one home cinema kit such as the BDV-E370 from Sony may be just the sort of set up you're looking for.

Sound and vision: Sony's BDV-E370
The main unit combines a Blu-ray player with an integrated amp and surround sound decoder capable of delivering 850W of power. This drives a 5.1 speakers configuration that includes twin front and rear satellites, a very thin centre channel speaker and a passive subwoofer.
In terms of design, the main unit won't win any awards. It's quite boxy and has a slightly odd looking lip on the front that houses the playback controls. It's certainly not as attractive as something like Samsung's more elegantly styled HT-BD1252. On the plus side the glossy black finish does mean that it tends to blend into the background drawing little attention to itself when it's sitting in your AV cabinet.
When it comes to setup, however, the system couldn't be more straightforward. There's colour coding on the speaker wires and connectors so it'd difficult to go wrong when you're hooking up the cables. More impressive is the fact that the BDV-E370 is one of the few budget systems to have an auto calibration feature.
All you have to do is call up the configuration menu, plug in the supplied mic and position it where you usually sit in the room. The system then sends a blast of white noise from each speaker to the mic and uses the results to automatically set the individual volume levels and delay times for each speaker – something that saves you a whole load of hassle.

Alas, there are no HDMI inputs for hooking up external HD kit
Given the price tag, the rear of the E370 isn't exactly laden down with ports. While you do get component alongside the HDMI out, there are no HDMI inputs for connecting external high definition kit like a Playstation 3. Instead, you'll have to feed audio from external sources into it using either its optical or coax digital inputs.
Also, connection to your network is Ethernet only, as there's no onboard Wi-Fi. However, a Wi-Fi adaptor is available as a pricey add-on – around £70. Thankfully, unlike the older E300 that this model replaces, there are now two USB ports, with one conveniently mounted on the front for easy access. Also, you can now hook an iPod up to one of these to play back your media through the system.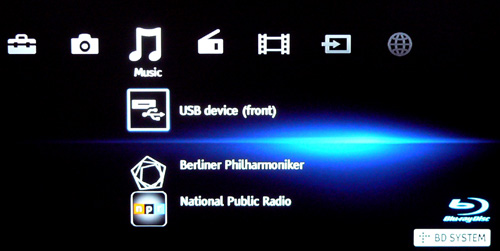 Sony's XMB navigation does the job, but it's not to everyone's taste
As with most of Sony's latest AV kit, the E370 is driven using the Xross Media Bar (XMB) menu system. While opinions vary on XMB, overall, I found it makes the player very quick and easy to navigate around, especially when you're browsing through the supported online video services like Five On Demand and Eurosport, which are neatly presented and work extremely well.
You can also play a range of audio, picture and video file formats including Xvid and MKV video files at resolutions of up to 1080p from either optical discs or drives connected to either of the USB ports. Annoyingly, however, you currently can't stream files across a network, although Sony says a forthcoming software upgrade will deliver DNLA support.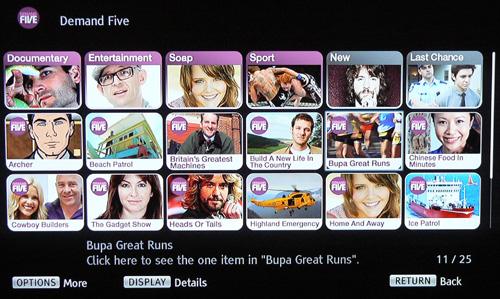 A range of online video services are supported including Eurosport, LoveFilm and Youtube
The BDV-E370 actually has two standby modes, a fast start mode and a standard mode. With fast start enabled the machine draws a hefty 11W in standby, but with it turned off this is reduced to just 0.7W, and while its running at full tilt, it sucks in around 30W, which is pretty much par for the course.
When it comes to actually playing discs the BDV-E370 is an impressive performer. It's quick to startup and load Blu-rays and the pictures it produces are simply gorgeous. It conjures up stunning levels of detail and delivers images with vivid colours and real cinematic punch. It does a great job of upscaling standard definition DVDs too, adding extra sharpness while keeping any nasty artefacts like jaggies in check.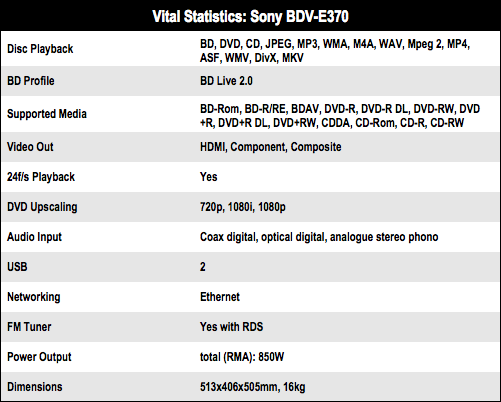 But if pictures are good, the audio side is even better. As you would expect it supports all the main HD audio formats including DTS-HD Master Audio and Dolby TrueHD. And despite the rather small size of the satellite speakers the system is not found wanting when you need to crank up the volume.

Vivid visuals and scintillating sound for the price
The sound stage is also beautifully expansive and surround effects are reproduced with pinpoint accuracy, making the big set pieces in action movies an aural treat. What's more the sub is much more controlled and precise than on other systems I've encountered in the same price bracket. In fact I'd go so far as to say it's the best sounding one box system in this price range that I've come across.
Unfortunately, the E370 isn't yet capable of playing 3D Blu-ray discs, but Sony promises another software update in June, but no sign of it yet. However, an update offering BBC iPlayer support was made available last month.
Verdict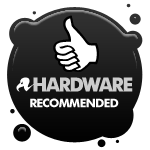 It may not be the prettiest system around, but in most other respects this is a great home cinema kit from Sony. It's easy to use, produces great sounding audio and delivers crisp HD pictures for the price. It would have notched up a slightly higher rating if all the touted features were actually present. That said, the eventual release of the 3D update and the forthcoming support for DNLA networking can only add to the system's long term appeal. ®
More Blu-ray Gear Reviews…

Cambridge Audio
Azur 650BD
Toshiba
BDX2000
HDI
Dune BD Prime
Pioneer
BDP-320