Original URL: https://www.theregister.co.uk/2010/06/07/review_touchscreen_desktop_pc_asus_eeetop_pc_et2203t/
Asus EeeTop PC ET2203T 21in touchscreen all-in-one
Full HD and finger friendly
Posted in Personal Tech, 7th June 2010 12:02 GMT
Review Testing touchscreen PCs is always a pleasure but it's especially satisfying when a manufacturer gives you lots of display surface to tickle. In the case of the ET2203 model of Asus' EeeTop (named by a Yorkshireman, perhaps?) all-in-one PC, you get a rather splendid 21.6in, supporting 1920 x 1080. That's full 1080p HD resolution. Lovely – especially when using the Blu-ray player.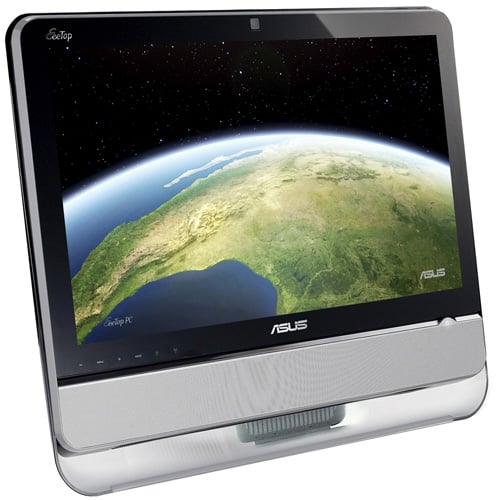 A touching spectacle: Asus' EeeTop PC ET2203T
But first, let's take a tour of the whole machine. This all-in-one is encased in regulation glossy black plastic with a strip of fine metallic mesh across the front that tries to give the impression that it is hiding some natty speakers. The speakers, by the way, are loud but the audio quality is inevitably tinny.
A clear plastic stand raises the unit an extra couple of inches from your desktop. It's a trivial thing, perhaps, but the concave shape of the stand leaves a ledge under the main body of the unit that might help as a grip if you need to carry the computer from one room to another.
In addition to a power button, the flush front fascia incorporates a row of icon LEDs below the display. Two of these indicate hard disk activity and a successful Wi-Fi connection; the others are touch-sensitive buttons for controlling the on-screen display, plus a 'Home' button for accessing the Windows 7 Desktop. These controls made it simple to reduce screen brightness significantly, which is not something that can be said for many Windows 7 (or Vista) all-in-ones these days.
A webcam and microphone are also built into the front, just above the display. Connectivity ports are distributed between the left-hand side and the rear of the unit. Asus sensibly located the audio sockets at the side, along with a couple of USB ports and a multi-format media card slot. Another four USB ports are located at the back, along with a gigabit Ethernet port and an HDMI socket for connecting the ET2203 to a games console, media player or Sky HD+ box.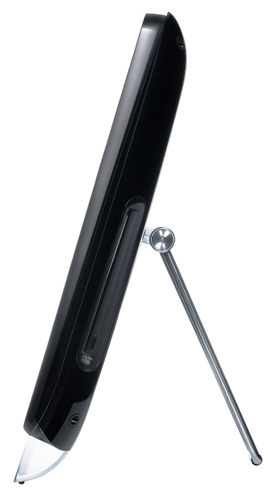 The tray-loading Blu-ray drive pops out from the right-hand side
Wi-Fi supports 802.11b/g/n and I would expect nothing less of any new computer coming onto the market. The rear prop stand is sturdy, allowing you to lean the computer back 12-27 degrees and features a cutaway hole to allow cables to pass through – but this probably won't be necessary.
The power cable is slim and projects only a couple of centimetres from the rear, though you will have to find room for the 'dead rat' transformer on the floor on the way to your mains socket. In general use, the computer runs at around 40-50W, dropping to less than 3W in Sleep mode, and 1W when shut down.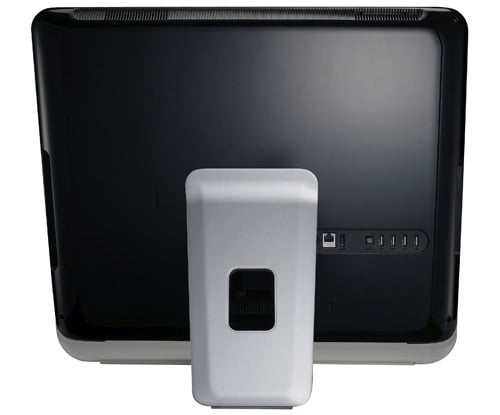 A few ports are located at the back; most are ranged down the left-hand edge.
The tray-loading Blu-ray player is accessible from the right-hand side, doubling up as a DVD and CD rewriter combo drive. Movie media is set up to play using ArcSoft TotalMedia Theatre 3, which I found to be wonderfully free of fiddly features. It also fires up Blu-ray discs quickly rather than making you wait up to a minute to recognise them, which is what some other players do. Watching Blu-ray movies on a well-sized, native 1080p screen such as this is highly enjoyable.
Benchmark Tests
PCMark Vantage Results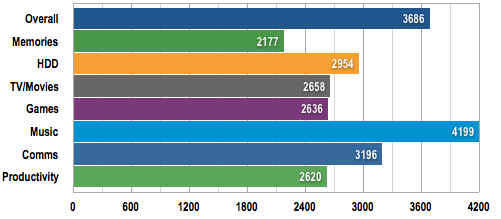 Longer bars are better
Asus has paired up the PC with small but very well-made input peripherals that match the glossy black style of the main unit. The compact keyboard lacks a numeric keypad but it's very comfortable to use, as is the mouse. Both are Bluetooth devices. The keyboard houses a pop-out stylus for handwriting and making precision selections directly on the touchscreen. This is an excellent idea that more touchscreen PC manufacturers ought to consider.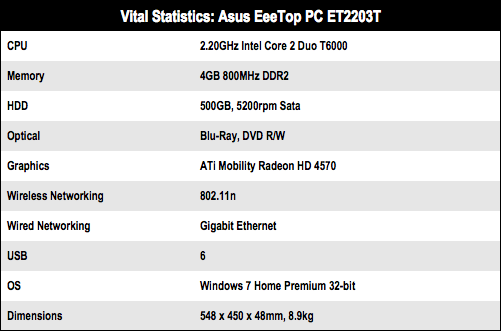 The ET2203's display is quite glorious once you have made the right adjustments, and both computer use and media playback is excellent. Unfortunately, the touchscreen functions require firm presses rather than light strokes, which becomes all the more noticeable when dragging and scrolling. Although you can calibrate touch accuracy, there does not seem to be any way of adjusting touch sensitivity.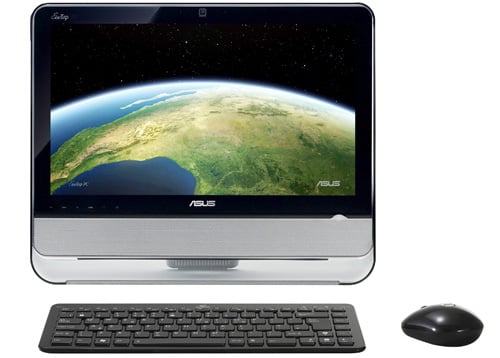 Despite being small, the wireless keyboard and mouse are top-quality items
Our benchmark test results are also rather disappointing, not helped by the limitations of the computer running 32-bit Windows 7 Home Premium and the system's inability to address more than 3GB of the installed 4GB of memory. This is a shame since some of the benchmarks, such as for Gaming, hint at the PC's potential to perform better than this if the Windows 7 installation had been appropriately optimised.
The bundled software includes an entertaining collection of touchscreen utilities for playing with photos, media files, online games, sticky notes and so on. I freely admit that Eee Cam gave me more minutes of mirth than I ever expected from a webcam application, although Eee Vibe's themed web radio stations were less interesting than anticipated.
Verdict
A street price of £819 is fair value for this well-built PC, despite my reservations about performance. The quality keyboard and mouse, as well as stylish case design and clever hardware features such as the touch-LED display controls, reveal Asus' attention to detail. However, the heavy-handed touch sensitivity detracts from the ET2203's otherwise luxurious feel. ®
More Touchscreen PC Reviews...

Dell
Inspiron
One 19 Touch
Toshiba
Satellite
U500-1EX
Dell
Latitude
XT2 XFR
HP
TouchSmart
600