Original URL: https://www.theregister.co.uk/2010/06/05/nokia_c_series_phones/
Nokia debuts four cheapo phones
Nice second phone for rich, great first phones for the poor
Posted in Personal Tech, 5th June 2010 09:12 GMT
Yesterday we reported Nokia's launch of a bike-powered phone charger. A marvellous concept, Nokia's announcement grabbed headlines everywhere.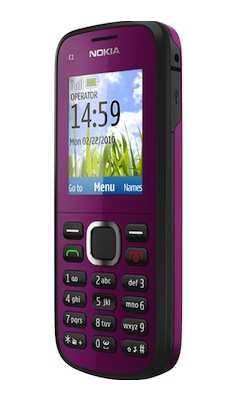 Rather more important to the company's fortunes was the news, released at the same time, of four cheap phones – the sort that people in rich countries buy for their pre-teen kids – and the sort that people in the developing world buy in the tens of millions.
The new C1 and C2 phones cost between €30 and €45 before tax and cellco subsidies – and include Nokia's first dual-sim phones. These are good for travelling abroad and as Nokia points outs, help with "sharing a phone within a family and still use their own SIM".
Nokia C1 phones have a battery life of – get this – up to six weeks – and they include a standard flashlight, colour screen, FM radio and standard headphone jack. A good phone for camping then, as well as for the rural poor.
The C1-1-01 and C1-02 single SIM phones feature web browsing over GPRS and in the C1-01 case a built-in VGA camera. The C2 offers – "where available" - access to Nokia's Ovi apps range and Ovi Mail – described by Nokia as "the email account for the developing world".
Pricing and ship dates
Nokia C1-00 (dual SIM) - €30 ships Q3 2010
Nokia C1-02 €35 - ships early Q4
Nokia C1-01 €39 - ships towards end Q4
Nokia C2-00 (dual SIM) €45 ships towards end Q4