Original URL: https://www.theregister.co.uk/2010/06/04/tesla_sec_filing_n_divorce/
Tesla Motors: Elon Musk's divorce won't sink us
But our cars' declining battery life might
Posted in Science, 4th June 2010 10:54 GMT
Fresh troubles have beset famous battery-car maker Tesla Motors, as the acrimonious divorce of its CEO and principal backer Elon Musk may imperil its finances and imminent IPO. Furthermore, there are signs that the lustre of the company's flagship Roadster sportscar may be dimming.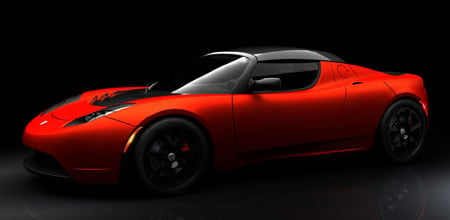 The latest Roadster Sport. Looks sexy... but it's not a stayer
Tesla makes the $100k Roadster and last year secured a $465m federal loan for the purpose of building the planned four-seater, $50k Model S, intended for mass-market customers. The firm has skirted disaster in the past, and has undergone bitter boardroom and legal battles between Musk and co-founder Martin Eberhard. Musk has also engaged in a lawsuit against Henrik Fisker, designer of the Model S' original bodywork.
At the end of 2008, with the credit crunch at its height, a planned $100m financing round failed and Tesla almost went under; at that stage it didn't have enough money even to repay deposits put down by Roadster buyers, and had yet to fully sort out the technical difficulties encountered while building the Roadster.
The firm was rescued by a $40m injection from "existing investors", which was widely taken to mean Mr Musk himself, already the firm's primary financial backer.
Since then, with the arrival of the federal loan, a deal with Daimler and a $50m investment by Toyota, the company has seemed to get itself onto a sounder footing. Mr Musk now plans to take Tesla public.
Unfortunately, he and his wife Justine are now in the throes of a messy divorce in which she is seeking to be awarded 10 per cent of his Tesla holdings. Depending on the way the IPO and the divorce pan out, the resulting ownership of Tesla could violate the terms of the all-important federal loan.
Mr Musk has claimed in court filings related to the divorce that his personal cash resources are now exhausted, which - given the perceived reliance of Tesla on his backing - could give investors pause. It might also mean him having to sell Tesla shares to meet his divorce obligations, again potentially imperilling the vital Model S loan.
Most people who want a $100k super milk float already have one... and soon their batteries will start going bad
In a new filing with the SEC, Tesla contends that it is now independent of Mr Musk's personal funds - but not of his services. It more or less admits he was indeed the mystery rescuer of 2008. The company tells the SEC:
While Mr Musk has historically provided a significant amount of the funds required for our operations, we have not received any funding from Mr Musk for the past 12 months and are no longer dependent on the financial resources of Mr Musk to fund our expected growth given the funds available under DOE Loan Facility and the expected proceeds of this offering and the concurrent private placement with Toyota. We do not believe that Mr. Musk's personal financial situation has any impact on us.
Tesla also warns investors, while discussing risks that it faces in future, that it has now delivered 1,063 Roadsters as of March 31 and has orders for only 110 more: perhaps indicating that most of the people in the world who both want and can afford a Roadster now possess one.
The firm says:
It may be difficult to attract high numbers of new Tesla Roadster customers... We do not expect to have a significant wait list of orders for our Tesla Roadster in the future, and we may not be able to maintain or increase our vehicle sales revenue in future quarters.
The company's future, then, is completely dependent on the Model S. Tesla says it has always made a loss, having burned through $290m so far, and that "if we are to ever achieve profitability it will be dependent upon the successful development and successful commercial introduction and acceptance of automobiles such as the Model S, which may not occur".
There's also a note in the SEC filing that may be of interest to potential electric-car buyers. Tesla anticipates that its vehicles will lose as much as 40 per cent of their battery capacity after driving 100,000 miles, slashing their already unimpressive range between time-consuming recharges proportionately. A used Roadster, then, will travel no more than 120 miles on a full charge before its batteries run flat. A basic Model S will drop to 75 miles, though there may be ways to charge it up somewhat faster or swap batteries.
This "may negatively influence potential customer decisions whether to purchase our vehicles" in future, the company admits. At the moment most Tesla cars are quite new, so this problem isn't widely known. ®
Performance Bootnote
A Roadster, the only existing Tesla car, offers excellent supercar style acceleration - going from 0-60 in under four seconds. However it is governed to a maximum speed of 125 mph to avoid damaging the batteries, noticeably slower than an ordinary Vauxhall Astra.
That wouldn't normally be a reasonable beef to raise against the Roadster – such speeds are always illegal and mostly irrelevant – but the Roadster is squarely in the supercar market with its sexy Lotus body, two seats, tiny boot and $100,000 price tag. A petrol car in this price bracket, such as the Porsche 911 Carrera S, can reasonably be expected to show top speeds around 180mph on the test track.