Original URL: https://www.theregister.co.uk/2010/06/04/review_e_book_reader_cybook_opus_2010_edition/
Bookeen Cybook Opus e-book reader 2010 edition
Never judge a book by its colour
Posted in Personal Tech, 4th June 2010 07:02 GMT
Review Less than a year after its initial release French e-reader maker Bookeen has released an updated version of its Cybook Opus e-book reader, reviewed last year. The most obvious change, but fairly irrelevant, is the new range of seven colours, instead of just plain white. Colour schemes aside, the important upgrade is the new firmware which Cybook calls Boo Reader.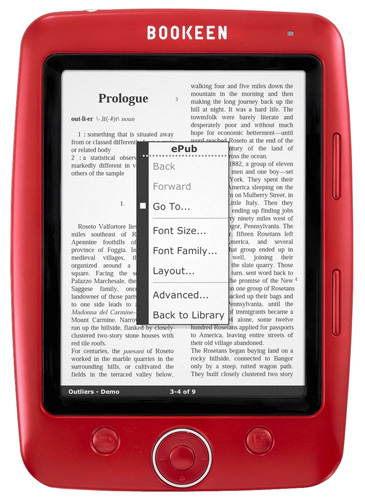 New colours and firmware: Bookeen's Cybook Opus
The main advantages of this new fimware is speed. Push the power button and the Opus springs to life in seconds, making it the fastest booting e-book reader I have come across. Menu and page transitions also appear just a shade faster than before, as does the accelerometer's triggering to flip between landscape and portrait viewing.
The new firmware also lengthens the battery life with the 1000mAh user replaceable power pack now reckoned to be good for 8,500 page turns. Physically and technically the new Opus is identical to the device Sandra reviewed back in November 2009 so I won't repeat what she said about it. In short in remains a handy, compact and light ebook reader that is extremely easy to use.
Several major problems persist though. Firstly, PDF files still don't reflow, which makes reading them hard work on such a small screen despite the zoom facility. This is something that really should have been fixed.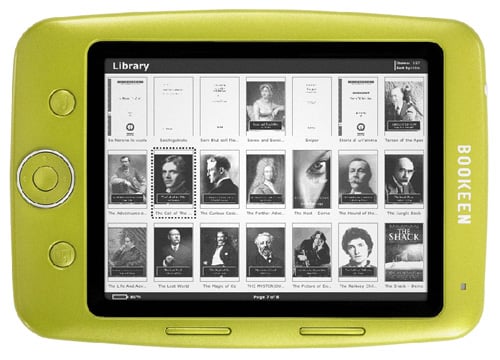 Update adds to battery life too
Secondly, you still can't set bookmarks. The Opus will remember what page you stopped reading at in any particular book, so you can at least have multiple books on the go at the same time, but I, for one, like to place my own bookmarks on pages I think I may need to return to.
When asked, Bookeen did say that user bookmarks may appear in a future firmware update, but couldn't give any idea of a date. Furthermore, Bookeen is still tying itself in knots over the issue of support for Mobipocket and ePub. To access Mobi files – DRM protected or not – you need to change the firmware because, out-of-the-box, the new Opus only supports ePub.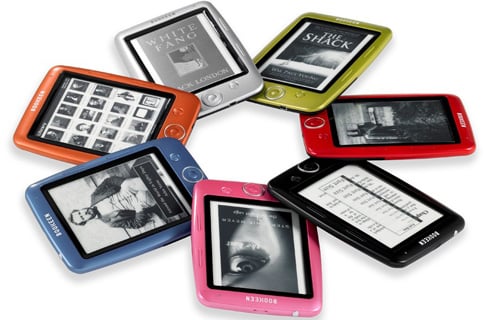 Two viewing formats on offer, but the device has to be preconfigured for one or the other
So while Bookeen is technically correct in saying the Opus supports both formats, it is playing a little fast and loose with the actualité, because it won't support them at the same time, and the Mobipocket compliant firmware isn't currently available for the new coloured Opus.
With the world + dog and even Sony now using ePub as the e-book standard, it would make life simpler for all if Bookeen just left Mobipocket to wither on the vine and become the sole preserve of the Kindle.
Maybe Bookeen feels it has to stick with it out of Gallic loyalty. At least the Opus deals with ePub DRM reliably. Authorising the device with Adobe Digital Editions posed no problems, nor did transferring DRM protected files across from my PC.
Like the original Opus the new model won't play music files. Yes, I know this is an e-book reader not an MP3 player but, come on, this is 2010 and the original Cybook Gen 3 played MP3 files. I for one like a little music with my literature and I'd prefer to get them both off the same device.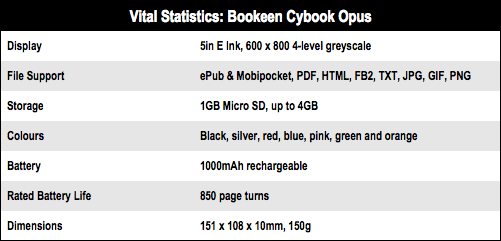 Along with its shiny new firmware and casing the new Opus also comes gets a very welcome drop in price. In 2009, you were looking at coughing up between £200 and £250 for an one, but now it has a far more reasonable RRP of £169, but don't forget you can find Sony's PRS-300 Pocket Reader for under £150 easily enough, though it lacks a storage expansion facility.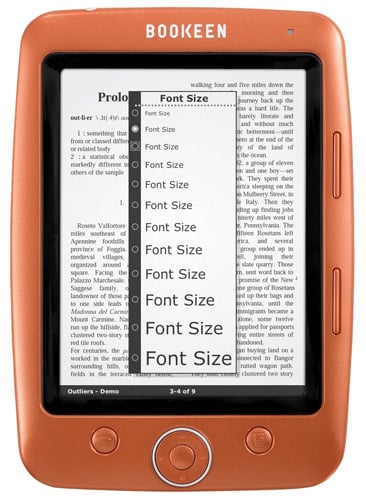 A few gripes, but even better value
Verdict
Do the new colours, faster firmware and lower price make the Opus any more recommendable? If you only plan on reading ePub files, don't miss a music player and can live with the lack of bookmarks then yes, but I would like to have seen some of the device's more obvious shortcomings addressed in this update. That said, it's nifty to navigate and has a respectable battery life. ®
More e-Book Reader Reviews

Applie
iPad
Amazon
Kindle DX
iRiver
Story
Sony Reader
Touch Edition