Original URL: https://www.theregister.co.uk/2010/06/04/games_review_alpha_protocol/
Alpha Protocol
Sega soaked espionage
Posted in Personal Tech, 4th June 2010 12:29 GMT
When Obsidian and SEGA teamed up to create a new espionage-themed RPG they must have thought it was cake baking time.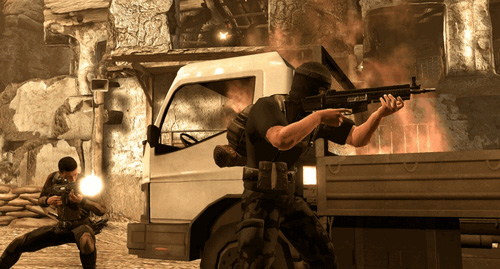 Looking the wrong way seriously "backfired"
Add ingredients: narrative, character development, moral choices and minigames. Whisk in contemporary themes of corporate greed and regional instability. Finally, sprinkle all over with gadgets, guns and innuendos – simple.
Anyone who has ever tried to bake a cake knows there's considerably more to it than that. While Knights of the Old Republic II and Neverwinter Nights II proved Obsidian could follow someone else's recipe to bake some tasty gaming cake, its first solo concoction has turned out more soggy gaming sponge.
It's not that you can single out any of Alpha Protocol's faults as egregious. The graphics might be the worst use of the Unreal Engine to date, but are never so bad as to deter play. The progression system is adequate despite lacking the visual effects that reward progression in other RPGs. And actual gameplay, although repetitive, glitchy and chock full of poor AI, somehow still manages to entertain.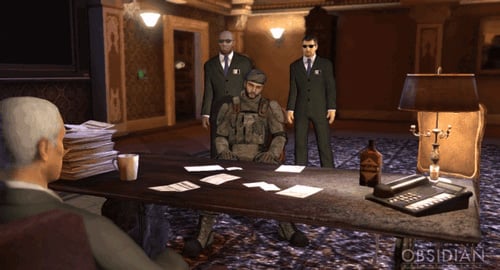 Inappropriate dress for an interview
The best feature of the game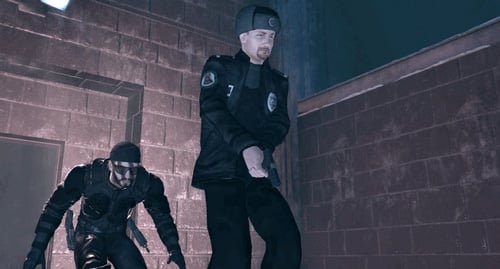 "Watch my back" Urm.. Okay
The story is perhaps the game's best feature, with the contemporary setting offering a welcome sojourn from the dungeons and magic of regular RPGs. As Michael Thornton, you are a government agent embroiled in a plot to destabilise the Middle East so that a weapons manufacturer might profit from a fabricated war. Bearing all the hallmarks of the genre, the branching narrative and decision system allows you to align yourself with particular individuals and local and global factions.
Actions and interactions are critical in determining progression. Spare an arms dealer's life, for example, and he'll repay you with cheap weapons and intel. But in doing so you'll fall out of favour with some agencies and witness the consequences of your actions, as you watch the news report detailing how his weapons killed US service personnel.
Conversation is equally important. Using a Bioware-style system of dialogue branching, you can enhance or damage your standing with the game's many characters. Although its effects are as subtle as those in Bioware's games, its mechanics are not. The few seconds afforded to choose your response would alone prove difficult enough, but the choices are often vague single words like "Thrill", which leave you unsure what you'll actually be saying.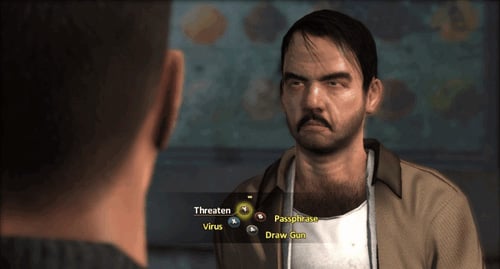 Threaten to draw your gun and give him a virus?
Feeling you are shaping the world around you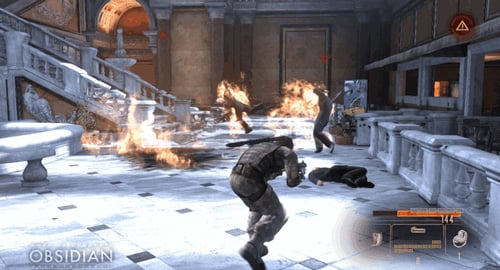 Duck, there's fire ahead!
Despite this, the overriding feeling is that you are shaping the world around you. Intel can be bought and sold to play off one faction against another, and allegiances with rogue agencies and terrorists can reward you with additional manpower in certain missions.
Not that you'll need it. Michael Thornton is a bullet-sponge extraordinaire. Which is extremely helpful given enemies are too. The combat is so far-fetched as to be reductive, and at odds with the mature themes at the core of Alpha Protocol. In struggling to attain realism the developer's have opted for the outlandish. Rather than cover and flank, enemies often prefer rush and melee. It's straight out of the Douglas Haig military book, and SMG or shotgun in hand, the end result is the same. Almost forgiveable when fighting hordes of shell-suit wearing Triads in Taipei, you'll wince as you witness CIA and Special Ops teams do the same.
Alpha Protocol is an RPG, of course, so there are more options than out-and-out Rambo impersonator. A more stealthy approach is available, but is severely flawed. Before levelling up, the architecture and the number of enemies and lines-of-sight conspire to make stealth practically impossible. And once spotted, enemy alert status never reverts. If you do persist in levelling up the rank, however, you'll suddenly find yourself a walking Klingon Bird of Prey, virtually cloaked from all enemies, regardless of your actions.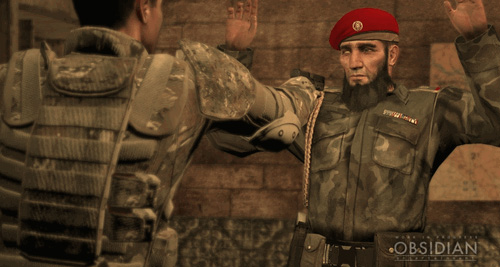 Hands up!
Combat and boss battles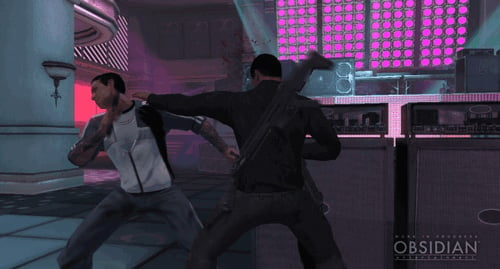 The dance off turned sour
The Tech Specialist is the only other truly distinct class, preferring gadgets and explosives to shootouts. But combat is so frenetic, and enemy entrance points so varied, that you'll always revert to using your guns.
Perhaps the worst of Alpha Protocol's combat comes in the form of boss battles. Encounters with these super-powered enemies prove more frustrating than challenging. Often, the only way to beat them is through liberal use of medipacks and even more liberal use of bullets to their face.
Rounding things off appropriately, minigames are equally disappointing. Hacking, safe cracking and lock picking are all staples of the genre, but they feel tired and overused here. At best they're a welcome diversion from the monotony of combat. That is unless you're playing the game on a PC with a mouse. Obviously developed with a gamepad in mind, their near-impossibility when using keys and a mouse is just another example of a lack of polish that runs throughout Alpha Protocol.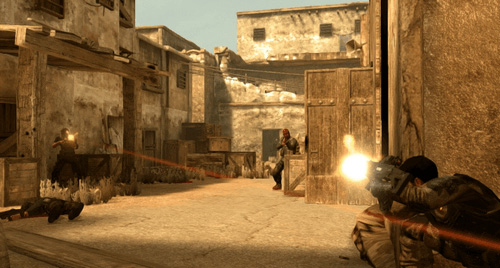 Don't cross the line of fire
Verdict
Whenever one of my mum's cakes went horribly wrong she'd serve it up and say, "Try it. It's still edible." And she'd be right about Alpha Protocol. It's entirely possible to enjoy the game despite its innumerable flaws. But with so many delicious games lining the shelves this summer, it's hard to know why you would.
More Games Reviews

Red Dead
Redemption
Prince of
Persia: The
Forgotten Sands
Lost
Planet 2
Alan
Wake