Original URL: http://www.theregister.co.uk/2010/06/02/review_storage_synology_diskstation_ds210j_nas/
Synology DiskStation DS210j Nas box
The ultimate budget home server?
Posted in Personal Tech, 2nd June 2010 12:02 GMT
Review Synology's Disk Station 409 Slim was one of Reg Hardware's favourite Nas boxes of 2009. With the DiskStation DS210j, the company addresses the needs of home users for around half the price of the Slim. An unpopulated device, the DS210j has two Sata drive bays with RAID support and more features than any hi-tech household could possibly need.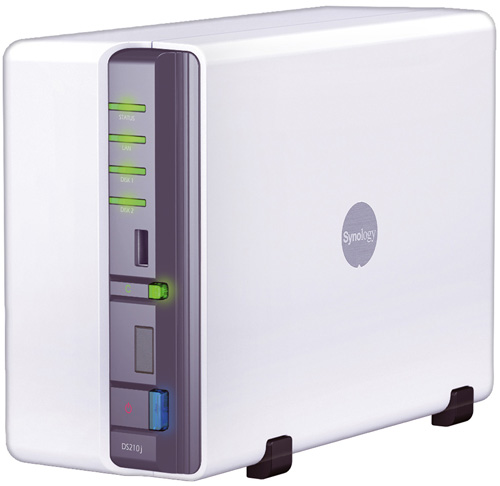 Home service: Synology's DiskStation DS210j
Whilst it is commonplace to find features such as basic HTTP and FTP servers in many Nas boxes, Synology has gone a step further with its Web Station software and has included support for Apache, PHP and MySQL along with Surveillance Station 4. The latter provides support for up to five IP surveillance cameras for the paranoid user. Thus, anyone with a decent uplink can easily run their own web server and monitor enough cameras to take on the role of Big Brother. Watch out Endemol.
The DS210j also features a DLNA media server, iTunes server, Audio Station 2, Photo Station 4, Download Station 2 and File Station 3. Three free apps: DS Audio, DS Photo and DS Cam offer access from the iPhone.
And the list doesn't end there. Data Replicator 3 allows Windows users to manage scheduled backups and enables Time Machine support for Mac users. For business users, there is also a Server Backup tool and iSCSI Target support, plus Mail Station allowing users to run their own mail server. All of these features come standard on all Synology products, which support DiskStation Manager 2.3.
On the hardware side, you will find two 3.5in Sata bays, three USB 2.0 ports and a gigabit Ethernet port all wrapped up in a simple white and grey plastic enclosure, which feels light but seems durable. This lends to a rather plain but attractive appearance, spoiled only by the absence of eSata and the blanking panel that appears where the socket would be and cheapens the overall look somewhat.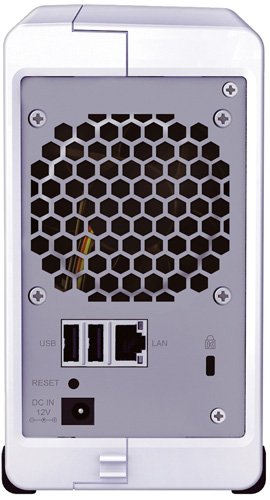 The usual suspects but, alas, no eSata
Aesthetics aside, I found setup to be a smooth and rather absorbing experience, due in no small part to the wondrously comprehensive DiskStation Manager 2.3 (DSM2.3) web interface, along with the client-side Synology Assistant. DSM2.3 allows for device management as well as providing browser interfaces for various 'Station' apps.
Once configured, the DS210j performs exactly as expected with a full complement of streaming services all functioning flawlessly. No matter if you're streaming music to a DLNA device or using the intuitive web interface for Audio Station, the experience is nothing short of pleasing.
One of the most novel features in this respect is the DS Audio iPhone app which allows streaming of music straight to any iPhone, iPad or iPod Touch on the network – and with the correct DNS configuration should work over 3G too.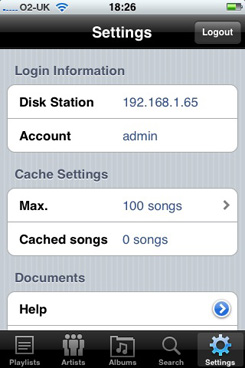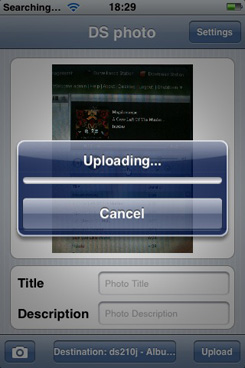 The iPhone apps include options for audio streaming and image transfers
It goes without saying that 1080p video playback is flawless and DiskStation Manager feels ultimately snappy and responsive. While the DS210j certainly gives the impression of speed, the benchmarks results are mixed.
It is clear that RAID is significantly beneficial over JBOD in the performance department, but each to their own preference if you need JBOD for some odd reason. Either way, it's nice to find a two disk NAS box with native RAID1 support for those who need some more redundancy.
Benchmark Tests
Drive Throughput Results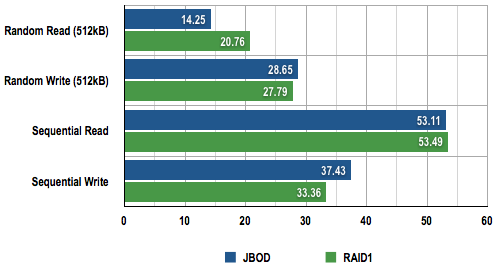 Throughput in Megabytes per Second (MB/s)
Longer bars are better
Drive Throughput Results
Compared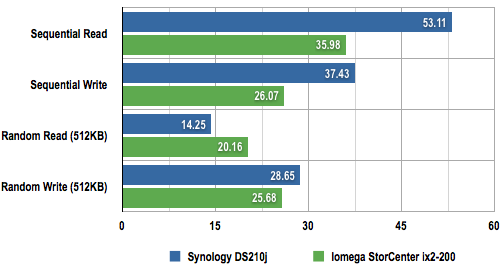 Throughput in Megabytes per Second (MB/s)
Longer bars are better
Drive Throughput Results
Raid 1 Compared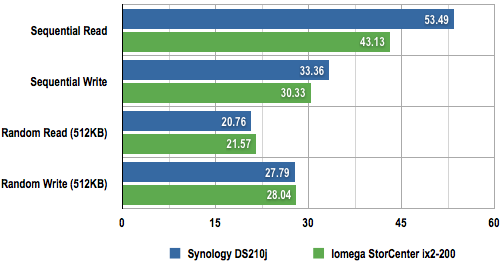 Throughput in Megabytes per Second (MB/s)
Longer bars are better
In comparison with Iomega's similarly spec'd StorCenter ix2-200, with the exception of random read operations, the DS210j is the clear winner in the JBOD round with a massive 17MB/s lead in the sequential read. Obviously, depending on the drives you use in the Synology Nas, your mileage may vary.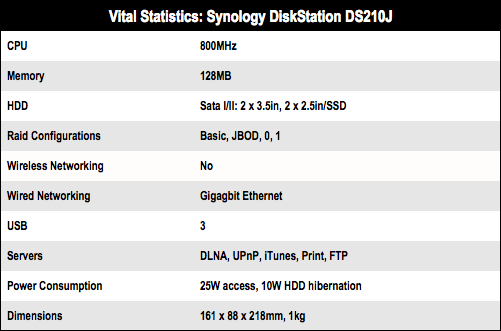 RAID1 levels the playing ground somewhat with the Iomega drive marginally pulling ahead in the random operations, but the DS210j strives forward with equally impressive sequential operational speeds as previously observed. Unfortunately, the StorCenter ix2-200 does not support RAID0 so we don't have a comparison there.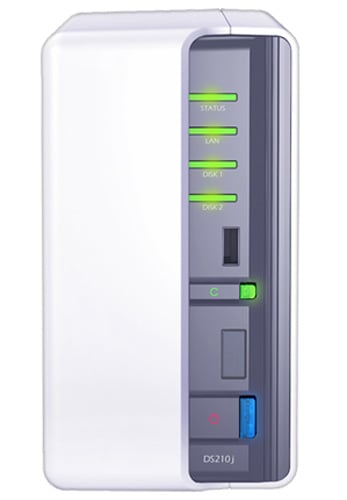 Fill it up with your own disks and away you go
Verdict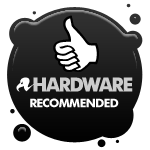 At around £160 the DS210j seems like an amazing bargain, but don't forget – you need to supply your own disks. Don't be put off though, it may be a bit more expensive than the competition once it's kitted out and there are certainly faster Nas boxes out there, but in terms of features the DS210j is the choice for the Nas user who wants it all.
So if you've got money burning a hole in your pocket, a couple of Sata disks laying around and a desire to do everything, don't hesitate to expand your already techno-centred life with the Synology DiskStation DS210j. ®
More Nas Box Reviews…

Iomega
StorCenter
ix2-200
Acer
Easystore
H340
Asus
Home Server
TS Mini
Netgear
ReadyNas
NVX