Original URL: http://www.theregister.co.uk/2010/06/01/review_netbook_msi_wind_u160/
MSI Wind U160
Nifty netbook
Posted in Personal Tech, 1st June 2010 12:02 GMT
Review MSI was one of the first companies to see the importance of the Eee PC as a new category of portable. The Wind U160 is its latest response to a growing range of netbooks based on Intel's low-power Atom chips. Yet can it break the 'me-too' mould and offer something extra?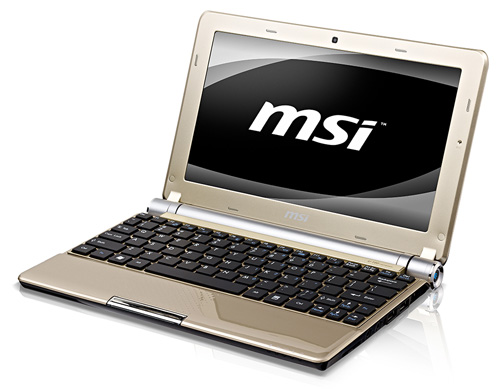 A mighty wind? MSI's U160
MSI's original Wind netbook scored highly when Reg Hardware reviewed it back in June 2008. The company built on this Eee PC rival with the Wind U115 Wind Hybrid in May last year and then the Wind Top AE1900 in October. Now the Wind U160 offers a 10in screen in an Atom N450-based netbook, at a price of around £330.
The high-gloss black case – a 'gold'-tinted version is also available – is smart but a real fingerprint trap. The flush mounted touchpad is delineated by a matrix of raised goose-bumps, which may not suit everybody, yet I find comfortable and easy to use. There's no scroll bar down the right of the pad, though and the chromed bar at the front, which tilts to provide mouse buttons, would be better broader.
The keyboard is described as 'chiclet', which I always thought was a brand of chewing gum but, nonetheless, it has a positive feel. Its archipelago-style means each key is smaller than it need be though, so combined with their closer pitch, they're not always easy to hit accurately.
The almost standard netbook screen resolution of 1,024 x 600 is easily readable at full brightness, though its default setting when running on battery is a bit too dim. There's a 1.3Mp webcam build into the top of the screen fascia, with a white LED to show when it's live and a corresponding mic set into its right edge. Between them you have a system well up to perform still and video capture and simple teleconferencing.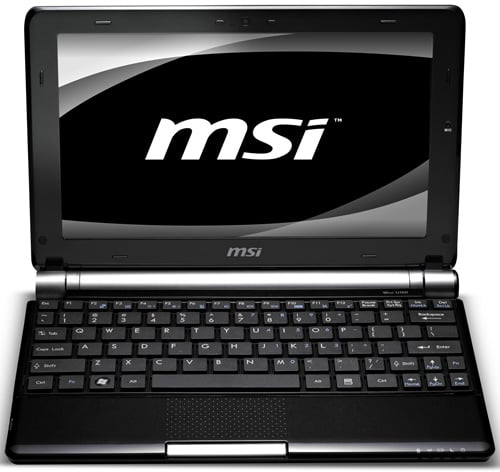 Touchpad has handy pimples, but no scroll bar
Sound, while not loud, is clearer than you often get on a netbook. This is slightly surprising, as the 20mm loudspeakers are positioned on the underside of the case, so all sound is reflected off the desktop or your thighs.
Around the edges of the machine are three USBs, Ethernet, external monitor, mic, headphone and SD card slots. There a convenient wireless on/off slide switch, too, if you're particularly power-conscious, though battery life isn't really a problem on the Wind U160.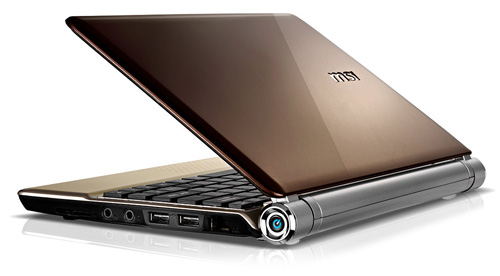 Respectable battery life gives it an edge
The 5800mAH, six-cell battery is strangely arranged at the back, moulded in as a separate cylinder below the lid hinge, which lifts the rear of the machine up. While this improves the typing angle, it also makes the machine 45mm thick.
This adds up to nearly twice MSI's claimed thickness of 1in/25.4mm – so it's more awkward to fit in bags and cases. If the 'battery cylinder' swivelled round to the back of the hinge, it could be used as a keyboard stand, but still slide out of the way for carrying.
Bundled software includes Works, 60-day trails of Office and Norton IS, ArcSoft support for the built-in WebCam, which can take 5Mp stills and 640 by 480 video, and a child-friendly collection of sites and games, called Kidoz.
MSI claims Windows 7 Starter Edition as the OS, though the review machine came with Windows 7 Home Basic, which is only supposed to be available in emerging markets. MSI confirmed Starter will be supplied in the UK.

However, it's not the neatest battery arrangement
Talking of software, don't you get fed up with everything wanting to update, even on a 'brand new' machine? Just about every app I tried went through this cycle on the Wind U160, including multiple Windows 7 refreshes and even the little ArcSoft WebCam Companion.
Although it shares processor, graphics and hard drive with several recently tested netbooks, like Packard Bell's dot S2, it beats them significantly on two of the three PCMark 05 ratings. It's memory result of 2588 is faster than any of the other 1.66MHz netbooks we've tested by just over 2 per cent and the HDD index of 4877 matches the top-ranked dot S2 right on the button.
Benchmark Tests
PCMark05 Results
CPU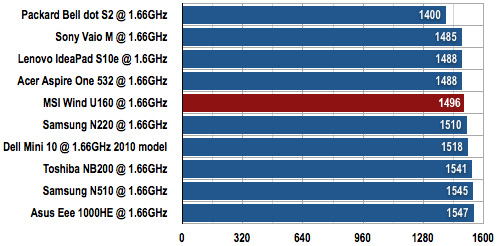 Longer bars are better
Memory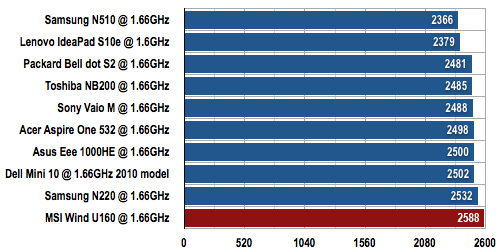 Longer bars are better
HDD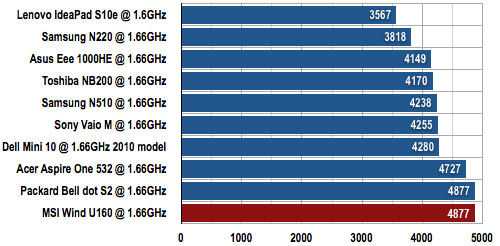 Longer bars are better
Video Loop Battery Life Test Results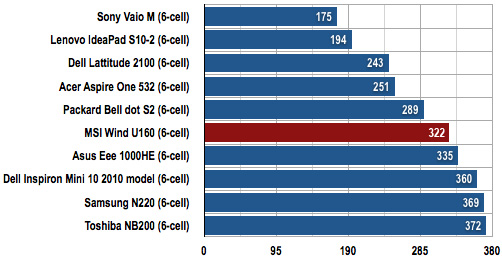 Battery life in minutes
Longer bars are better
The CPU rating of 1496 beats the Packard Bell machine again, but still only puts it in fifth place, overall. It's 3.6 per cent below the top-rated Asus Eee PC 1008HA.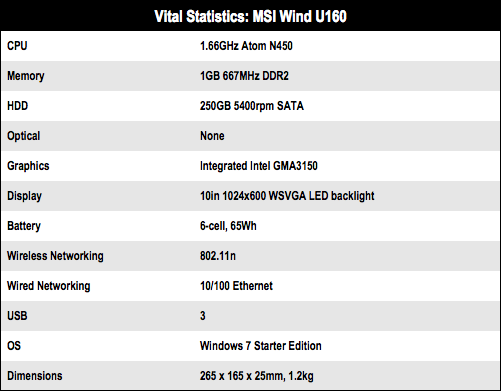 The battery life test, run with full backlight and looping a video, continued for 5 hours 22 minutes, which is a good time. It just beats the Asus 1005PE, though it still lags behind the top-of-the-pile Toshiba NB200 by around 50 minutes. Two, full-length movies on a single charge makes for a useful entertainment machine and, for less all-embracing uses than video, you could well get seven or eight hours out of it.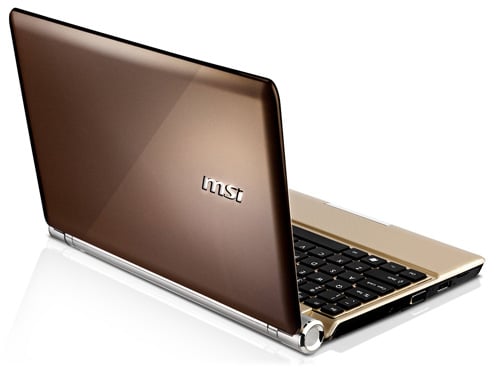 Stacks up well against the competition
Despite these good performance results, in use, the machine can seem hesitant to the point where I was convinced, on occasion, that it had stopped responding. Perhaps it was still updating stuff behind the scenes. At other times it ran normally and the full-screen MPEG video, used during battery life testing, ran smoothly with no signs of disturbance.
Verdict
With a very similar spec to a lot of netbooks floating out of the great netbook yards of Eastern China, this machine is a bit faster, for a bit longer, than many. With the exception of its bulky battery tube, it's a well-designed traveller with a good software bundle. ®
More Netbook Reviews…

Sony
Vaio M
Dell
Mini 10
Acer
Aspire One
532
Asus
Eee PC
1005PE