Original URL: http://www.theregister.co.uk/2010/06/01/hgst_z_series/
Hitachi touts skinny drives for skinny devices
Who needs flash?
Posted in The Channel, 1st June 2010 08:31 GMT
Hitachi GST is making a major push this year into skinny 2.5in hard drives designed for skinny netbooks, laptops and emerging classes of portable devices .
It says that half of its Z Series drives in the market will be single-platter by the end of the year.
Single-platter drives are thinner than standard dual-platter drives, with a z-height of 7mm rather than the latter's 9.5mm. Typically they do not require fans for cooling.
The implication is that Hitachi has looked at the future of netbooks and notebooks and seen a need for low power requirements, thinness and lightness. Single-platter HDDs have roughly the same power requirements as flash-based SSDs, are the same physical size and deliver roughly comparable performance but hold much more data.
According to Nick Kyriacou, Hitachi GST's EMEA director, such drives will deliver near-flash performance but at much lower cost. This will open up the nascent tablet market for hard disk drives (HDDs) and prolong their use in netbooks, widen the market for ultra-thin notebooks like the premium MacBook Air, and provides scope for thinner consumer electronics devices such as set top boxes, media players, and personal video recorders.
There is a school of thought that says tablet computers will be all-flash and that netbooks will also go the flash route. Hitachi's market research does not see this happening at all, at least not over the next few years. Flash memory will be a premium choice for users wanting high IOPS performance, but it won't be the default storage medium. That will be hard drives and single-platter, small form factor drives specifically.
Platter matter
Spec-time now for Hitachi's new slimline 2.5in Z Series drives.
Hitachi is providing 160GB, 250GB and 320GB capacity points, spinning at either 5400rpm or 7200rpm.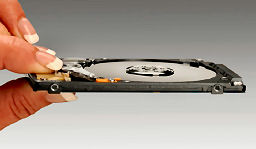 Three model ranges are involved. The TravelStar is the mobile range with Z5Knnn and Z7Knnn drives and capacities of 160GB, 250GB and 320GB at both speeds. The Z5K320 is the 5400rpm, 320GB model, with the Z7K3200 being the faster 7200rpm, 320GB product. There is an 8MB cache with the 5400rpm products and a 16MB one with the 7200rpm drives.
The CinemaStar is the consumer electronics (CE) line, spinning at 5400rpm and having 160GB, 250GB and 320GB capacity points.
An enhanced availability drive, the TravelStar EA, designed for 24x7 operation will be available in 250GB and 320BG configurations, but not 160GB.
All these drives have a 3Gbit/s SATA interface and come with a hardware encryption option. Kyriacou said some countries restrict the use of encrypting drives and that is why it is an option and not a standard offering. The new products are designed to be direct replacements for standard, 9.5mm z-height SFF drives.
The 7200rpm product uses 1.8 watts for read/write and 0.8 watts idling, with the 5400 drive needing 1.6 watts for read/write and 0.55 watts for low-power idle. Essentially there is no practical difference from flash drives on the power front.
The Z Series is quiet - the 7200 having a 2.3 DAB rating when idle, and 2.4 when seeking. The 5400 figures are 1.9 and 2.0 respectively. The CinemaStar variant is as quiet as the TravelStar 5400.
Hitachi has existing single-platter SFF drives at 160GB and 250GB capacity points. These are replaced by the new drives. The existing dual-platter SFF drives stay in the company's product range. We think it entirely possible that Hitachi GST's external drive line will adopt the single-platter technology, enabling thinner products.
It is unusual for the maximum capacity points of 5400 and 7200rpm products to be the same and implies that Hitachi probably has a 500GB, 5400rpm, Z Series device up its sleeve.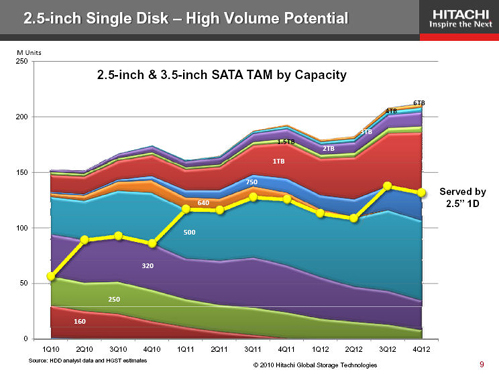 The chart above shows Hitachi GST's view of the total addressable market (TAM) for both 2.5-inch and 3.5-inch SATA drives out to 2012. The yellow line is that share of the market served by single platter 2.5-inch drives, and it rides to above the 50 per cent mark.
Another interesting thing to note on this slide are the capacity levels in the top right area: 2TB, which we have now, and 3TB, 4TB and 6TB, which we assuredly do not.
Kyriacou said Hitachi expects to ship an enterprise solid state drive by the end of the year, co-developed with Intel.
The TravelStar Z5Knnn drives are in qualification with virtually every major worldwide PC OEM. The other variants are being qualified by many OEMs as well. Hitachi GST's release had supporting comments from Lenovo and from Samsung's mobile PC and netbook marketing team which stated: "Working with Hitachi and [its] new 7mm hard drives gives us the ability to explore the limits of modern design without sacrificing capacity, performance, battery life or quality."
Most of the new drives should be available by July, but the CinemaStar and TravelStar Z7Kz320 will ship in August. Kyriacou said the Z Series will be available in Hitachi GST's distribution channel. As far as cost goes, Hitachi GST will not charge a price premium over its similar capacity dual-platter SFF drives. ®