Original URL: https://www.theregister.co.uk/2010/06/01/acer_liquid_e_ferrari/
Acer revs up Ferrari smartphone
Vroom vroom
Posted in Personal Tech, 1st June 2010 16:04 GMT
First laptops, now smartphones. Acer is applying the Ferrari touch once again, this time for a makeover of the Liquid E Smartphone.
Aside from the Ferrarified exterior, what else is different? There's a Bluetooth headset that cancels echo and automatically regulates volume levels and, umm, and...several Ferrari ringtones, images and videos.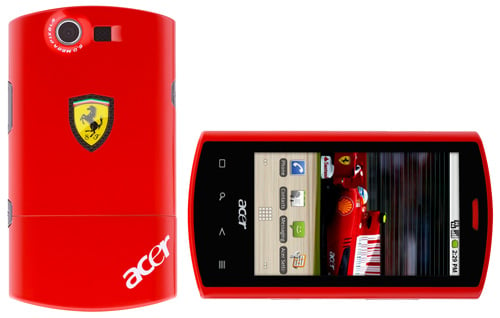 Top gear?
OK, we are not racing fans, but plenty are. And the Acer Liquid E Ferrari Special Edition is undoubtedly a fully featured tphone, which will undoubtedly retail at a fully featured price (the RRP for the non-Ferrari version is £349).
As with the Liquid E, the E Ferrari runs Android OS 2.1, comes with a 3.5in Hi-res touchscreen, has a 5Mp camera and runs a Snapdragon processor at 768MHz.
With no pricing available yet, we wonder how much more Acer can charge for a bluetooth headset, a few carbon fibre logos and a paint job.
The phone goes on sale in July. No network deals announced yet.