Original URL: https://www.theregister.co.uk/2010/05/31/voyeurism_surveillance_and_the_camera/
Exposed: Voyeurism and surveillance
Does it live up to the billing?
Posted in Policy, 31st May 2010 09:48 GMT
Surveillance is everywhere today, and thanks to Facebook and Google, we are all now voyeurs, monitoring each other electronically. Perfect timing, you would think, for the new exhibition at Tate Modern Exposed: Voyeurism, Surveillance and the Camera which sets out to explore our relationship with the camera and its use to capture the unaware, the unashamed and the downright unpleasant.
The show meanders through the dark side of the darkroom, from the earliest photography and, consequently, the earliest pornography, the camera's role in social justice, celebrity stalking, scenes of violence and spying all feature. Here's a tour, with lots of links.
In 2001, Philip-Lorca diCorcia took shots of an unsuspecting public with a hidden camera. Entitled Heads the images wouldn't seem out of place in advertisements. To diCorcia, the great unwashed were fair game and, when challenged in court by one of his unwilling models, a judge sided with the artist. Remember, this is art – resistance is futile.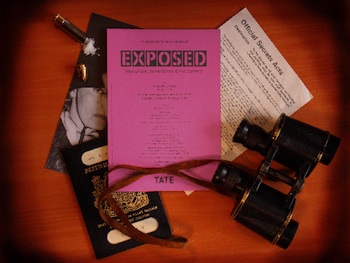 Images by Walker Evans from the 1930s also depict the public on New York City's underground trains. As with many of the photographs on display, acquiring these images was no doubt extremely challenging given the limitations of film, the available light and the covert shooting. Again, the work concentrates on the unposed demeanour of everyday people. Later, Evans' work appears more akin to photojournalism, with his Sick flood refugee in the Red Cross temporary infirmary, a timeless image that, instead of Arkansas in 1937, could easily be a depiction of a recent third world tragedy.
Another photographer, Paul Strand took this a stage further, photographing impoverished immigrants using a camera with a false lens that suggested he was pointing it elsewhere. While not always covert, the prying images of the poor, taken either with social history in mind or for the schadenfreude effect, suggest another kind of vulnerability. The squalor revealed in the 1889 photograph Lodgers in Bayard Street Tenement, Five Cents a Spot by Jacob August Riis is another example.
Also on show are various concealed camera types: the heel of a shoe, the handle of a walking cane, a fob watch and one dating from 1886 that you'd hide behind a waistcoat with the lens appearing as a button. The classic Minox Model B spy camera appears along with a Leica IIIf sporting a Kodak 90° viewfinder.
The sight of a glass-cased redtop with its 'Diana is dead' spread seems somewhat incongruous and, like many aspects of this exhibition, the experience feels more museum than gallery.
Filth
While voyeurism features in both the title and the content of this exhibition, those hoping for an erotically charged Stendhal's syndrome moment are likely to be disappointed. However, Auguste Belloc, evidently an early pioneer of pornography with his stereoscopic images from 1860, gives photographic form to art's most enduring image, the nude.
Among the most surprising images is that of the scarred torso of Andy Warhol taken by Richard Avedon in 1969. The patchwork of stitching is almost painful to look at and suggests that the perpetrator of these injuries, Valerie Solanis, wasn't kidding with her SCUM Manifesto – The Society for Cutting Up Men.
A darkened corridor displays Kohei Yoshiyuki's 1971 series of photos The Park, taken at night and made possible using a combination of filtered flashbulbs and infrared film. If Chuo Park in Shinjuku is anything to go by, then dogging is not exactly a new phenomenon and was certainly a regular nocturnal sport in 1970s Japan.
Dirty Windows is Merry Alpern's series of images depicting the goings on in a rather busy toilet. The long lens and grainy black and white imagery add weight to this voyeuristic display that dominates a gallery wall. On seeing this, Chuck Berry's toilet cam incident came to mind. Caught with videos of around 60 women using his restaurant loo, he claimed it was for security reasons, as he suspected a staff member was stealing from him. Obviously, he should have said it was for art. Presumably, it's only a matter of time before some avid photographer is collared with a copious collection of upskirt pics, yet will claim his dubious hoarding is for artistic purposes and is to be pieced together like a mosaic to form a huge image of a lens – a Nikkor, naturally.
Nan Goldin's visual feast The Ballad of Sexual Dependency is a fast moving slideshow spanning three decades. It's absorbing and an intimate portrayal of an array of relationships, as the camera's potential invasiveness seems almost invisible to the subjects involved. While revealing and explicit, the surveillance here is trusted and the work is all the more remarkable for that.
The mood changes considerably with exhibition images that depict scenes of violence and catastrophe.
What you imagined is much worse
Besides wartime atrocities and postcard memento lynchings, the camera preserves the evidence of suicides, murders and, in one instance, the tragic in-air descent and crumpled landing of two people escaping being burned alive; preferring a fall to certain death in Marcello Geppetti's 1959 photographs Fire at the Hotel Ambassador.
In Their First Murder by Weegee (aka Arthur Fellig). This 1941 scene captures the crowd's reaction to what they've witnessed – an intense mix of expressions from rabid curiosity to disgust and distress. As Weegee wrote at the time, "A woman relative cried... but neighbourhood dead-end kids enjoyed the show when a small-time racketeer was shot and killed." The manner of those watching appears more compelling than what they're viewing.
In Brassaï's 1932 series of images A Man Dies in the Street maintains detachment from the tragedy below. The photographs tell of the gathering crowd and its eventual dispersal. All that remains from the commotion, a mere stain on the ground, is sobering.
Yet Larry Clark's 1971 image of a pregnant woman injecting seems less convincing somehow. This shot from his Tulsa Portfolio certainly has shock value, as we're supposed to assume the worst, that she's a drug addict, not a diabetic. The problem is ambiguity, and having seen so many spontaneous images up until then, the authenticity appears more questionable.
Indeed, this becomes more of an issue with the surveillance aspect of the exhibition. We're so familiar with its presence, that touting stitch-up videos as art is a bit contrived. Moreover, the photographs of surveillance towers and the like, while highlighting the matter historically, are rather low impact compared to what has gone before. But then again, perhaps this is a stark reminder of how desensitised we've become to the snooping state.
Does it work?
Back behind the lens, Sophie Ristelhueber's 1992 images Fait, that include aerial views of the aftermath of the first Gulf war, may well distance us from individuals but brings us in closer contact with the trauma inflicted on the actual landscape of the country they inhabit.
By contrast, Harun Farocki's Eye/Machine II video from 2002, documents the work of technicians using visuals from the 'eyes' of machines together with image processing to programme, among other things, cruise missile flight paths. While it sounds more interesting than it actually is to watch, the piece does indicate how easily imaging of this kind dehumanises the deeds men do.
The Exposed exhibition sets out to explore our relationship with the camera in its more intrusive role. Undoubtedly, detachment is a significant component of observing photographs – a medium that some still question as art, but is nonetheless, very accessible. For viewers, photographs also serve as reminders that we are not involved in the act taking place. While emotions may be evoked, the image tells of a moment that has passed and our detachment may leave us with feelings of longing or relief.
At the other end of the lens, those in the frame for this event's theme are intentionally exposed. Their relationship with the camera is tinged with vulnerability, as is ours in this time of blasé social network postings and the surveillance state. Adorning the exhibition publicity is Garbo, now a byword for privacy, who declared, "I never said, 'I want to be alone.' I only said, 'I want to be left alone.' There is all the difference." As someone described by Bette Davis as having "mastery over the machine", perhaps Garbo instinctively knew about the love/hate relationship we have with the camera, that this somewhat restrained exhibition invites us to appreciate.
Yet it is our relationship with realtime video that is underplayed here – a relationship, it seems, that is still being defined. Surprising that, the 'Warhol of the Web' Josh Harris' social experiment, Quiet: We Live in Public is absent from the showings on surveillance. Still, despite the madness that ensued, his was a knowing surveillance set-up of volunteers, which may have been the deciding factor.
After all, we are prone to perform in front of the camera, yet the hidden camera denies that charade. It takes the power from us and, whether we are unknowingly viewed by voyeurs or the surveillance state, the intrusion disregards our freedom to wear the public face we prefer the world to see. A face, when lifted from others that we are, nonetheless, compelled to view.
If our relationship with the camera is all about power then, unwittingly, the exhibition may have succeeded in words where it failed in pictures. In the mind, the words 'exposed', 'voyeur' and 'surveillance' conjure up far more powerful scenes than were on show and suggests our appetite for taboo spectacles allows us to be easily manipulated by those claiming to offer them.
Bob Dormon is Reviews Editor at Reg Hardware. Exposed: Voyeurism, Surveillance and the Camera is at Tate Modern until 3rd October 2010.