Original URL: https://www.theregister.co.uk/2010/05/31/review_mobile_broadband_three_in_car_wifi/
Three In-Car Wi-Fi
Road testing the superhighway
Posted in Science, 31st May 2010 11:02 GMT
Review As we all get increasingly used to the benefits of broadband it gets harder than ever to tear ourselves away from our streamed music and video, online gaming, immediate e-mail access and the rest. Smartphones take us part of the way to remaining fully connected when on the move, but now Three - the company formerly known as, er, 3 - has gone one better with its In Car Wi-Fi dongle, which promises access to the Internet for up to five devices over the network's 3G service, while you're in the car.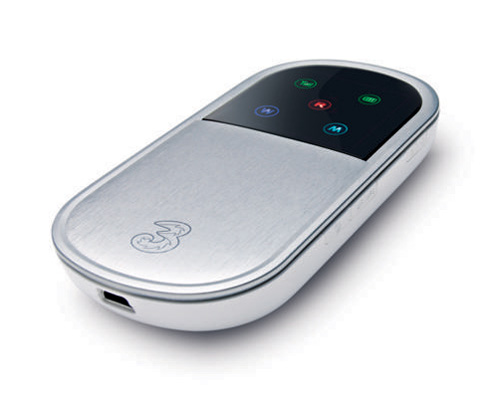 Motoring modem: Three's In Car Wi-Fi
The In Car Wi-Fi will immediately look familiar to anyone who's seen Three's MiFi wireless modem from last year. It's essentially the same device, though it now comes with a car charger as well as a mains charger, plus a sticky windscreen holder to help you arrange it for the best reception.
Like other Three dongles, it's made by Chinese manufacturer Huawei, and it's shaped like a very small mobile phone, measuring 95 x 48 x 12mm and weighing 90g, so it's easy to carry or just keep in the glove compartment. It also comes with a 1GB Micro SD card for data storage.
The dongle doesn't have a screen as such, but instead features five LEDs to tell you what's going on. There are three buttons on the side for power - press it and icons light up for power and signal; Wi-Fi - - 802.11b/g, a blue W comes on when it's activated; and network.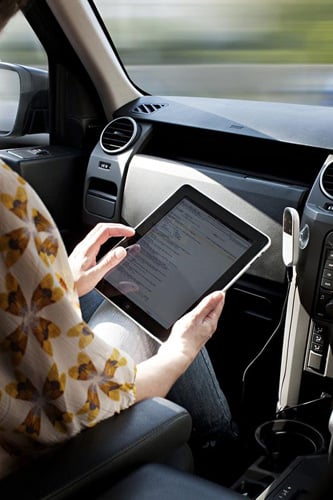 For the traveller with Internet separation trauma issues
With the latter, it shows a flashing green M while it's searching, changing to bold blue once it's connected to Three's data network – dark blue for the standard 3G connection, pale blue means you're on high-speed HSDPA. There's also a roaming icon which only comes into effect when you're abroad.
You press and hold each of the buttons in turn to get yourself up and running, and connect your devices using the usual WEP key password method. Getting started was straightforward and easy, and I quickly linked up a couple of laptops and an iPod Touch. However, trying it from my home in Hornsey, north London I initially had some problems getting a signal.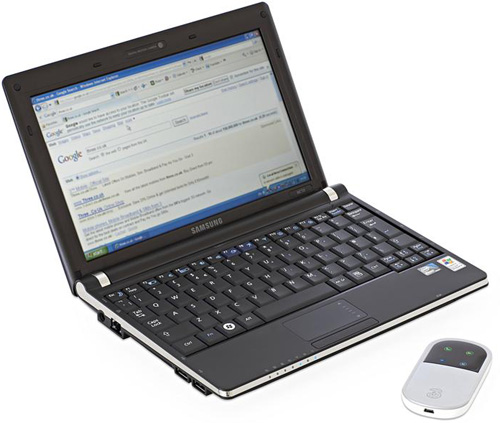 Performance, as always, will depend on signal reception reliability
Now this is not such a surprise, in the shade of Alexandra Palace, as it's not just Three's service that occasionally struggles round here. On the move in the car however, it seemed easier for the device to lock on to the network.
Staying locked on proved to be a bit trickier though, with the signal regularly wavering as I tried to stream music from Last.fm. Checking emails was no problem though, albeit with a little bit of delay on occasion, and checking maps was fine too, at least with only one device in use.
Three offers a maximum of 7.2Mbps download HSDPA, but like other networks, you'll rarely get the full bandwidth. And though Three says that you can connect up to five devices using the In Car Wi-Fi, in reality, you're not going to be able to do very much with them.
When I tried it with three devices simultaneously, the connection was so slow it made trying to do anything online much more of a chore than a pleasure. For instance, trying to view Youtube videos on a laptop resulted in so much buffering downtime that it felt like a return to the dial-up dark ages.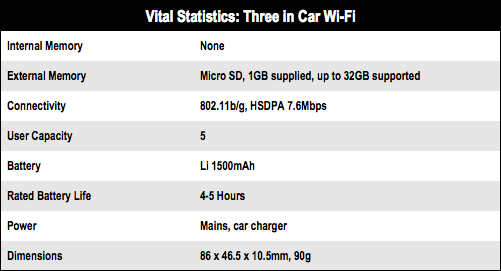 Three's stats estimate eight hours of battery life with continuous use, which seemed a tad optimistic – I certainly never got past six. Then again, since it comes with both a mains charger for the home and another for the car (cigarette lighter type) you shouldn't have to rely on the battery often.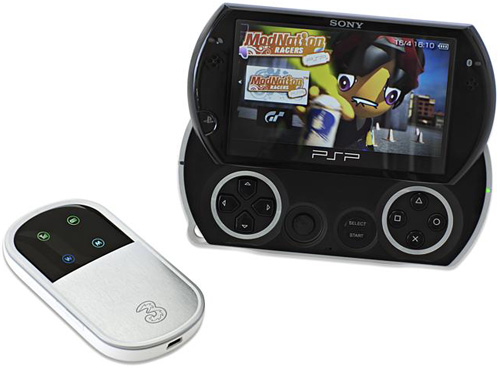 Might be worth it to keep the kids quiet on a long trip
Verdict
Three's In Car Wi-Fi is certainly a great idea, especially if you've been wracking your brains trying to think of a way to keep the kids entertained on a long journey. In practice though, its ability to deliver was patchy and unreliable, at least in the area of north London where I tested it.
If you keep your ambitions moderate, and don't try to stream video on several devices simultaneously, it could come in handy for surfing and checking email, but it's certainly not the broadband experience we've become accustomed to at home or at work. Three is saying that it's extending its network reach with a range of new masts, which will probably help, and at least the network is offering a 14-day money-back guarantee if you have the same sort of problems as I had. So it looks like you've nothing to lose if you fancy giving it a try. ®
More Mobile Networking Gear Reviews…

Mobile Broadband
Group Test
Solwise
3.5G
Vodafone
Access Gateway 3G