Original URL: https://www.theregister.co.uk/2010/05/31/how_to_ipad_comics/
How to... read comics on the iPad
Kerpow!
Posted in Personal Tech, 31st May 2010 08:02 GMT
E-book reader, portable telly, digital newspaper, big-screen games console, movie player - the iPad all of these incredibly well. It's also a darn fine comic viewer, its richly coloured, bright 1024 x 768 screen ideal for presenting sequential art.
Love comics? Here's Reg Hardware's quick guide to enjoying them on your iPad.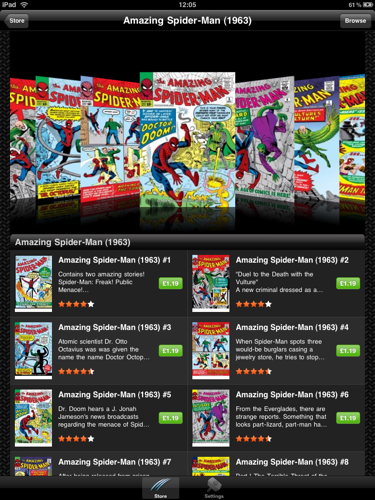 Marvel's app contains recent material and some historic gems
The iTunes App store is already loaded with a number of programs from major comic publishers, including Marvel, IDW and Archie. Typically free of charge, the apps present their own iTunes-style comic shop, allowing you to browse, preview, buy and read the companies' offerings.
IDW also offers a number of franchise-specific apps: Star Trek and Transformers, for example.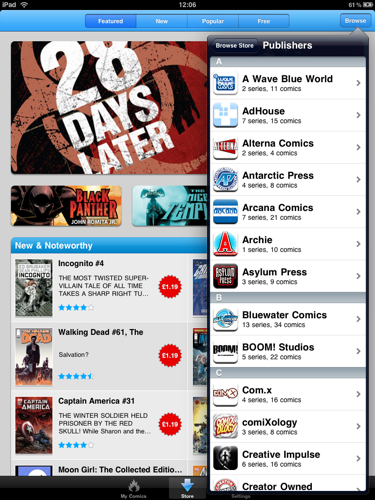 Comixology's Comics: buy from different publishers, big and small
DC is a notable absence, and while Dark Horse is represented on the App Store, it's currently only offering iPhone-formatted apps, each one presenting a specific title. In fact, there's a fair few of these ebook-as-app downloads available on the Store, many of them specifically for the iPad.
In any case, do you really want to have multiple apps, one for each publisher or titles? Enter the likes of Comics and iVerse Comics. Both are free, and you'll want the two of them. There's some cross-over, but they have different content supply deals: Comics has Marvel, iVerse doesn't; iVerse has IDW, Comics does not.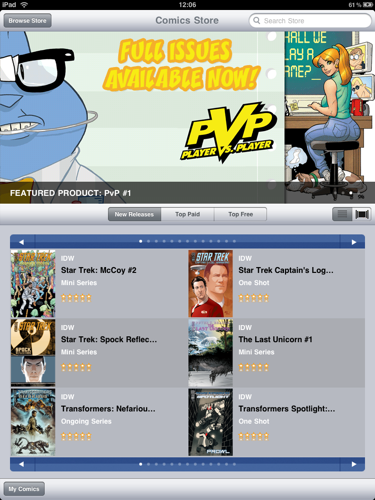 iVerse offers content Comics lacks - and vice versa
There's also a marked lack of latest issues - surely, the very material readers are most willing to buy? Marvel's app - which is essentially a reskinned, single-publisher version of Comics - lists one title from 2010, and that's a seven-page preview release.
Clearly there's a long way to go to get back catalogues into digital - Marvel has Amazing Spider-Man, Avengers, Fantastic Four and Iron Man series from the 1960s, for example, though nothing from the 1970s and 1980s, alas - but with comics now produced digitally, there seems little reason not to release new issues in that mode as well as print.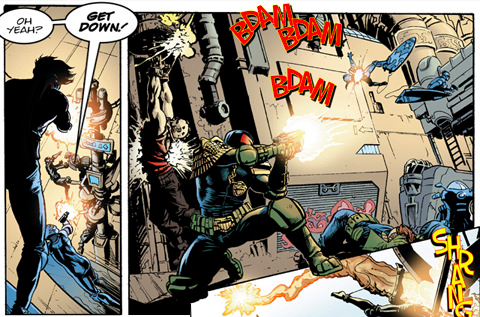 Rebellion's Clickwheel provides 2000AD issues and collections, new and old
A notable exception is Clickwheel. It's worth a mention because it's the only iDevice-friendly way to get 2000AD - still the Galaxy's Greatest - and is the only app on offer that comes out of the UK comics scene. No great surprise that - it's produced 2000AD publisher Rebellion.
Unfortunately, it's an iPhone-only app, but Rebellion did tell me it hopes to make an announcement regarding the iPad "soon".
DIY
Comic fans with digital archives of out-of-print material from previous decades have a number of ways of getting scans onto the iPad.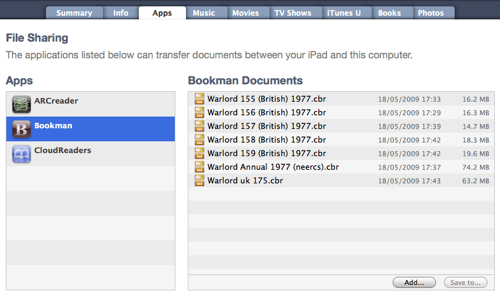 Some apps can use iTunes to transfer comics to your iPad
Free apps like Bookman, CloudReaders and ARCreader, and paid-for equivalent Comic Zeal Reader, can all handle PDF files and ZIP archives, plus the comic-specific CBZ and CBR compressed container formats - ZIP and RAR archives, essentially.
All of these maintain their own filestores on the iPad. When you connect the device to your computer, run iTunes and go to the iPad's Apps tab. There, down at the bottom of the page, is a file-transfer panel - just drag and drop the comics you want to load up.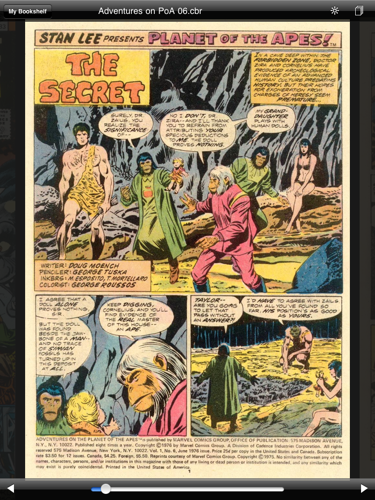 Read your out-of-print titles on the right-size screen
ARCreader is the more polished of the free titles, but for me lacks the ability to swipe from page to page - you tap the right or left of the page to turn to the next or previous page. The more basic CloudReaders does let you swipe from one page to the next, and has the novel ability to start at the back and work forward, essential for Japanese readers.
If you don't keep your pages in archives, you can load them into the iPad's Photos app using the appropriate tab in iTunes. The flaw here is that pages can sometimes appear out of order, so I store my comics in iPhoto, loading each issue's folder as a new Event, with Events' folders set to be ordered by filename.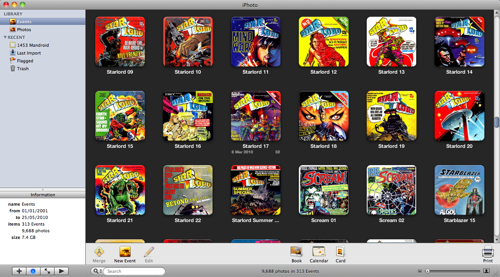 Mac users can put iPhoto to work organising issues
In the iPad's Photos app, list pictures by Event and you have piles of issues you can tap and and read through, swiping from one page to the next, and rotating the iPad when you get a landscape spread. ®