Original URL: https://www.theregister.co.uk/2010/05/31/games_review_blur_vs_split_second/
Blur vs Split Second Velocity
Which of these new racing games takes the chequered flag?
Posted in Personal Tech, 31st May 2010 07:44 GMT
Review Combat racing games are like buses. You wait ages for one and then two come along in the same week.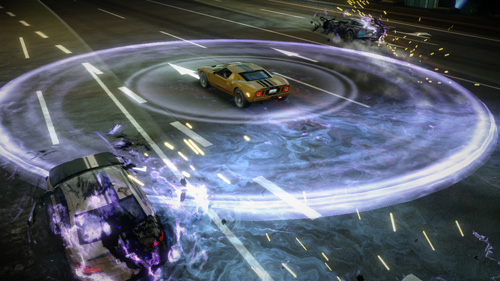 Get out my lane!
Unlike the buses where I live, though, both games arrive with high expectations (and no shank-wielding yoots on the back seats). Their developers have real pedigree in satisfying petrol-head gamers. Split Second's developer, Black Rock Studios, created MotoGP '06 and '07, and the excellent Pure. Blur's developer, Bizarre Creations, created Metropolis Street Racer and the Project Gotham series.
But, despite their promise (and mindful you're busy with important stuff like work, family and riding with your posse-shooting banditos in Red Dead Redemption), I couldn't bear to foist separate reviews upon you, so I've put the games in a head-to-head.
To ease reading, I've broken the review down into five sections, each of which I'll award up to 20 per cent and... well, you get the rest.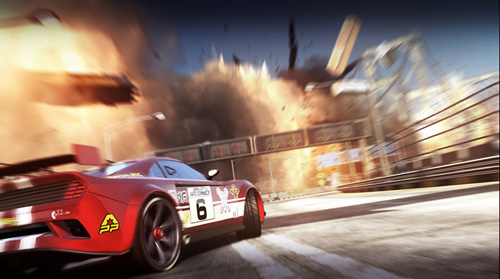 Road closed
Graphics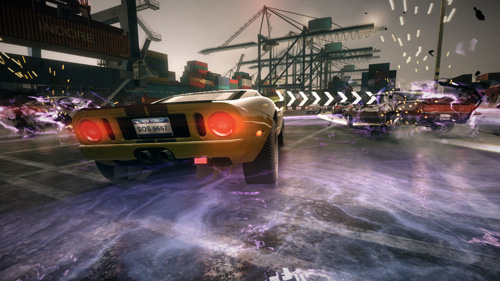 More demands on a lap than Santa
Graphically, Blur is surprisingly bland for a Bizarre Creations' racer. The art design is poor, particularly so in the generic steel-glass buildings. Key landmarks aside, there isn't much track-side detail. The aesthetic favours the primary colours and shiny surfaces that blighted early 360 games, such as Perfect Dark Zero. And the pallid neons of its weaponry further drain tangibility from its world.
Although Split Second's rich palette seems initially cartoon-esque, it retains a feeling of real-world thanks to a higher polygon count. Given that practically all its objects are destructible, it's ironic that they feel weightier, more robust than those in Blur. It's this destructibility that proves Split Second's greatest graphical achievement. The animations and pyrotechnics of buildings toppling, car ferries exploding and aircraft crashing, to name just a few, look beautiful, and never cease to amaze.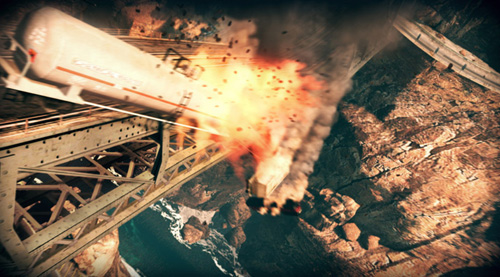 Don't look down
Blur 10%
Split Second: Velocity 15%

Gameplay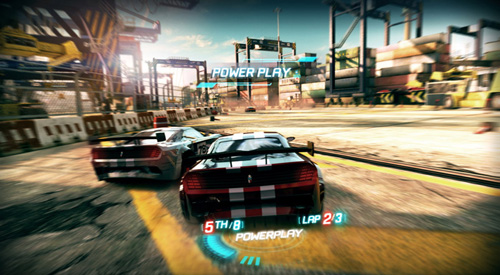 Got the power?
Turning combat on its head, Split Second provides destructible scenery to wreak havoc on your competitors. Drifting, drafting, jumping and narrowly avoiding collisions, builds up your Power Play meter, which can be used to open shortcuts, change routes or, best of all, trigger cataclysmic events in front of your hapless competitors. Ranging from sweeping a crane's arm across the race track to demolishing entire buildings, you'd think all the destruction would severely hamper concentration. But Power Plays are sufficiently spaced out to ensure an excellent balance between racing and combat. Already excellent in single player, the tactical aspect of this balance takes the game to a whole new level online.
Blur, on the other hand, unashamedly borrows from Mario Kart. Every weapon has been copied, even down to the lightning bolt. And while their implementations vary slightly, it's not enough to prevent Blur from feeling every bit the poor imitation. Worse still, where Mario Kart occasionally left you feeling cheated, as a single red shell robbed you of victory, with 20 cars on track, each carrying up to three weapons at a time, you'll spend most races being bounced around the middle of the field and won't have any time to worry about competing for first place.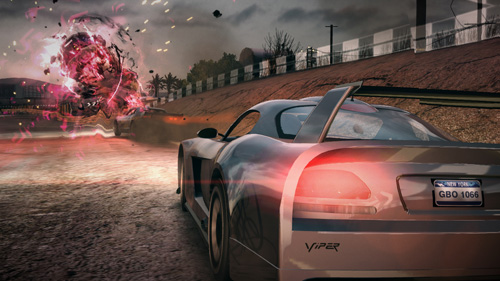 Weird light was hard to Dodge
Blur 10%
Split Second: Velocity 20%

Cars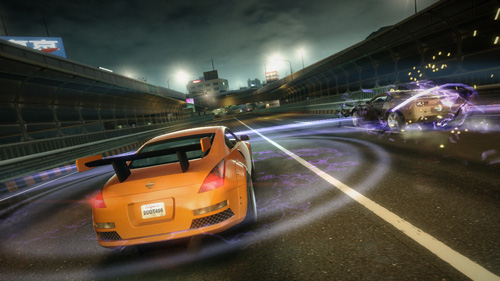 Running rings around the other drivers
I've got an embarrassing secret to tell you. I know less about cars than my girlfriend, who (in my defence at least) is a fully paid up petrol-head. But I appreciate car models are important in driving games, having witnessed many a heated argument between friends over their Gran Tourismo or Forza garages.
If it's licensed cars you're after then Blur is the title for you. Playing through career mode earns you a vast assortment of big trucks, SUVs, hot hatches and muscle cars among. others. But you'll rarely drive them competitively. There's much less nuance between Blur's cars than, say Gran Tourismo. And there are just two types of handling: drifty and grippy.
Blur's drifting really lets the game down. Drift cars handle poorly, and never provide a true sense of friction. Conversely, Split Second's cars, although fictitious (and often brutally ugly) are a drifter's dream. The developers haven't gone drift mad, however, as there's always a trade-off between drifting to fill your Power Play meter and maintaining top speed in keeping the racing line.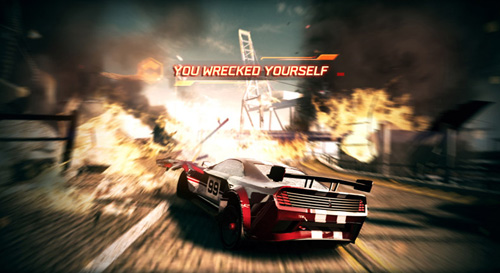 Getting wrecked can cause headaches
Blur 15%
Split Second: Velocity 15%

Tracks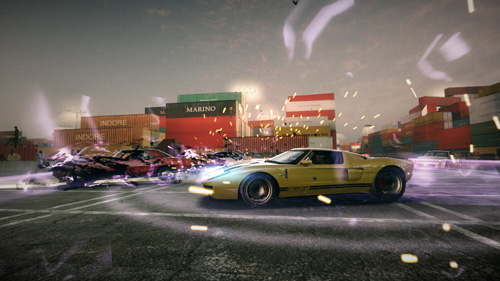 Light up and get moving
Anyone familiar with the Project Gotham series will instantly recognise Blur's track locales, which range from San Francisco to Brighton. Unfortunately, Blur's tracks are shorter and less interesting. The worst are short ones with numerous route-dividing chicanes. When concentrating on weapon collection, and under constant bombardment from other racers, these alternative routes feel like one cheap shot too many, as time and time again you'll ram into course dividers.
Split Second's tracks show much greater variation. While levels such as Airplane Graveyards and Ferry Wharfs might not be the most original of settings, real thought has gone into utilising their specific features. Driving through giant car ferries and over aircraft carriers always thrills. And the industrial machinery is put to excellent use in opening shortcuts and switching entire courses. With the potential to change every lap, tracks can initially bewilder. But even though they're soon mastered, this dynamism keeps tracks feeling fresh and entertaining.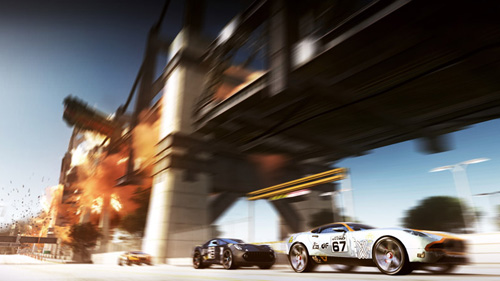 Bridging the gap
Blur 10%
Split Second: Velocity 15%

Race Types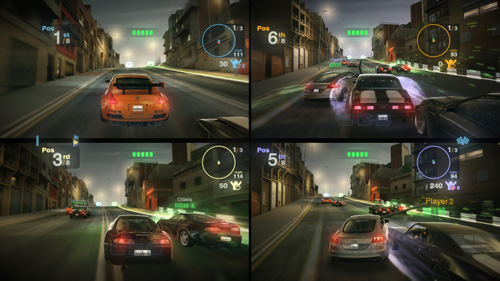 Taking them from behind in fourplay is harder than it looks
It's telling that of all Blur's race types, the standard race is the least compelling. It repeatedly highlights Blur's greatest defect: too many cars and weapons. It's bad enough in single player, but online this mode is practically unplayable. Of all its other modes, Destruction and Checkpoint are the most enjoyable.
Destruction simplifies things by reducing weapons in a timed event where you have to destroy as many cars as possible. And Checkpoint pares things back to a simple race against time, where nitro boosts and time-adding stopwatches are essential to beat the clock.
Although Split Second's best mode is its standard race, its others are all enjoyable. Elimination sees cars periodically eliminated until there's only one left on the track. Survival sees you duelling with articulated lorries, which drop exploding barrels behind them. And Detonator, my favourite, sets you driving a lap against the clock as Power Plays trigger automatically around you.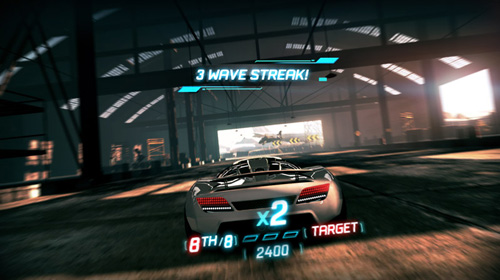 Wave when you streak
Blur 10%
Split Second: Velocity 15%

Verdict
Split Second isn't just the best of these two games, it's an excellent game in its own right. It's easy to imagine it as the first in a long-running series. But if Blur has any chance of building into a franchise, the developers will need to head back to the drawing board to recover from this disappointing first outing.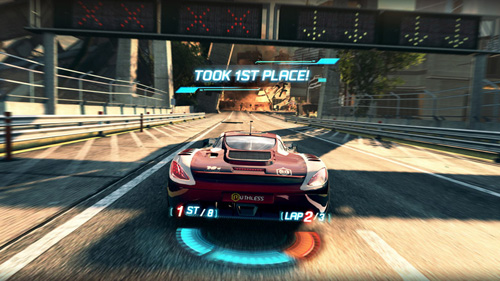 Winning is always nice
More Games Reviews

Red Dead
Redemption
Prince of
Persia: The
Forgotten Sands
Lost
Planet 2
Alan
Wake