Original URL: https://www.theregister.co.uk/2010/05/27/review_storage_unversal_tech_myxerver_/
Universal Tech MyXerver Pro MX3800
World's first wireless Nas, apparently
Posted in Personal Tech, 27th May 2010 12:02 GMT
Review It was only a matter of time before someone thought of putting Wi-Fi connectivity into a network-attached storage (Nas) drive for small networks. Come to think of it, we must have thought of it at least three years ago, but at the end of last year, Universal Tech lay claim to being the first to bring the idea to market.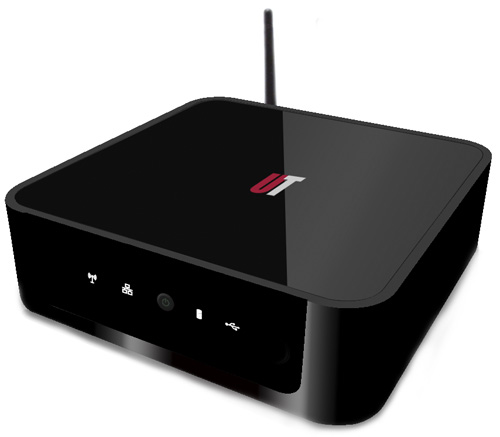 Wi-Fi and Nas make a baby: MyXerver Pro MX8300
The MyXerver Pro MX3800 is built inside a compact 178 x 178 x 55mm case that is reminiscent in size and appearance of an Apple Mac Mini. You can choose between white, grey and black models: we reviewed the latter, referred to rather fancifully as 'Piano Black'. The company website indicates that you can also pick from a range of hard disk capacities between 500GB to 2TB, which made our 250GB review model seem out of place.
The versatility of a wireless Nas in a typically cluttered small office or digital home environment is welcome. You can locate it just about anywhere within the full Wi-Fi range of an existing wireless router, for example, rather than having to keep it nearby a physical hub/switch.
Doing so could extend your Wi-Fi reach within the building, employing the MyXerver Pro as a supplementary access point. Alternatively, you could just plug the device into an existing wired network (or directly attach it to an Internet modem) to create a new Wi-Fi network, complete with DHCP server.
Note that you will need to connect the MyXerver Pro MX3800 to an Ethernet network in order to configure it for the first time. Once you have enabled the Wi-Fi function, the device is fully accessible wirelessly via its built-in web interface.

Having two USB ports allows you to dedicate one for printer sharing with the other free for an external backup drive
Unfortunately, the web interface is not as user-friendly as its pop-up icons initially suggest. For example, we could not work out how to convince the gigabit Ethernet port to operate in gigabit mode: despite being connected to a gigabit switch, it defaulted to 100BaseTx and refused to budge.
This inevitably had a negative effect on our benchmark tests of the 250GB hard disk, which struggled to achieve 10MB/sec write and 20MB/sec read throughput as a result. A Buffalo LinkStation 1.5TB Nas drive with gigabit Ethernet performed more than three times better.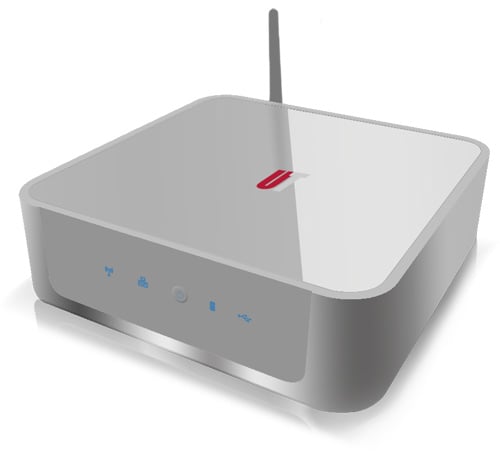 Status lamps at the front indicate how you are connected and whether the hard disk is running OK
Talking of speed, note that the MyXerver Pro MX3800 supports 802.11b/g wireless standards, but not N. This is a pity since all the newest wireless products support N, as will the next generation of home media centres. Universal Tech's decision to settle with wireless standards that may be considered 'legacy' by the end of this year is disappointing.
More usefully, the unit is fitted with a pair of USB ports at the back instead of the customary single port. This allows you to use the Nas as a network Windows print server by connecting a USB printer to one, while keeping the other free for making regular backups to an external USB disk drive.
Even though we found the web-based configuration utility a bit challenging at times, there's no doubt the MyXerver Pro is packed with useful network features. For example, you can set up the Nas simultaneously as a local file server and Internet-accessible FTP server. Those installing the Nas for home use will appreciate the uPnP media server support for the widest range of media players, a built-in iTunes server, and even a virtually self-working web-based photo album utility.
In common with many other Nas products aimed at small office and home networks, the MyXerver Pro MX3800's firmware incorporates a Bittorrent downloader. This makes it possible to initiate large and potentially slow file transfers within the device's web-based utility and then leave the Nas to complete them independently of your computer, or even with all your computers on the network shut down.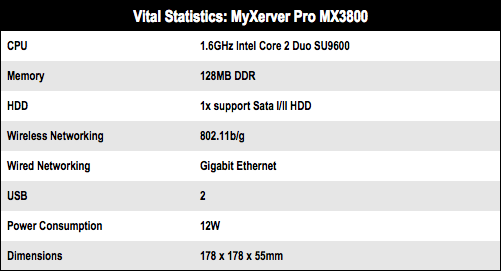 Initiating the download is still fiddly, however: you first have to download the relevant torrent file from its Internet location using your computer, copy it to a location on the Nas, point the MyXerver Pro Bittorrent client at the file, then monitor the download progress for a while to make sure it is working. A slicker, more user-friendly interface would be appreciated.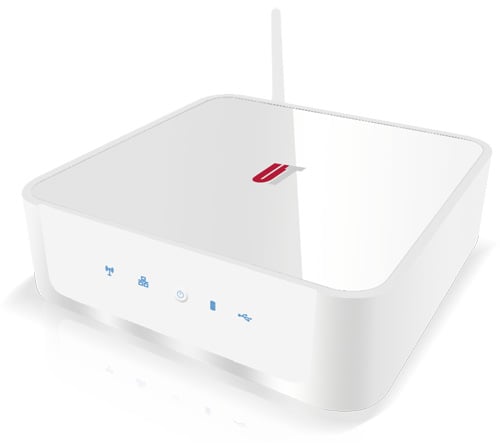 Also available in pearl white version
While in active use, the product consumes just 12W of electricity; while shut down but still connected to the mains, it sips 0.5W. Best of all, the device is the quietest Nas drive I have tested to date. It runs in near silence.
Verdict
The MyXerver Pro X3800 would make a decent Nas for those new to network storage, or with modest storage requirements. However, if you do not need the Wi-Fi feature (especially bearing in mind its 802.11b/g limitation), be aware that as little as an extra £20 could buy you a much faster Nas drive with two to four times the capacity. Moreover, if the Wi-Fi appeals, and speed is not a concern, the larger capacity options for this model, certainly appear better value. ®
More Nas Box Reviews…

Iomega
StorCenter
ix2-200
Acer
Easystore
H340
Asus
Home Server
TS Mini
Netgear
ReadyNas
NVX