Original URL: https://www.theregister.co.uk/2010/05/27/review_phone_samsung_monte/
Samsung Monte smartphone
High-end pretender
Posted in Personal Tech, 27th May 2010 07:02 GMT
Review Samsung says the Monte provides the style and performance of a high-end handset at an affordable price. Oh really? Sure, the headline features are quite impressive. HSDPA, Wi-Fi, GPS, motion sensor, an emphasis on social networking with support for Facebook, Twitter, MySpace and Bebo. There's MS Exchange ActiveSync support for business users and a capacitive touchscreen too.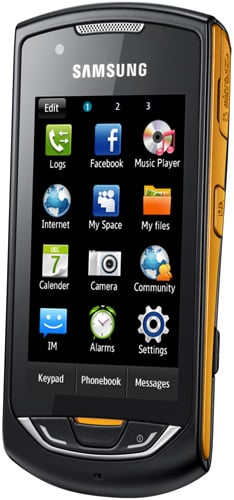 For business and MyTwitFace users: Samsung's Monte
If you were ticking 'must have' items off a list, then plenty of goodies seem to be covered. But look deeper and the Monte starts to crack under the pressure of attempting to offer its 'high-end style and performance at an affordable price', even at the £160 I found it for when shopping around on-line.
A key factor of high-end style is a good chassis design and the Monte doesn't do it for me. It feels solidly made and at 108.8mm x 53.7mm x 12.4mm it fits easily in a pocket. It is light too, at just 92g.
But the shiny black plastic backplate and screen surround looks low-grade and the silver sides and highlights are visually so-so too. An alternative look is to opt for the version with orange sides, which is probably more eye-catching.
Samsung's array of side buttons runs to a volume rocker on the left, camera button on the right, micro SD card slot nicely accessible under a cover on the right to boost the 200MB of internal storage. Also on this side a un/lock button. Alternatively you can unlock by a tap and hold of an on screen icon, or with Smart Unlock which lets you go directly into an app or speed dial by drawing a letter on screen.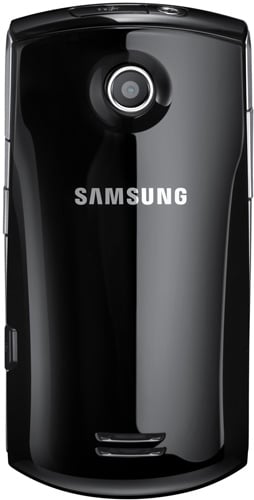 Build quality is rather heavy on the plastic
There is a micro USB slot and 3.5mm headset socket on the top edge – the optimum position. The provided one-piece headset delivers audio quality that's decent enough to live with and features round in-ear buds that stay put nicely.
There are three front buttons – Call, End/power off and sitting between them, a large back button. I'm used to the central button being a navpad, menu or a select key, but it works quite well as a back button and there's a menu button on each of the three home screens alongside one for the Phonebook and dialler keypad.
While the capacitive nature of the screen might draw you, there's no multitouch support. The 3in screen at 240 x 400 pixels it isn't really large enough for media rich Web browsing even when you flip it to view in wide mode. The one-finger zoom system leaves a something to be desired too. It involves hold a finger on the screen till plus and minus markers appear, then dragging up to zoom in and down to zoom out. I found it a bit hit and miss.
Surprisingly, you don't get a Qwerty keyboard for text entry even in wide screen mode. There's just a T9 layout, which makes something of a mockery of the Exchange ActiveSync support – nobody is going to want to tap out work emails on the Monte.
The Monte runs TouchWiz 2.0 Plus. A key feature of this over earlier versions of TouchWiz is that rather than having a slide out panel for dragging widgets onto each of the three main screens there is a small icon a the top left of the screen which you tap to pull up a two icon deep scrollable menu. You drag widgets from this to the screen.
Widget icons are large and you'll be lucky to get more than three on any screen. To remove widgets you have to call up the widget menu and drag them onto it. It's more fiddly than the simple drag downwards option that Android offers.
The Monte is being sold as big on social networking, and there are widgets for Facebook, Twitter MySpace and the soon to be defunct Bebo. The widgets are a bit small to be of much use. The Twitter one, for example, shows a little bit of info from a single tweet, but to see more you need to tap the widget to click through to a full screen client.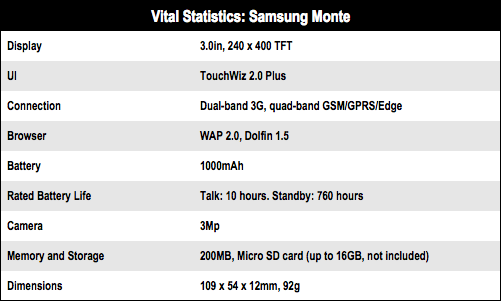 The camera shoots at 3.2Mp. Face detection and smile shot modes boost its capabilities, but it is mediocre at best. With no flash it is hampered indoors and pictures lack sharpness all round.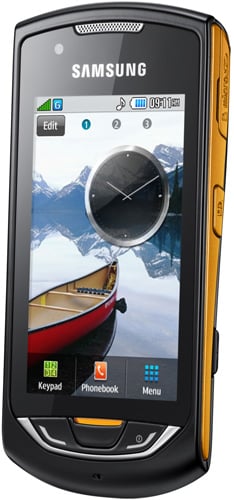 Battery life isn't quite the full monty
Call quality was fine – the people I spoke to could hear me perfectly well. Battery life from the 1000mAh cell is not wonderful though. If you are an irregular Wi-Fi, GPS and HSDPA user you may get more than a day from it, but bash any of these or play a lot of music and daily charging will be required.
Verdict
Overall, it is difficult to see how the Monte does anything particularly special or different for Samsung. Indeed, the company could even be accused of diluting the mid-range Genio brand for little gain, or so it would seem. ®
More Mobile Phone Reviews

HTC
Smart
Sony Ericsson
Elm
Nokia
X3
LG
GD510 Pop