Original URL: http://www.theregister.co.uk/2010/05/25/review_camcorder_veho_muvi_atom_vcc_004/
Veho Muvi Atom video camera
The world's smallest camcorder?
Posted in Personal Tech, 25th May 2010 07:02 GMT
Review Any aspiring secret agents out there will probably be interested in the new Veho Muvi Atom DV camcorder. At 40mm tall, it's even smaller than last year's Muvi Micro that was touted as the smallest camcorder in the world. The Atom's size is impressive but it comes at the cost of the viewfinder – there isn't one.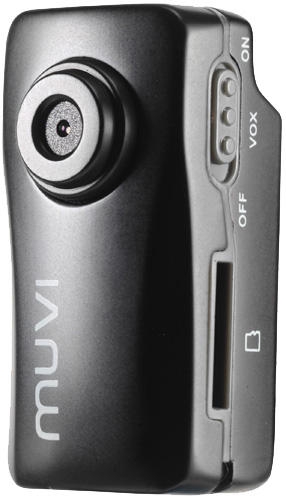 Small wonder: Veho's Muvi Atom
A fixed focus camera – which, unlike the Micro has a stills capture facility too – the Atom is aimed at the sports enthusiast and part-time control freak voyeur. It comes with additional strap and clip attachments, enabling the device to be fastened in a variety of positions – one suggestion being to strap it to a bike helmet.
Although tiny, it features a robust metal casing and is reassuringly weighty and certainly doesn't feel like it will break easily. One user report claims an Atom had been run over by a 4x4 and yet survived with minor scratches, to record again. I wasn't prepared to put that to the test, but it is believable.
The Atom comes with a 2GB micro SD card and supports up to 16GB. Cards are easily swapped out from the exposed slot on its side, but it's more likely the battery will give out before you run out of space. Indeed, 1GB of space will hold 30 minutes of video and with the battery life of just one hour when recording, the 2GB card seems an ideal match.
There's no LCD display of any kind and so all information is conveyed with just two tiny LED status indicators – red for standby or USB connectivity and green for media capture or memory card activity. Other combinations alert low battery and remaining memory capacity status. Buttons on the side handle power, voice actuation, video and still image capture.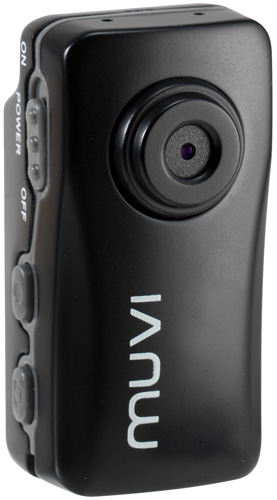 Shoot from the hip? There is no viewfinder on this camera
Video recording boasts FRE technology – frame rate enhancement, apparently. Upon further investigation, I was informed that, thanks to FRE, the Atom to records at 30fps. With this being rather standard on cameras these days, I did some dialling and dug deeper. The upshot? Apparently, FRE is a fabricated term to "differentiate between models", as the Micro only manages 20fps, the Atom 30fps. FRE technology? No marketing ploy there then, obviously.
The Atom has an impressive standby time, which coupled with the voice actuation feature is a great function for the budding Bond. You can leave the camera primed on Vox mode for over ten days, a perfect feature for the paranoid spouse or for keeping a watchful eye on the new nanny. Big brother, eat your heart out.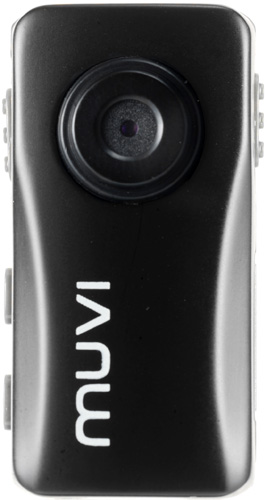 Voice actuation lets the spying continue when you're nowhere in sight
Yet in use, Vox mode is too easily triggered from the noise of switching it on in the first place. Thankfully, the Atom will automatically return to standby mode after three minutes of inactivity, but you didn't want those unnecessary minutes of video in the first place and considering that overall, I found myself deleting 80 per cent of what I'd captured anyway, it was frustrating to have to weed out more.
Being so small, the Atom has had other compromises too. Compared to its predecessor, the Micro, there has been a huge reduction in battery life – a distinct downside, especially if you choose to upgrade your memory capacity or use several memory cards. Charging for 90 minutes for just 60 minutes use is somewhat frustrating. I often found myself out of juice when I wanted it most and, with no removable battery, I had to return to a computer regularly to tether and recharge. A wall charger would be nice and can be bought separately.
While USB 2.0 compatible, the device itself is just USB 1.1, so copying files directly is slow and extremely tedious and you'd be advised to use an external card reader. Why Veho didn't opt for a faster connection considering the device transfers large video files is somewhat baffling.
The Atom's CMOS sensor is akin to the type you'd find on an average webcam. Depending on the content, images can suffer from rolling shutter effects. Fortunately, the Atom's jelly wobbles are less noticeable than the Micro that I had the opportunity to try out recently, but the results are still a long way from ideal with partial exposure artefacts being the main culprit. White balance seems fixed too, with indoor and low light shots appearing rather orange.
Still JPEG images are captured at 1280 x 960 pixels, about 1.2Mp – another 'spy-cam' feature in need of thorough testing. However, after breaking into government buildings and taking photographs of top-secret documents, I was annoyed to find all the images blurry and illegible. Being fixed focus, it doesn't handle close ups at all well and with the output quality worse than your average mobile, I really don't see much point to it at all.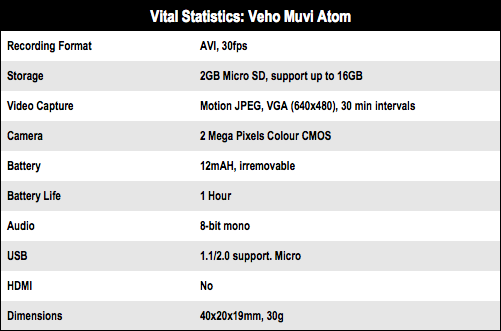 Sample Video
Sample still images
This camera has a purpose and professional filming is not one of them. It's designed for fun without having to worry about breaking it. Yet using it presents numerous difficulties. With no viewfinder or image preview function, it really is a click and hope for the best, with results viewed later being reminiscent of waiting for a film to come back from the chemist's.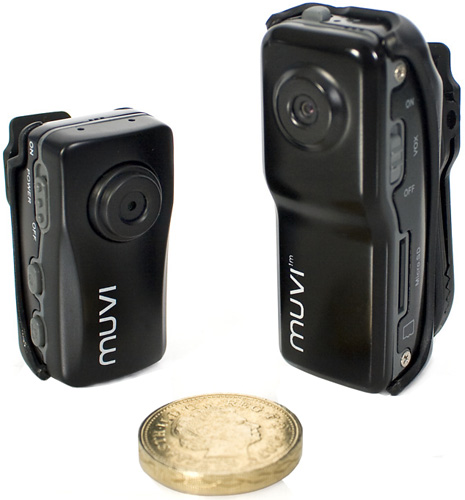 Quids in: the Atom (left) and the Micro (right) square up
Even when I thought I'd mastered the framing, I still managed to get it wrong. It's great for capturing moments on the fly, but still worse than a good mobile phone. That said, attached to your bike helmet however, or strapped to the head, the camera can be quite fun and captures some interesting results. But handheld, keeping the camera steady is difficult and doesn't take much movement to seem like you have shakier arms than a polygraph
The Atom takes Motion JPEG AVI files at 640 x 480, but the audio bandwidth is only 8kHz and consequently the sound is a huge let down, picking up a lot of background ambience with the end result being quite noisy. No doubt it has an omnidirectional mic that will capture a broad soundfield; with close range recording lacking emphasis. Furthermore, the recorded sound was frequently distorted with its levels seeming a touch too high to cope with everyday dynamics.
Verdict
Overall, the Veho Muvi Atom is an enjoyable, yet hideous piece of kit. If you want to make points of view videos or simply have a concealed camera that will fit in the fob pocket of your jeans, this may be for you. If you're expecting good quality and useable sound, you'll most likely be disappointed. The Atom probably has enough to keep many outdoor types satisfied, despite the low battery life and slow connectivity. However it is expensive and with its lack of viewfinder it takes a lot of practice to get decent results. ®
More Camcorder Reviews...

Creative
Vado HD
Sony Bloggie
MHS-PM5K
Samsung
HMX-U10
Toshiba
Camileo S20