Original URL: https://www.theregister.co.uk/2010/05/24/x2_180_knots/
X2 triple-twirly speedcopter approaching 180 knots
Goes faster by slowing all its whirlers down
Posted in Science, 24th May 2010 09:39 GMT
The X2 triplex speed-copter prototype, gradually building up speed in test flights, is expected to fly at 180 knots this week. The machine has already clocked 168 knots (over 190 mph), a good bit faster than most regular choppers can manage*.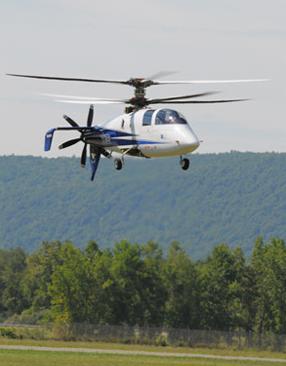 Turning heads.
Flight International reports that the Sikorsky prototype is shortly to wrap up the third of four test-flight phases in which faster and faster speeds will be reached.
Normal helicopters' speed is sharply limited by the fact that the tips of the forward-going rotor blades go supersonic as the aircraft speeds up: also by the fact that backward-going blades will become stationary with respect to the air they cleave and so stop producing lift on one side of the craft.
The X2 avoids this by having two contra-rotating sets of rotors, so that there are blades going forwards on both sides at any given time. The issue of supersonic blade tips is dealt with by slowing down the rotors' spin as speed increases, a thing that ordinary choppers can't do.
As the tail prop runs off the same drive as the main rotors, it too will slow its spin as the X2 speeds up: but it delivers more thrust by increasing the angle at which its blades cut the air. Thus as an X2-type craft accelerates towards maximum speed, all its blades will actually be slowing right down.
The slow-blades machinery hasn't come into play yet, as it kicks in only above 180 knots. However the tail-mounted pusher propellor has been operating for some time now, and thus far vibration is reportedly pleasingly low. Severe vibration was the main problem which put paid to the 1970s-vintage XH-59A speedcopter, which used stacked rotors like the X2.
Unlike the XH-59A, however, the X2 boasts modern superstiff rotors and active vibro-damping kit which should mean that it can go at 250 knots while vibrating only as much as a regular chopper at say 140 knots. The new machine also has the advantage of being powered by just one turboshaft engine, where the XH-59A needed two to drive its rotors and another two strap-on jets for forward thrust. Thus X2-type craft would be much cheaper and simpler to operate.
They would also be cheaper and simpler than the famous V-22 Osprey tiltrotor, now at long last in frontline service with the US Marines and special-forces units. Assuming success by the X2 project the Osprey would have a slight speed edge (we gather that the tiltrotor will be capable of 270 knots following software upgrades), but obviously a small, single-engined variant would be hard to build. X2 designs would be obvious candidates to replace smaller military choppers in jobs where speed is important, such as scouting.
Unsurprisingly, Flight reports that Sikorsky are hoping to put forward an X2 design in the competition to replace the US Army's Kiowa scout choppers in a few years' time. ®
*Though not all. The famous G-LYNX, a specially pimped Westland Lynx, still holds the helicopter speed record at just over 216 knots (249 mph).